May Recap:
May sure was a busy month for the Pulsara team! We revamped our About Us page and added an Events page to our website, released Pulsara v. 10.6, were named as a finalist for the SIIA CODiE Awards for Best Healthcare Technology Solution, and our teams attended whopping NINE trade shows across the land.
As the craziness of spring slows down during the (hopefully) slow, hot summer months, so does our events schedule as we head to two conferences at the end of June and one in July.
Summatime Fly(ing) in June and July:
When it comes to innovation, Pulsara knows a thing or two about innovative healthcare communication. At this conference, attendees will have the chance to see our HIPAA-compliant audio clips, video calling, and instant chat features in action. Stop by our table for a live demo from Pulsara Client Development Specialist, Scott Then.
june 28 - 30 | rebellion in em conference | san antonio, tx
While we're 90% sure no droids, ewoks, or Jedi's will descend upon San Antonio during the Rebellion in EM Conference, we are 100% sure Corey Ricketson is the Pulsarian you're looking to speak with during the conference. No mind tricks here as Corey shows off our feature-rich platform that helps EMS agencies streamline prehospital communications and improves patient care through data collection and reporting.
july 22 - 26 | pinnacle ems conference | orlando, fl
The Pinnacle Conference is saving the best for last as Pulsara CMO, Kris Kaull, closes out the conference in a bonus session that will take attendees on an excellent adventure. The session, Learning from our Past: A Fun Trip Through EMS History, will take place from 10:30 am - 11:30 am on Friday, July 26th. No Bill and Ted in sight, just a very not bogus journey through the history of EMS.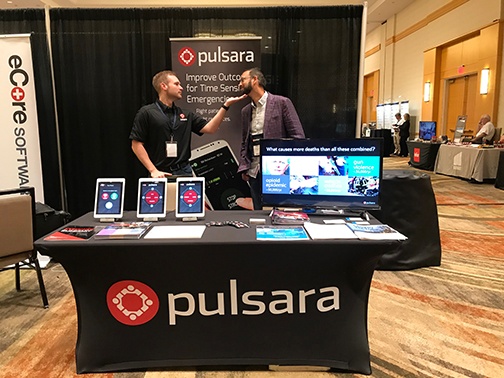 Have a conference you'd like Pulsara to exhibit at? Click here to submit an exhibitor request.