Spooktober Recap:
October was full of more treats than tricks for our team. They spoke at three conferences - NC EMS Expo, Becker's Health IT + Revenue Cycle Conference, and EMS World -, we released v 10.9 (hello, can you hear us better with the improved video and VoIP calls?), announced our partnership with ImageTrend to extend data exchange options, and were selected as an EMS World Innovation Award Finalist for our new EMS Handoff feature that lets first responders start a case and hand off the patient to EMS.
As you can see, instead of slowing the Pulsara team down, the cold weather makes us work harder than ever. Even as we enter stuffing and huffing season, our teams won't be dragging from the tryptophan that's about to enter the air in November.
Coming Up in November:
Pulsara Clinical Specialist, Forrest Winslow, won't be running too far from home as he makes the short trek to Norfolk for the Virginia EMS Conference. We're excited to join the Virginia Department of Health for the 40th anniversary celebration. If you can run fast enough, you might be able to catch Forrest at Pulsara's table in the Hilton Norfolk The Main.
november 7 - 10 | 47th annual colorado state ems conference | keystone, co

You can see Pulsara team members new and old at the Colorado State EMS Conference. With Colorado being comprised of both rural and urban areas, we're excited to talk to EMS teams in the area about our communication platform that connects teams both within and outside of their regions.
november 13 - 17 | WEMSA ems conference & expo | wisconsin dells, wi
Same conference, different faces. Our team will be heading back to the WEMSA EMS Conference & Expo in Wisconsin, this time with a different set of team members. Pulsara Client Services Manager, Scott Stanley, will be joined by a new Client Development Specialist who is joining our team later this month. They may or may not be cheeseheads but they will be cheesin' as they show attendees our new EMS Handoff feature.
november 14 | saving Hearts & Minds ems conference | memphis, tn
It's tearin' up our hearts - in which we mean our blood is pumping with excitement - to head back to the Saving Hearts & Minds EMS Conference. The only thing that will save Pulsara Senior Client Development Specialist, Josh Jordan's, heart and mind is if he can talk to attendees about how Pulsara and FirstNet helped an EMS agency improve their door-to-CT time by 21%. Stop by our table to learn how our partnership with FirstNet could help your agency do the same!
november 21 - 22 | St. elizabeth emergency services conference | covington, ky
Scott Stanley and his legendary beard are heading back to Covington for another year at the Emergency Services Conference. If you've heard about the awesome features included with our free Pulsara ONE package, you'll have to get the scoop from Scott about how our Enterprise package includes more legendary features like audio clips, interfacing & alerting communication, a real-time case bar timer, customizable goals, and so much more.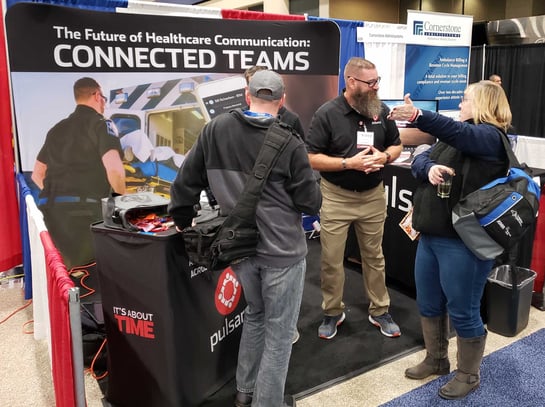 november 24 - 27 | texas ems conference | fort worth, tx
Josh Jordan and Pulsara Vice President - Clinical Innovation, Shane Elmore, are kicking off Thanksgiving week the right way at the Texas EMS Conference. The native Texans aren't turkeys when it comes to Pulsara. In fact, they could answer all of your questions, even as the tryptophan kicks in. Stop by booth 425 to learn how one EMS agency leveraged Pulsara and FirstNet to treat patients in record-breaking times.
Have a conference you'd like Pulsara to exhibit at? Click here to submit an exhibitor request.