With back-to-back events all month, October has come and gone in a flash. Let's take a look at the exciting things Team Pulsara has been up to in October, and find out where you can catch us on the road in November and December.
October RECAP:
Early in the month, Team Pulsara attended the EMS World Expo in Atlanta, GA, where we and integration partner, Philips, showed attendees how the recent integration with the Philips Tempus Pro Monitor revolutionizes patient care.
Our very own CMO, Kris Kaull, attended The National Conference on Ambulance Revenue and Compliance in Hershey, PA, as a keynote speaker. Over the course of the conference, Kaull challenged those in attendance to embrace a new approach to emergency services.
Pulsara's Regional VP of the Northeastern U.S., Dave Zaiman, also had the opportunity to attend the WEMSA conference in Wisconsin, where Pulsara and Philips co-sponsored the Friday Keynote.
While part of our team was traveling for conferences, the rest of Team Pulsara kept busy by publishing new case studies and hosting webinars.
By leveraging Pulsara, Saline Memorial Hospital in Saline County, AR, reduced STEMI treatment times by 28% in just four months. Download the case study to learn how Saline Memorial used Pulsara to improve communication between EMS, the ED, the cardiologists, and the cath lab team to provide excellent and efficient care for their patients.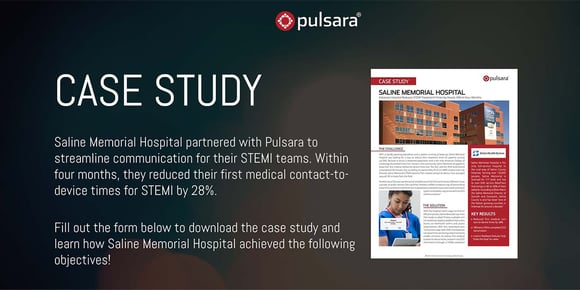 Pulsara also hosted a free webinar: Force Multiplier Patient Care: How EMS Leaders are Revolutionizing the Industry through ET3 Clinic Partner Agencies & Mobile Technology. This webinar was presented by Steve White, Commander of Texas's Austin-Travis County EMS Collaborative Care Communication Center Initiative (C4), and Dr. Carlos Navarro, Medical Director for Care Value Optimization, discussing how mobile technology has revolutionized healthcare. To watch an instant replay of the webinar, click here.


Coming up November and December 2021:
As 2021 comes to a close, Pulsara has four more events during the holiday season.
November 4-7 | EMSAC | KEYSTONE, CO
Two of our Pulsarians will be attending the 49th annual Colorado State EMS Conference. Join us at our booth to learn how Pulsara plays a role in the trends and techniques that enhance patient care and agency operations.
November 11-13 | ANCC NATIONAL MAGNET CONFERENCE | ATLANTA, GA
Visit Pulsara booth 217 at the ANCC National Magnet Conference, the largest nursing conference in the United States. There, our Regional VP of the Northeastern U.S., Dave Zaiman, and Regional Sales Manager of the Northeast U.S., Forrest Winslow, will be showing how nurses can leverage Pulsara's platform to allow for faster, more efficient processes.
November 21-24 | TEXAS EMS CONFERENCE | AUSTIN, TX
The Texas EMS Conference provides an opportunity to find community among thousands of emergency service professionals with the mission to find the newest technology and services. Visit VP of National Accounts, Corey Ricketson, and Customer Success Manager of the Southern U.S., Josh Jordan, at booth 744 to learn how we helped teams in Texas simplify patient transfers during COVID-19.
December 7-10 | CARDIAC ARREST SURVIVAL SUMMIT | SAN DIEGO, CA
For the final event of the year, our VP of the Western U.S., Brandon Means, and Director of Strategic Initiatives, Anna Larson, are headed to California for the Cardiac Arrest Survival Summit, a worldwide conference presented by the Citizen CPR Foundation. You can find Pulsara at booth 1004p to learn more about how Pulsara prioritizes saving time by getting ALL care team members on the same page every step of the way.
Until next time, we hope you stay happy and healthy this holiday season!

Have a conference you'd like Pulsara to exhibit at? Click here to submit an exhibitor request.