Recently, Joey Branton, Pulsara's Senior Vice President of Strategic Initiatives, had the opportunity to sit down with Brian Zimmerman of the Becker's Healthcare Podcast for a chat about "How Collaborative Mobile Communication Solutions are Transforming Healthcare Delivery." During the podcast, Joey and Brian discuss collaborative mobile communication solutions, as well as how these solutions can overlay existing healthcare tools and save hospitals money.
Listen to the full podcast in the video below, or read on for their full discussion.
Brian Zimmerman:
Hello everyone. I'm Brian Zimmerman with Becker's Healthcare. Thank you for tuning into the Becker's Healthcare podcast series as we discuss how collaborative mobile communication solutions are transforming healthcare delivery. We are thrilled to be joined by Joey Branton, senior vice president of strategic initiatives for Pulsara. Joey, welcome to the podcast.
Joey Branton:
Thank you, Brian. Glad to be here.
Brian Zimmerman:
Let's dive right in. Can you talk a bit about how a collaborative, mobile communication solution can overlay the technologies the facility is currently using? How does connecting these disparate systems improve care quality?
Joey Branton:
Yeah. Thanks, Brian. That's a good question. As we all know, hospitals are full of communications and data systems that allow for patient care and transitions of care in hospitals. But, they've become very data-centric over the years because of electronic health records and registries and the sort. In the midst of all that, some of the collaboration and actual communication at the time the patient is being taken care of has been relegated to the EHR, which is not a real-time communications pathway.
Clinicians across the spectrum, and not just in a single facility, but across teams — if you think about all the people that are working on a single patient case that may start with EMS, transition to a small rural hospital, then need to be transferred to a larger hospital — all of those communication systems are very disparate in many respects, and are not connected. They're siloed off from each other. So you place a bunch of phone calls, maybe a radio report; that's just back and forth and back and forth between single points of contact. Yet there's no single stream of consciousness about what that patient may need, where they need to be transported, and what their ultimate delivery for time-sensitive emergencies — or any other emergencies — may be.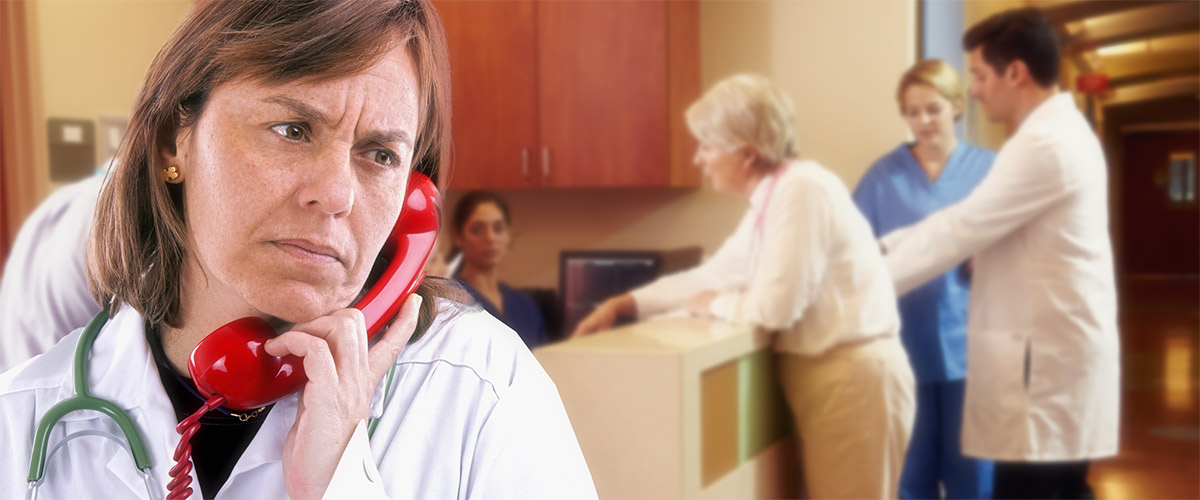 Brian Zimmerman:
No, that definitely makes sense. I think that siloed communication issue has been a gnawing problem in healthcare for a while now. I'm curious though; if a hospital has already, say, invested thousands on implementing new technologies, what's this added solution going to do to help them save money in the long run?
Joey Branton:
Well, I think if you look at what has been deployed in healthcare facilities, in the healthcare systems and systems of care, those things are necessary components of the total treatment, total documentation, and even the reimbursement structures around healthcare. Those are all necessary things that healthcare has had to invest in.
And yet we still haven't solved many of the day-to-day communication problems that exist. You may not be in a rip-and-replace mode when you talk about overlaying communication platforms, but you may be thinking about offloading legacy systems of communications. If you think about what's going on across the globe now with paging systems that have been hacked, those are one-to-one communications. You can send a page, but you don't know that somebody has actually got their pager turned on.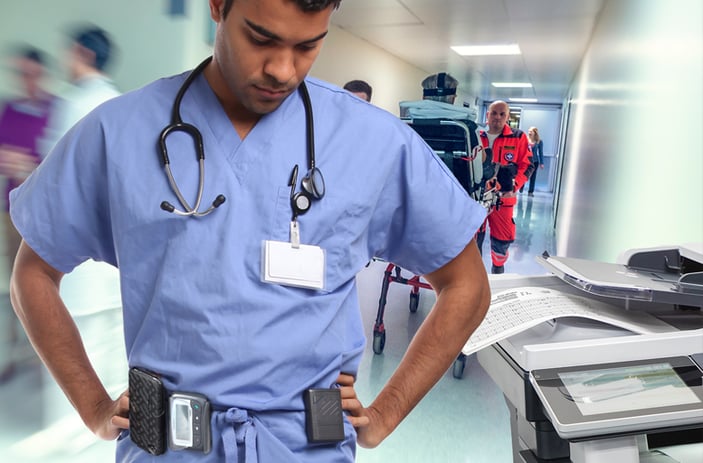 The communication systems that have been built up over the years are not very agile. They're not agile, and they're actually not scalable. You can't do a "one-to-one" to "one-to-many." You also can't have much accountability about who actually got the page, and what are they doing with it? Did they actually get the text? What are they doing with it?
What we look at in systems of care and scalable systems of communication is the ability to connect people and teams across organizations. Most organizations have all of these systems that they've built, and they require some very elaborate and expensive integrations for them to work effectively, even inside their own silo. If you move from facility to facility, those integrations oftentimes break down.
Brian Zimmerman:
Thanks for laying that out for our listeners there. I want to switch gears just a little bit here and talk about something that I think is top of mind for probably everybody listening to this podcast. How can clinicians use telemedicine to treat patients in underserved populations in their homes? What struggles to addressing population health have clinicians seen in the past, and how is Pulsara working to address those problems?
Joey Branton:
The pandemic has taught us all a lot about distributed health care. With the surges in the pandemic, we've seen patients in the communities sometimes unable to even seek care. The hospitals are overloaded, the emergency departments are full, and the ICUs are full. Quite honestly, patients out in the communities often don't feel comfortable seeking care under the conditions that we've seen during the pandemic. And of course, our healthcare system is stressed even at the provider level. It's not just the unavailability of ICU beds or ventilators; the actual staff are depleting themselves just from sheer workload. So how do we take the available, existing providers and resources and extend them out into the community?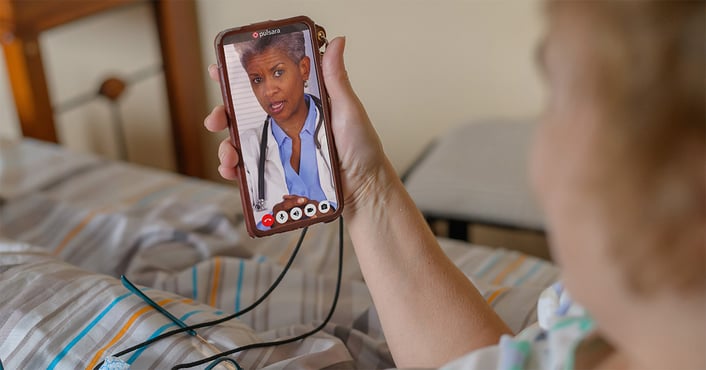 Rather than traditional telemedicine platforms, which generally operate from fixed points of care — maybe a hospital has a telemedicine cart and a rural clinic has a telemedicine cart, but the patients can't get to the rural clinic. Well, you can take a mobile platform such as Pulsara, and as long as the patient has a mobile device and either a broadband connection or a cellular connection, we can actually extend any provider out to the patient via the Pulsara platform simply by sending them a text.
Brian Zimmerman:
Excellent. And then just to get specific here, what kind of interactions does Pulsara's telehealth and communication capabilities support?
Joey Branton: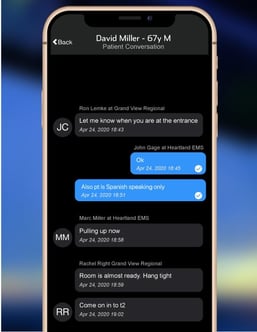 On the Pulsara platform, a lot of times we talk about two types of communication: asynchronous, which is one-way communication, or synchronous, which is two-way communications. Using mobile-first technology — so we're talking about smart phones, smart devices — using Pulsara from a smart device, you can drop a one-way communication, like an audio clip, onto a patient channel. You can drop images and photos, cardiac monitor integrations, all of these things in a HIPAA compliant fashion. They're really secure and are not exposed. We've seen in the pandemic that people have leveraged commercial products that may not be HIPAA secure under extreme circumstances. But with Pulsara, we can enable those interactions in a protected, seamless way.
We also do two-way communications — think about live telemedicine. We can extend providers out via the Pulsara platform using live telemedicine. You can call, group chat, video call — all of those things on a single platform in a mobile-first technology.
Brian Zimmerman:
Great, Joey. Thank you so much for laying all that out for our listeners. In our brief time together, I think we covered a good bit of ground, but is there anything else you'd like to share with our listeners?
Joey Branton:
Well, I would like to just remind everybody that as we look at healthcare across the United States and we see what the pandemic has taught us.... You know, I've been in emergency management for many years. I live in a hurricane prone state. We always respond to mass casualties, hurricanes, disasters, tornadoes, wildfires in the west, whatever the case may be. And when those things happen, all of our traditional technologies, we drag them out of supplies that we have. People that don't normally use them are trying to be exposed to them and learn them in real time.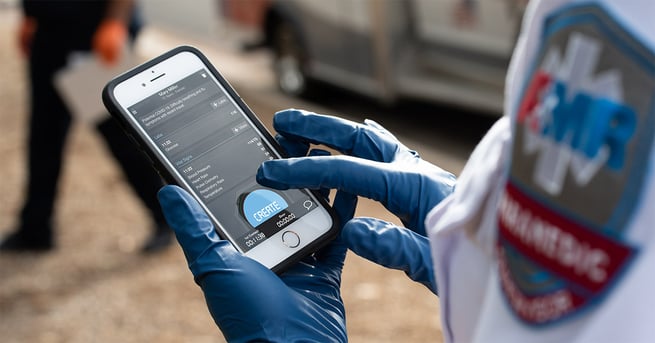 And what we like to say is, you use what you use every day. You got a smart phone, you know how to use a smart phone. If you use that every day in your personal life, and you use it in your professional life on a platform that allows all of these interactions, then you're going to be able to use it at times when you need to scale up. It becomes muscle memory. And those are the things we like to concentrate on in healthcare: to make sure that what we do every day transitions to when our systems are really stressed or pressured.
Brian Zimmerman:
Well, Joey, thank you so much. I think that's a great place to close here, so thanks again for taking the time.
Joey Branton:
You're very welcome. Thank you.
When Texas EMS agencies and first responders faced an unprecedented winter storm in the midst of a once-in-a-century pandemic, they were tasked with shuffling from one crisis to another. Check out Responding to a Disaster Within a Disaster: Texas's Winter Storm Event to learn how they rose to the challenge, and how they used Pulsara PATIENT to help treat patients in place.