In late May, Dr. James Woodson, the founder and CEO of Pulsara, sat down with Brian Zimmerman of the Becker's Healthcare podcast series to discuss how telehealth can improve patient care and protect clinicians during COVID-19 and beyond. During the podcast, Dr. Woodson explains the potential of mobile technology in healthcare communication, how Pulsara streamlines the communication process, and Pulsara's role in the future of telemedicine. Listen to the podcast here, or read the interview below.


Brian Zimmerman: How can health systems use telemedicine to connect their teams during times of chaotic events like disasters or pandemics?
James Woodson: Great question, especially in the scenario that we find ourselves in. Applications in the outpatient or non-emergent spaces are pretty obvious in most enabled, very specific, provider or patient interactions. But there's also a ton of opportunity in the acute care space. In the past, most telehealth solutions have focused on supporting hub-and-spoke models for a specific disease state, or a specific consultant, like for stroke or an intensivist. But they're very much designed for rigid interactions. I think COVID-19 highlighted all kinds of other needs and opportunities out there.
If we're going to use telehealth to help us during times of a pandemic or a natural or manmade disaster, I think we have to adopt an emergency preparedness mindset. They focus on three main principles: flexibility, standardization, and unity of effort.
Think about systems of care that can scale and adapt to any situation. Often, care teams in these kinds of situations consist of individuals across many different organizations, and we should use the same tools that we use all day, every day.
It's important to realize that most providers in the acute care space are mobile, and conditions like COVID-19 that require mobilizations of individuals to form a care team is really challenging because they're often operating in environments that are really chaotic and unpredictable.
Finally, telehealth should not be limited to outpatient, or specific disease states, or super rigid interactions based exclusively on expensive hardware. I think it's really important for us to look at mobile technology as a powerful tool that we all carry in our hands, and mobile technology really offers a huge untapped opportunity to unite teams.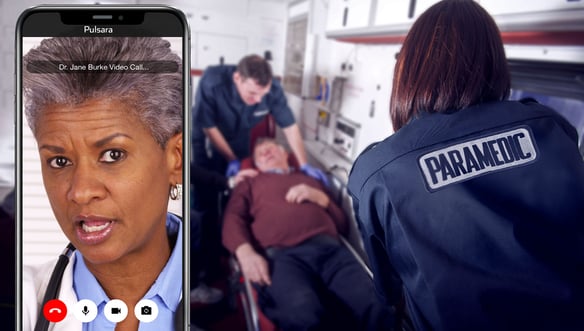 BZ: What about barriers? What have been some typical struggles clinicians have seen that Pulsara has addressed?
JW: Many regions really didn't have much time to adapt and a lot of them focused on using solutions that they already had. These systems were built under old reimbursement and regulatory environments. Hearing their struggles has really been enlightening for us. They said it felt like fitting a square peg in a round hole. These solutions weren't really flexible; they're not designed for undifferentiated cases or creating a shared consciousness around an event. They're definitely not based on mobile. They're not able to unite people across organizations, and these were a lot of the problems that they were trying to solve.
Pulsara got our foundation years ago in the time-sensitive emergency space. We're a communication and telehealth platform that was designed to connect teams. We were able to use video more for those times of, "wouldn't it be nice to have access to video when you're currently stuck with audio only calls?" That was how we got our start and got our focus.


BZ: How has Pulsara been leveraged by your partners during the pandemic and, more specifically, what interactions does the platform enable?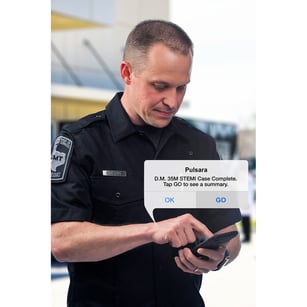 JW: We've had regions that have really embraced the fact that you can standardize interactions between individuals as well as teams, while at the same time offering a solution that's very flexible in the types of interactions that it facilitates. We've had emergency communication centers like 911, or regional or hospital phone banks that convert telephone calls into video calls using Pulsara Patient. They can actually use this unscheduled telehealth interaction and convert it over to a billable encounter as well as making sure the appropriate resources are applied and given to that patient.
We've also been used in different scenarios, like EMS is using Pulsara for medical control, as well as replacing the traditional radio report that they deliver to the emergency department with a multimedia report so that the care teams at the hospital can be prepared.
We've had emergency operation centers or medical operation centers that are more of a regional resource. They've been involved to help get the right patient to the right destination based on regional protocols and resources. We've had long-term care facilities, urgent cares, clinics, referral, hospitals, and other facilities and clinics participate in Pulsara and, of course, they've always been able to join it at no charge. We're focused. We were also used for video encounters for patient follow-ups that were managed in medical ISO isolation, as well as spinning up alternate care sites.
And of course we've always been able to help internal teams at hospitals with initial evaluation or routine rounding, as well as communicating with family. So lots and lots of different types of interactions. Does that sound like something that's complex or kind of hard to do and get started?
BZ: I'd say so. It sounds fairly complex.
JW: When we start talking to people initially, their first response is, "Well, we have different solutions for each of those different things." But the scenario I just reviewed was actually one region, one major metropolitan region, that we spun up in about three weeks' time. So we've been able to bring up hundreds of clients 100% remotely over the last couple of months. It's really quite simple.
When you're using Pulsara, there are three basic steps to understand. Step one is you create a dedicated patient channel. Step two is you can build your care team. And then step three is you communicate. We offer different types of communication: live audio, and live video obviously, with the telehealth component. But we also are able to move data. We have integrations with different medical devices and data repositories like EHRs and EPCRs. We're able to do team messaging. On and on, the different communication opportunities are there.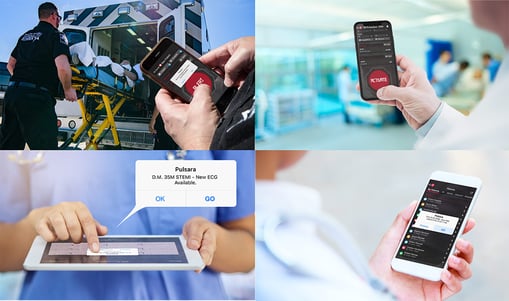 But I think it's also important to understand that building care teams is really quite simple. Any organization can add internal teams, but they can also invite another organization to the communication channel, with either the intent to consult or transfer the patient.
So again, it's quite simple. The people just have to know: "What do I need next?" And Pulsara helps guide them with links behind the scenes to simplify that process for them.
BZ: Thanks for detailing all of that for me. I definitely would not have thought three weeks to achieve all that in one region. That's a little surprising. So how do Pulsara's telecommunication capabilities differ from other solutions on the market?
JW: Great question. Telehealth is kind of a buzzword right now, so I think it's important to differentiate between different solutions.
Picture where your current telehealth solution workflows typically struggle. Those are actually the areas for which we were specifically designed. Most telehealth solutions in the acute care space are designed for patients that are stable or stationary, meaning that they're located in one place. Pulsara is really designed for patients who are unstable or who are transitioning between organizations or departments. We've worked for the stationary patients as well, but it's a unique thing to be designed specifically for patients that are in transition.
Most inter-organization communication is focused on bridging two silos, and it's typically based on things like fax, phone and radio, or very rigid telehealth interactions or solutions. Pulsara is based on mobile technology or web-based technology and is designed to eliminate the silos and enable standardized interactions across a very, very flexible team. In other words, as the patient condition evolves or changes, you can add the appropriate resources that you need into that dedicated channel that we were talking about earlier.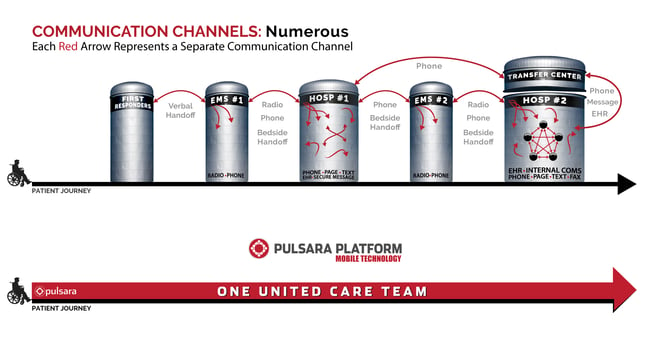 Finally, I think many solutions are based on telehealth providers that are stationary or located in controlled environments. They also enable rigid interactions that the provider is really often known. Like, I know I need a stroke consultant at the very beginning of the case. Well, Pulsara is designed to unite team members that are mobile and practicing in very chaotic environments. We can also unite a care team around an event that starts undifferentiated, and then can bring in the correct consultants or organizations as the patient's case evolves.
BZ: A lot of interesting stuff there, James, but I'm wondering if you can offer a specific example or scenario to really illustrate things for our listeners.
JW: Let's take a look at stroke. Stroke is pretty complicated in general so you have to mobilize multiple different people, and often you're leveraging team members from multiple different organizations. Think about a stroke patient that presents by EMS. So initially EMS has to alert the hospital, then the hospital has to mobilize the radiology team, make sure that they can transport the patient directly to the CT scanner, get the neurologist involved. Well, now we also have to think about, how do we protect our clinicians? What if this stroke patient is a 35-year-old a febrile patient that has right-sided weakness? This is highly concerning and we need to make sure that our hospital teams are prepared adequately to receive this patient.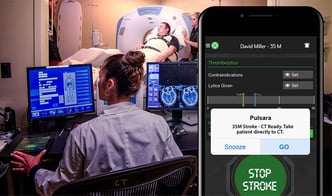 With Pulsara, they can replace a traditional radio report. EMS can now send a multimedia report. They can even open up telemedicine in the truck, in transit on the way to the hospital. All the downstream care team members like the radiologist, the radiology tech, the emergency department, the neurologist, and the responding stroke team can all be activated and alerted that this is an inbound patient with suspected stroke that may have COVID. Now that the hospital team is prepared, they can descend on the patient appropriately.
If you look at an average neurologist, even before COVID, they had to make an average of 17 phone calls to coordinate care around this stroke patient. Now they're able to leverage a tool like Pulsara that's designed to unite teams across organizations, simplify care, and decrease treatment times.
BZ: Let's zoom out a little bit. What do you think is in store for the future of telemedicine?
JW: I think the short answer to that is: Yes.
Pre-COVID-19, the answer was pretty complicated, as there were so many regulatory and reimbursement barriers. If there's a silver lining at all to this pandemic, I think it's going to be in the telehealth space. In a sentence, it's really been aligned for telehealth to truly take off and there have been two major announcements from CMS in the last couple of months. I believe a CMS administrator got it right recently when she said, "I think the genie's out of the bottle on this one; it's taking this crisis to push us to a new frontier, but there's absolutely no going back." We all know that we should be focusing on improving health for people and not providing medical care to people. We also know that there would eventually be a de-centralization as well as a consumerization of healthcare. We just didn't know that it would happen overnight like this.
BZ: It certainly seems to sort of accelerate some trends we're already seeing. How can healthcare providers prepare for the future, whether that looks like another wave of COVID-19, any other disaster, or public health crisis? How can providers get out in front and really be prepared for these types of events?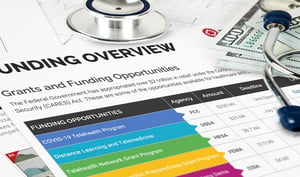 JW: Yeah, that's a great question. We have found over $230 billion in grants and funding opportunities designed to help people prepare for whatever's next. These funds are allocated specifically to things like telehealth, emergency preparedness, disaster response, medical operations, care coordination, and those types of things. I personally don't know if we're going to have a slow burn of cases or whether cases are going to wax and wane over the summer, or whether we're going to be going into a summer of calm before a large second wave hits us. What I do know is: the time to prepare is now, and telehealth is going to be a huge part of our future. Particularly those telehealth solutions that are designed to unite teams in complex environments, and those that are based on flexibility, accountability, and transparency. I think this presents an amazing opportunity to invest in infrastructure that we can leverage every day for care coordination across our systems of care, as well as scale to help us serve our communities during a disaster or pandemic.
To learn more about how Pulsara can help you prepare for the future with telehealth and streamlined communication, visit us at Pulsara.com.