Becker's Hospital Review recently reported that as of April, 354 rural hospitals in the U.S. are still at a high risk of closing, unless their finances immediately improve. Those 354 hospitals account for almost exactly 25% of all 1,430 rural hospitals in the United States. Every state has at least one hospital with a high risk of closure, though, in states like Oklahoma, that number is as high as 28.
As rural hospitals look for solutions, some are turning to technology to come up with new and innovative ways to find the funds to keep their doors open. Among the most surprising? Telehealth.
Rural Healthcare Faced Funding Difficulties Before COVID...and They're Worse Now
Rural facilities have faced many financial struggles in recent years, even before the COVID-19 pandemic. Rural hospitals serve a fraction of the patients seen by larger institutions in urban areas, which means that it costs more to serve each patient in rural areas. Larger hospitals are able to offer more lucrative elective procedures and have a much higher percentage of privately insured patients. For rural facilities, those elective procedures aren't in enough demand to be an option, and many of the folks in rural communities don't have health insurance at all.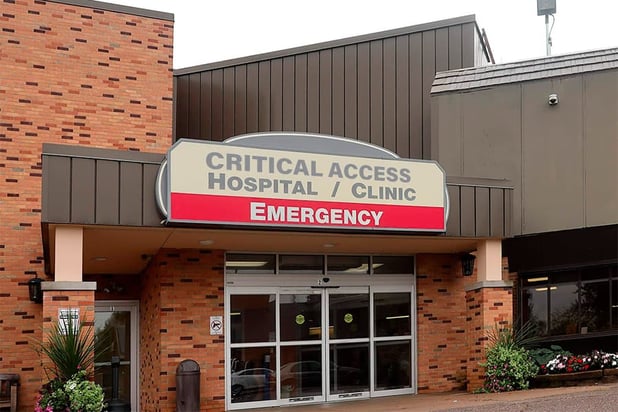 Once the pandemic hit, many rural facilities found themselves struggling to keep up with dwindling sources of funding. Relief funding has helped, but rural healthcare facilities are still in need of sustainable solutions.
Telehealth Can Help
Telehealth was originally devised as a way to help give patients in rural areas better access to quality healthcare. However, many of the regulations that were designed to help rural facilities ended up hindering the process. Many of those regulations were loosened for the COVID-19 pandemic, expanding the flexibility of where patients can receive telehealth visits and which clinicians are permitted to see them.
Now, telehealth might be a surprising contributor to helping rural facilities make ends meet—and provide new ways of caring for their patients.
For some patients, being transferred to a larger facility in a more urban area is their only option. But for other patients who don't need a specialist to see them in person, it may not have to be. One way to avoid unnecessary transfers to urban facilities is to bring specialists to the smaller facilities—virtually.
With telehealth technologies like Pulsara, providers can instantly request a live video consultation with a colleague at another facility. Rather than transferring the patient to a specialist at a larger facility, the rural clinician can conduct the visit themselves, with the specialist present via live video. Working as a team, the two clinicians can assess the patient and decide on the best course of treatment.
Avoiding unnecessary transfers through telehealth can also help remedy access issues, as transfers disproportionately cause hardship for patients who live in rural areas. Transferring a patient from a rural area to a facility in an urban area can place a great deal of added strain on families who may not have the time, resources, or transportation to be able to travel to be with their hospitalized family member. When the same level of care can be delivered via telehealth, avoiding an unnecessary transfer can greatly improve the experience for both the patient and their family.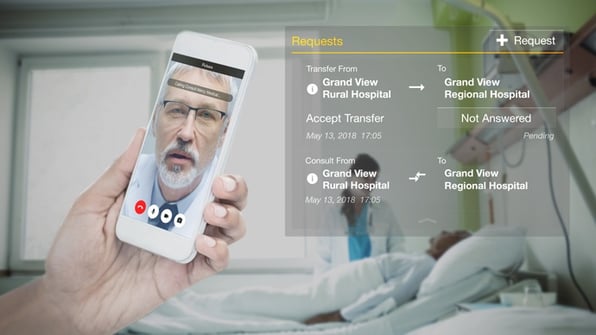 Telehealth-enhanced community paramedicine and Mobile Integrated Health programs can also be a help to rural facilities. Not every patient that calls 911 needs transport, and it isn't always the best course of treatment for the patient. Transporting patients unnecessarily is also costly. Empowering paramedics with the ability to consult with a board-certified emergency physician while they're on the scene with a patient can help them determine the appropriate next steps for the patient. It can also help save time, resources, and money for both EMS and the hospital.
One health system in Teller County, Colorado has seen a great deal of success with the pilot of their telehealth-enabled community paramedicine program. Though the program is still in its early stages, during the COVID-19 pandemic they were able to provide care for patients who were either unwilling or unable to go to the hospital and who otherwise would not have received care from a board-certified emergency medicine physician. Through the partnership between EMS and the hospital, their patients have received care in their homes, including medications, referrals to primary and specialty physicians, and other community resources.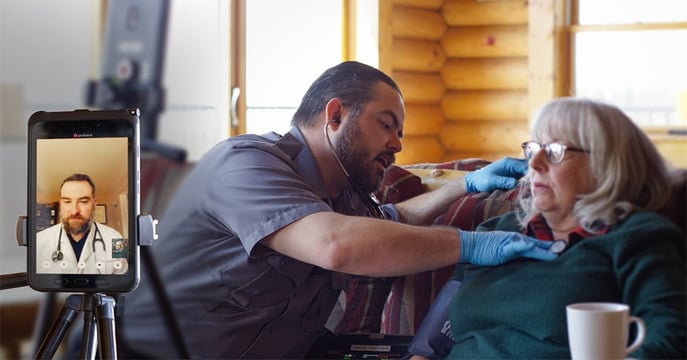 Ultimately, the addition of telehealth can help expand the reach of rural facilities, help them bring care to a larger portion of their community, and help them reach underserved community members who otherwise might not be able to access care. A core focus of the American Rescue Plan Act of 2021 is to address disparities in access to healthcare and provide funding for programs that will help improve access to care, including telehealth. Section 1002 outlines the Emergency Rural Development Grant for Rural Healthcare, under which it states that eligible organizations who receive grant funding through the act may use the funds to "increase telehealth capabilities, including underlying health care information systems."
The Coronavirus State and Local Fiscal Recovery Funds will set aside $350 billion for state, local, territorial, and tribal governments to use for COVID-19 recovery, addressing healthcare disparities, and expanding access to care. Telehealth will be a key part of this plan, and a great deal of funding is set aside for those interested in adopting a telehealth solution. For more information about the aims of the act and the funding available, check out this fact sheet from the U.S. Department of the Treasury.
Though it will take a combination of many factors to help rural hospitals get back on their feet, there is hope. New funding will help rural facilities both recover from COVID-19 and expand their community's access to quality healthcare. Telehealth solutions offer a variety of new ways for rural facilities to care for their community, helping them reach patients who previously might not have had access to care.


If your rural facility is looking for help with funding and is interested in telehealth, check out our free resource on funding opportunities that could be available to you.