BOZEMAN, Mont., May 19, 2021 — Pulsara, the leading mobile telehealth and communication platform that connects healthcare teams across organizations, announced today that the company was named a 2021 SIIA CODiE Award finalist in the category of Best Business Technology Pivot. Finalists represent the best products, technologies, and services in software, information, and business technology.
Acknowledged as the premier awards program for the software and information industries for over 35 years, the SIIA CODiE Awards are produced by the Software & Information Industry Association (SIIA), the principal trade association for the software, education, media, and digital content industries. Pulsara was honored as one of 153 finalists across the 43 business technology categories, including two categories in response to COVID-19.
"The 2021 CODiE Award finalists continued to innovate, pivot, and grow to develop truly remarkable products throughout a historically challenging year. These finalists maintain the vital legacy of the CODiEs in spotlighting the best and most impactful apps, services, and products serving the business tech market. Congratulations to this year's finalists on this well-deserved recognition," said Jeff Joseph, SIIA President.
Pulsara is a HIPAA-compliant, secure, easy-to-use telehealth and communication platform application that unites healthcare teams across departments and organizations around any patient event. Replacing archaic technologies with live video, audio, instant messaging, image sharing, and more, Pulsara unites the entire care team on one patient channel. With Pulsara, care providers see reduced treatment times and reduced costs, improving the lives of both patients and caregivers.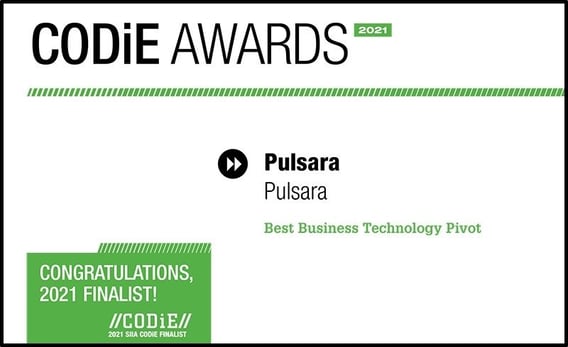 During the COVID-19 pandemic, Pulsara pivoted to allow full use of the platform at no charge to hospitals and referral centers so frontline caregivers could manage the COVID-19 surge. The feedback was overwhelmingly positive, with the largest increase in new sign-ups seen to date—from rural access hospitals to multi-county systems and even statewide initiatives.
"Pulsara has been a tremendous advancement in our ability to communicate with patients during the COVID-19 pandemic," shared Dr. Matt Angelidis, ER Physician at UCHealth Memorial. Hospital-based teams and EMS leveraged Pulsara's telehealth capabilities to do everything from preserve personal protective equipment (PPE) and mitigate and manage patient surge to connect directly with patients and family members in outpatient quarantine via live video consulting. Of special note, the Seattle hospital with the first known COVID-19 patient was using Pulsara in their hospital for time-sensitive emergencies. Within a few days, Pulsara pivoted to provide them with a way to manage COVID-19.
"To be recognized by the SIIA CODiE Awards as a trailblazer in this space is truly a privilege," said Dr. James Woodson, Pulsara Founder and CEO. "We got into medicine to make a difference—and at Pulsara, we're not stopping until everyone has access to streamlined care. From the rural care teams to the urban multi-facility healthcare organization to the emergency medical operations task force COVID response teams, supporting each person and team to better communicate and care for their patients is what drives us onward."
The SIIA CODiE Awards are the industry's only peer-recognized awards program. Business technology leaders including senior executives, analysts, media, consultants, and investors evaluate assigned products during the first-round review. Their scores determine the SIIA CODiE Award finalists which accounts for 80% of the overall score. SIIA members then vote on the finalist products and the scores from both rounds are tabulated to select the winners. In light of the COVID-19 pandemic, Business Technology category winners will be announced during an online winner announcement celebration on June 22, 2021.
Details about each finalist are listed at https://history.siia.net/codie/2021-Finalists
About Pulsara
Pulsara is a mobile and browser-based telehealth and communication platform that connects teams across organizations. What makes Pulsara unique is its ability to enable dynamic networked communications for any patient event. With Pulsara, clinicians can add a new organization, team, or individual to any encounter, dynamically building a care team even as the patient condition and location are constantly evolving.

Simply CREATE a dedicated patient channel. BUILD the team. And, COMMUNICATE using audio, live video, instant messaging, data, images, and key benchmarks. Studies report an average decreased treatment time of approximately 30% when using Pulsara. Pulsara is the evidence-based standard of care. For more information, visit https://www.pulsara.com.
About the SIIA CODiE™ Awards
The SIIA CODiE Awards is the only peer-reviewed program to showcase business and education technology's finest products and services. Since 1986, thousands of products, services and solutions have been recognized for achieving excellence. For more information, visit siia.net/CODiE.
About Software and Information Industry Association (SIIA)
SIIA is the only professional organization connecting more than 700 data, financial information, education technology, specialized content and publishing, and health technology companies. Our diverse members manage the global financial markets, develop software that solves today's challenges through technology, provide critical information that helps inform global businesses large and small, and innovate for better health care and personal wellness outcomes.
###
Pulsara Press Contact:
Hannah Ostrem
Senior Director of Marketing, Pulsara
Hannah.Ostrem@pulsara.com
(877) 903-5642
SIIA Communications Contact:
SIIA@methodcommunications.com