August Recap:
The last full month of summer was filled with our coverage of the 2019 EMS Trend Report and sent our teams to Arkansas, Mississippi, and Colorado for conferences that covered EMS, Trauma, and Critical Care. August may have been one of our more quieter months, but, unlike the bears in Montana, our warmer months spent 'hibernating' will lead to one incredibly busy fall. With a whopping 18 events (12 of which are in September) and a major announcement, fall 2019 is set to be one of our most exciting seasons yet!
Conferences, Summits, Trade Shows, Expos, Forums...no matter what you call them, we're going to be heading to all of them in September!
September:
September 4 - 5 | Pennsylvania EMS Conference | Manheim, pa
Pulsara Client Services Specialist, James Laidlaw, will try not to let the exciting activities at the Spooky Nook Sports Complex distract him too much from what is sure to be an enriching EMS conference. From 'Pediatric Sepsis' to 'Penetrating Trauma' and 'The Art of Writing a Compelling Clinical Narrative,' it's easy to see how the conference is dedicated to helping enhance the quality of prehospital emergency medical care.
september 11 - 12 | emspire conference | greensboro, nc
With a name like EMSpire, we hope attendees will leave the conference feeling inspired to 'Challenge Their Clinical Boundaries' and tell their co-workers about this amazing app they saw. They'll leave thinking, "Wes Wood was a pretty interesting fella. I've gotta tell my crew about that communications platform that's not only free for our EMS agency, but also lets us communicate with the hospital via video calling, chat, and audio clips!" That person could be you! Just stop by our table for a demo.
september 12 - 13 | Rural Trauma Symposium | helena, mt
Greg just can't get enough of the beautiful Big Sky Country! This time around, he's heading to the state capital in Helena to connect with the RNs, physicians, and EMS working in rural Montana. We're hoping our telehealth capabilities will help those in rural areas. If you're attending the symposium, stop by our table to learn more!
september 17 - 20 | mha fall convention and trade show | billings, mt
Back-to-back Montana conferences again? That's right! This time, we're going down to south central Montana for the Montana Hospital Association's Fall Convention & Trade Show. Client Services Specialist, Wes Gilbert, will be joined by Pulsara Founder & CEO, James Woodson, and Pulsara Chief Operating Officer, Cynthia Bradford Lencioni. Visit the page linked above to set up a meeting while they're in town!
september 19 - 20 | Oregon Stroke Conference | eugene, or
Pulsara Clinical Specialist, Greg Brown, will spend some of the last days of summer in Eugene at the Oregon Stroke Conference. We're looking forward to returning for the Oregon Stroke Network's annual conference. Attendees can see Greg at our table between presentations for a demo of our stroke module.
september 20 | GCSC Stroke symposium | erlanger, ky
In case you missed him and his epic bear last year, you'll be able to see Scott Stanley at this year's Greater Cincinnati Stroke Symposium. He, alongside James Laidlaw, will be telling epic tales of the Pulsara platform. How it can help reduce your door-to-needle times, how the emergency department can pre-register patients, and how the cath lab can be prepped and ready for an incoming stroke patient.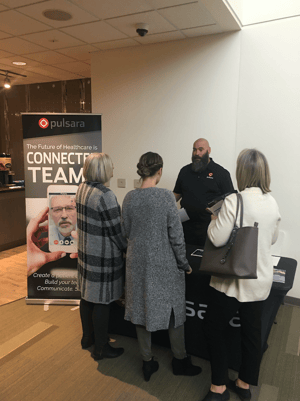 september 25 - 26 | ar saves tele-stroke conference | Hot Springs, ar
Josh Jordan, Pulsara Sr. Client Development Specialist, is heading back to Hot Springs for the Tele-Stroke Conference. He's looking forward to talking to attendees about our real-time, secure video communication capabilities. Stop by our table to learn more!
september 26 - 27 | Oregon ems Conference | salem, or
Pulsara Regional Vice President (West Region), Brandon Means, will be presenting a 30-minute session at the Conference. Before you can learn all you can about Fluid Research, stop by Pulsara's table to see our feature-rich platform that let includes EMS in the entire care continuum - from case start to close.
september 26 | sctsea stemi, stroke, and trauma forum | columbia, sc
While it's not along or on a sea, the South Carolina Time Sensitive Emergency Association's Forum will give healthcare professionals the same confidence in themselves and their team as a sea captain has when their crew heads into a storm.
september 29 - october 2 | nc ems expo | greensboro, nc
You'll be able to see Kris Kaull, Pulsara Chief Marketing Officer, present a Keynote and General Session on the last day of September (09.30) and the first day of October (10.01). Traveling from SC to meet Kris in NC, Wes Wood will be doling out demos and Pulsara SWAG (available to anyone who receives a demo) at table 8.
Have a conference you'd like Pulsara to exhibit at? Click here to submit an exhibitor request.