September Recap
To kick off a busy September, Pulsara was selected as a JEMS 2021 Hot Product Winner at EMS Today! Pulsara's newest version and functionality allow emergency services teams to practice at an expanded scope with dynamic tools, including group video conferencing, deep linking, the Pulsara Summary Report, and more.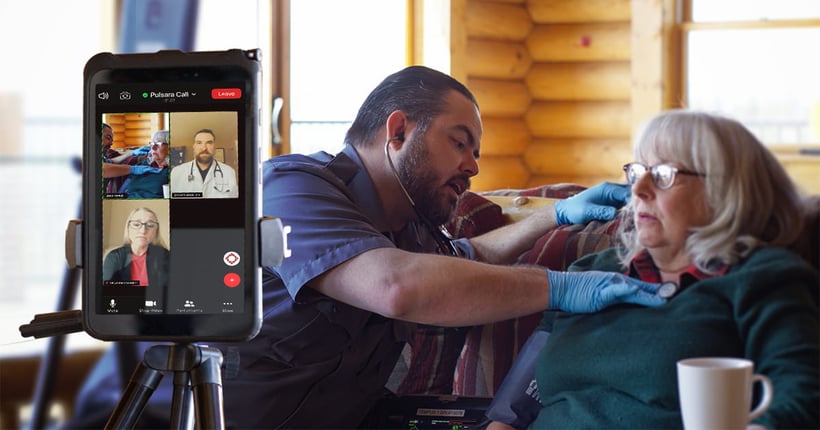 Last month, Team Pulsara had the opportunity to travel to the United Kingdom for the Emergency Services Show. While there, CEO and Founder James Woodson, EVP of Global Business and COO Cynthia Bradford Lencioni, and Sr. Vice President - Strategic Initiatives, Joey Branton, worked with Philips to showcase the latest ECG integration with the Philips Tempus Pro advanced patient monitor.
As Pulsara continues to upgrade its integrations with emergency services, our team attended two more related conferences later in the month: the Priority 1 EMS conference in St. Louis, MO, and the Minnesota EMS Medical Directors Conference in Alexandria, MN.
Coming up October 2021:
October 4-8 | EMS WORLD EXPO | ATLANTA, GA
Pulsara has recently partnered with Philips to integrate with the Philips Tempus Pro advanced patient monitor. Whether in person or online, visit Pulsara booth 1352 and Philips booth 1631 to learn how the integration can help your emergency services teams improve quality of care and speed time to treatment.
October 18-20 | THE NATIONAL CONFERENCE ON AMBULANCE REVENUE AND COMPLIANCE | HERSHEY, PA

Kris Kaull, BS, NRP, FP-C, and Pulsara's Chief Marketing Officer, will be presenting two keynotes during the conference. These keynotes, titled GREATNESS in CHAOS – Managing the Unmanageable and STUPIDITY – And Its Role in Emergency Services and Your Personal Life, will challenge attendees to embrace a new way of looking at emergency services.
October 28-30 | WEMSA CONFERENCE | ROTHSCHILD, WI
The Wisconsin EMS Association Conference is back in person this year for its 35th annual conference. Pulsara's Regional VP of the Northeastern U.S., Dave Zaiman, will attend the conference and show attendees how they can leverage Pulsara's HIPAA-compliant live video for out-of-hospital COVID-19 patient consultations.

Have a conference you'd like Pulsara to exhibit at—virtually or in person? Click here to submit an exhibitor request.