FOR IMMEDIATE RELEASE

Listen to this post on the go with Pulsara's new Podcast!
Bozeman, MT – July 25, 2017 – Pulsara announced today that the company has been selected as a finalist in this year's Fierce Innovation Awards: Healthcare Edition 2017, an awards program from the publisher of FierceHealthcare. Pulsara was recognized as a finalist in the category of Digital/Mobile Health Solutions.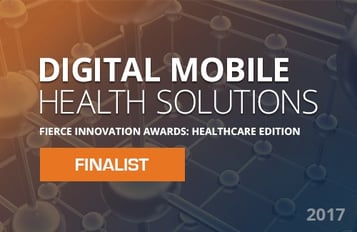 Pulsara was selected as a finalist for its innovative, industry leading product, the Pulsara Prehospital Alerting Package. Finalists were selected by a distinguished panel of judges from renowned U.S. hospitals and healthcare systems. The panel included Terry Booker, VP Corporate and Business Development, Independence Blue Cross (IBC); Roy DeLaMar, Internal Business Communications Manager, Cigna; Neal Ganguly, VP and CIO, JFK Health System; Deborah Gordon, VP Marketing Sales and Product Strategy, Tufts Health Plan; Jessica Grosset, VC of IT, Infrastructure and Operation, Mayo Clinic; Kurt Cwak, CIO, Proliance Surgeons; Roger Neal, CIO and VP, Information Technology, Duncan Regional Hospital; Todd Richardson, Senior VP/CIO, Aspirus; Edward Ricks, VP and CIO, Information Services, Beaufort Memorial Hospital; and Julie Slezak, EVP, Clinical Analytics, GNS Healthcare.
All applications were evaluated based on the following criteria: Competitive Advantage, Financial Impact/Value, Market Need, and Overall Innovation. Applicants with the top 3 scores in each category were selected as finalists. "It's About People," said Founder and CEO of Pulsara, Dr. James Woodson, "Device-centric and provider-centric models of healthcare coordination aren't working. When you make it about the patient and the clinician instead, you do so much more than build a successful app – you build a true regional system of care. That's what Pulsara is all about, and we are honored to have been selected as a finalist this year."
Pulsara's Prehospital Alerting Package allows prehospital providers to enter information about a patient into a mobile device from the field and instantly transmit it to the emergency department. Because the information is stored in the cloud, and not on the user's device, the platform is HIPAA-compliant and secure. The app also allows the medic to upload a secure image of an injury or ECG, and automatically notifies the hospital of the ambulance's location and ETA based on GPS. The emergency department team can view the information and send instant messages back to the EMS team via the secure chat feature. The Prehospital Alerting Package complements Pulsara's current product features to create a truly innovative platform that includes prehospital, intra-facility, and inter-facility communication. Pulsara offers the package to EMS providers at no charge, and at no charge for the length of the contract to hospitals who sign up by December 31, 2017. To learn more about Pulsara visit, www.pulsara.com/ems.
###
About FierceMarkets
FierceMarkets, a division of Questex, LLC, is a leader in B2B e-media, providing information and marketing services in the telecommunications, life sciences, healthcare, IT, energy, government, finance, and retail industries through its portfolio of email newsletters, websites, webinars and live events. Every business day, FierceMarkets' wide array of digital publications reaches more than 2 million executives in more than 100 countries.
Current publications include: Telecom: FierceWireless; FierceCable; FierceDeveloper; FierceOnlineVideo; FierceTelecom; FierceWirelessTech; FierceWireless:Europe /TelecomsEMEA, FierceInstaller; an Telecom Asia; Healthcare: FierceEMR; FierceHealthcare; FierceHealthFinance; FierceHealthIT; FierceHealthPayer; FierceHealthPayerAntiFraud; FierceMobileHealthcare; FiercePracticeManagement and Hospital Impact; Life Sciences: FierceBiotech; FierceBiotechIT; FierceBiotech Research; FierceCRO; FierceDiagnostics, FierceDrugDelivery; FierceMedicalDevices; FiercePharma; FiercePharmaAsia; FiercePharmaMarketing; FiercePharmaManufacturing; FierceVaccines and FierceAnimalHealth Enterprise IT: FierceBigData; FierceCIO; FierceContentManagement; FierceDevOps; FierceEnterpriseCommunications; FierceITSecurity and FierceMobileIT; Finance: FierceCFO; and FierceFinanceIT; Marketing & Retail: FierceCMO; FierceTechExec.
About Pulsara
Pulsara is a digital healthcare corporation that focuses on using mobile technology to enhance treatment time outcomes by improving communication and care coordination through the entire healthcare system. Pulsara's mobile application packages for stroke, STEMI, and general patients improve communications between the teams caring for those critical patients, leading to faster treatment. Every clinician – from paramedics to emergency department staff to neurology and cardiology teams – is on the same page with a simple tap. For more information, visit www.pulsara.com.
Press Contact:
Kris Kaull
Pulsara
406.600.0960
kris@pulsara.com