FOR IMMEDIATE RELEASE

BOZEMAN, MT -- September 18, 2018 -- Pulsara has announced that the company is now a compatible vendor for the American Heart Association Get With The Guidelines® registry, the premier program for assisting hospitals in measuring and improving cardiovascular disease and stroke care through research-based guidelines. From the outset, Pulsara's vision was to be the evidence-based standard of care.
"When it comes to treating the critically ill, including those having a heart attack or stroke, it's essential to build a regional system of care, said Founder and CEO, James Woodson. "Pulsara connects the often fragmented and siloed system of care providers onto one simple platform. By leveraging Pulsara and the American Heart Association Get With The Guidelines® , regions can maximize their efforts."
Pulsara is a communication platform that helps providers minimize miscommunication and delay in emergency care. With its specialized STEMI and stroke workflows, research has shown an average reduction in time to treatment of 28%.
"We care about patient outcomes and are honored to be recognized as a Get With The Guidelines® Compatible Vendor." said critical care flight paramedic and Pulsara Chief Marketing Officer, Kris Kaull. "With consistent adherence to the Get With The Guidelines quality improvement program, research has shown lower mortality rates and better outcomes."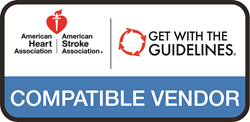 The American Heart Association Get With The Guidelines is an online tool with five modules: Atrial Fibrillation, Heart Failure, Resuscitation, Stroke and a fifth module, Coronary Artery Disease relaunched in 2017 to support Mission: Lifeline®. Six million patients have been treated at Get With The Guidelines-participating hospitals. Nearly 80 percent of the U.S. population has access to a Get With The Guidelines-participating hospital.
While Pulsara has value to a single hospital in a region, its vision is to build a regional, patient-centric communication network. By coordinating communication among caregivers and across healthcare entities in a regional system of care, workflows are optimized, resulting in increased efficiency, shorter time to treatment and reduced miscommunication and medical errors.
###
ABOUT PULSARA
Inspired by the communication crisis in healthcare, Pulsara provides a real-time communication network across an entire region. The Pulsara platform, built on the power of mobile technology, unites the right clinicians at the right time for the right patient -- providing transparency and streamlined communication when time is essential. Simply CREATE a dedicated patient channel with a simple tap. BUILD the team. And, COMMUNICATE using audio, video, instant messaging, data, images, and key benchmarks. Studies report an average decreased treatment time of nearly 30% when using Pulsara. Pulsara, the evidence-based standard of care. For more information, visit https://www.pulsara.com.
ABOUT THE AMERICAN HEART ASSOCIATION
The American Heart Association is devoted to saving people from heart disease and stroke – the two leading causes of death in the world. We team with millions of volunteers to fund innovative research, fight for stronger public health policies and provide lifesaving tools and information to prevent and treat these diseases. The Dallas-based association is the nation's oldest and largest voluntary organization dedicated to fighting heart disease and stroke. To learn more or to get involved, call 1-800-AHA-USA1, visit heart.org or call any of our offices around the country. Follow us on Facebook and Twitter.
ARTICLE CATEGORIES:
Press