Are you using old, non-patient-centric communication technologies like pagers or phone calls (or even WhatsApp) to solve present-day healthcare challenges? Do you ever wonder if there's a better way to connect your care teams?
At the European Resuscitation Council Virtual Congress on Oct. 24, 2020, Greg Brown, RN, Pulsara's Western Regional Sales Manager, hosted an exclusive webinar exploring just that. In "Patient-Centric Emergency Medicine: Why Mobile Team Communication Across Healthcare Organizations is the New Standard," Greg discusses how to improve acute care team communication and patient outcomes by switching to mobile technology — and why it is imperative to inter-organizational success.
Watch the full webinar above, or read on for an excerpt from Greg's presentation.

Hi everyone. My name is Greg Brown, and I'm the regional sales manager for the Western Region with Pulsara, which is a mobile-first, cloud-based communication platform that allows for cross-organizational communication. I'm also a registered nurse with an extensive background in emergency nursing around the Seattle, Washington area.
I'm thrilled to be here today to speak with you about something that's very near and dear to my heart: patient-centered communication during an emergency. It was a huge pain point of mine coordinating care, especially during off hours in the emergency departments where I worked. And so we're also going to discuss how Pulsara can be used to optimize your communication pathways and processes, to drive down care times for your time sensitive patients, as well as how it can be used to help in response to situations like COVID-19, which has been gripping the planet and stressing our healthcare systems around the world.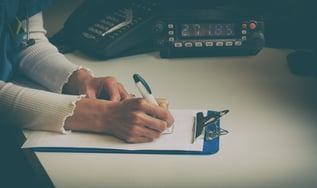 Let's start by discussing communication in healthcare. It's no secret that we do it very poorly. We use old-fashioned technologies and outdated systems. Our communication is very siloed, point-to-point, and operator dependent. Ambulance services would use a radio to communicate about a critical patient to the hospital. And then hospitals use their internal processes to disseminate that information out to the care team, which could be pagers, call lists, and things like that. If this is a patient that needs, say, a 12-lead ECG transmitted to the hospital, even more technologies come into play. It's very inefficient.
That's not the only problem that plagues healthcare communication, right? The inbound ambulance service is only one piece of the puzzle. What about that patient who's having their event up on the Inpatient Units? Or maybe they're a transfer into your facility. Or to complicate matters more: What if this is a patient you need to send out of your facility— to the trauma center, or maybe a specialty hospital or a tertiary care center, to get services you don't offer?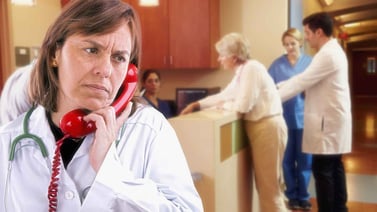 Each one of these spheres creates a communication problem that makes our care and transitions of care very inefficient. And when you look at our traditional approach to communication in healthcare, it's siloed, right? Every time we want to bring somebody in to the care team or alert them about a condition change, our point-to-point communication methods mean we have to start our process over every time we want to communicate with someone new.
That means repeat phone calls. That means multiple pages. That means delays in care, and that means numerous opportunities for miscommunication, or dropped communication.
Diving into this on a more case-by-case basis, we start with a patient who is having their event. As their care evolves and their case evolves, and that care team grows organically as we tag in new services, the communication map gets more complex. More methods are being used, which leads to more opportunities for what I've mentioned before: dropped and missed communication. And that leads to what I call clinical dead space: those two- to three-minute chunks of time where you're waiting for a call to be returned, or even you have to do a repeat phone call to clarify some information. Those all stack against us and the patient, and can lead to delays in care and poorer outcomes. Instead, we want to drive down those care times and save that tissue by reperfusing it as quickly as possible.
Between mixed technologies that don't interoperate with one another and communication silos that prevent different teams from talking to one another, the result is inefficiency.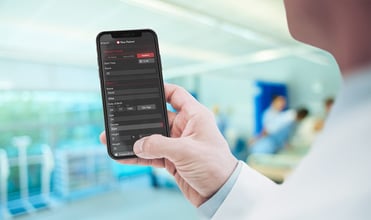 Pulsara can replace that inefficiency in three simple steps. First, we create the dedicated patient channel; we build our team in real time—and that can be across organizations. We communicate. And because Pulsara is mobile-first, we can harness the power of mobile technology to allow for both synchronous communication—like live video, or phone calls—and asynchronous communication, such as group text messaging, pictures, and audio clips. With Pulsara's approach of placing all care team members on one unified platform, you can ditch the rigid point-to-point communication process that plagues healthcare. Instead, you can have a flexible, dynamic platform that can be used for all patient types, and can be used to pivot and build teams quickly when patient conditions change.
And because of Pulsara's flexibility, it is incredibly scalable. It doesn't matter if you're responding to a patient coming in with a cardiac event from the ambulance service or a regional response to a COVID emergency. The workflow remains the same. You create the dedicated channel, you build your team in real time, and you communicate.
And again, this isn't limited to within the walls of your organization. You can tag in any community partners, or any healthcare partners you need to coordinate care for this patient. Pulsara's patient-centered approach to communication adds incredible value to your healthcare agency. The unparalleled interoperability at an organizational, regional, or even national level allows for Pulsara to easily meet all the goals of The Quadruple Aim.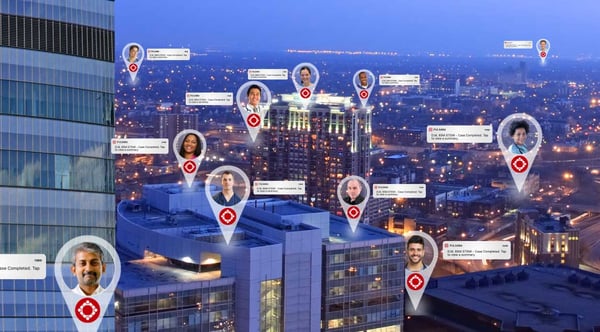 When discussing patient-centered communication and emergencies, there really only is one ideal solution, and that is Pulsara. It puts everybody on the care team on a unified platform, creates shared consciousness about the patient or event, drives down care time, and optimizes patient care.
The purpose of Pulsara is to improve the lives of our patients and caregivers through innovative communication. We want to drive down those care times, improve outcomes, and ease the burden of inefficient communication that plagues our healthcare providers in the current system.
To learn more about how Pulsara's partners in Colorado Springs and Teller County, CO have been using Pulsara to create a groundbreaking 911-initiated telemedicine program, check out 911-Initiated Telemedicine: How Colorado's Clinical Leaders Are Using Mobile Technology.