Finding A Next-Generation Telehealth Plan Of Action For Your Hospital [Part 3]
Editor's note: This is the third installment in our series on Finding the Next-Generation Telehealth Plan of Action for Your Hospital. Check out Part 1 and Part 2 here.
Before COVID-19 sent shockwaves through the healthcare community, telehealth only comprised a very small percentage of appointments for most hospitals. Almost overnight, hospitals realized that they needed a reliable platform for evaluating patients from a distance. The pandemic set in motion a mad scramble for a workable solution, and many hospitals reached for the first option they could find.


The Shifting Definition of Telehealth
As clinicians have adapted to the new challenges introduced by the pandemic, the definition of telehealth has begun to shift to match the need. Before COVID-19, the standard definition of a telehealth appointment involved a scheduled live video appointment between a physician and a patient, both accessing the meeting from a desktop computer.
That's still true for many telehealth visits. However, COVID-19 highlighted the need for more dynamic and flexible communication within healthcare. Clinicians need new ways to communicate with patients and with each other, and some telehealth solutions are stepping in to fill that niche.
The definition of telehealth now includes using mobile technology for communication with patients—whether in an outpatient visit, monitoring a patient remotely, or having the capability to transmit documents and data through multimedia messaging. Telehealth can include live video interactions between providers, not just patients. A medic practicing telehealth could use their phone to seek a second opinion from a physician at the hospital via a live video call. Likewise, a physician at one hospital could use telehealth to contact a specialist at another facility for a consultation.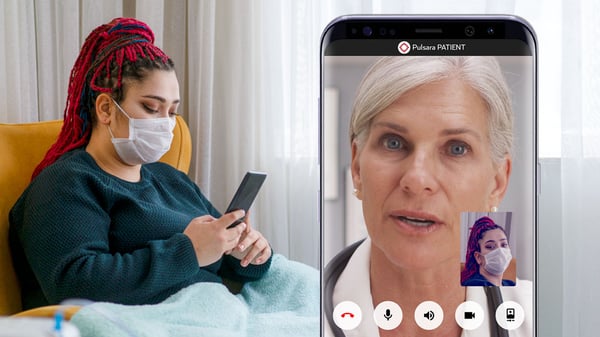 With the vast array of options available for practicing some form of telehealth, hospitals now face an overwhelming number of factors in deciding what will work best for their facility.
And while the different features are important, perhaps more important is the overall scalability and flexibility of your telehealth solution.
Here are the top 6 questions to consider when you compare the capabilities of different telehealth solutions for your needs:
1. Is your solution designed specifically for healthcare?

Over the last few months, many clinicians have experienced the frustration of trying to apply non-healthcare specific solutions to the healthcare space. Without specific alarming, routing calls, and an interface that understands clinical workflows, non-specific solutions might work for some things, but they also lead to frustration, lost opportunity, and inefficiencies. These solutions may work for the one use case they were designed for, but if they aren't tailored to clinical workflows and don't integrate well, they create frustrating obstacles.
Most existing solutions that we're currently leveraging for telehealth were designed specifically to fit the old reimbursement and regulatory environment. Traditionally, telehealth solutions have been designed to serve patients who are stable. The location is typically predetermined, and what the patient is seeking care for is defined—whether it's an outpatient visit, a stroke encounter, etc. Traditional telehealth was designed to match that model. Providers working telehealth shifts were often in stationary, well-controlled environments, and were providing care for something very specific or scheduled.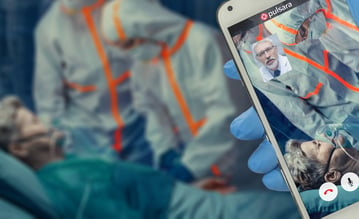 COVID-19 has changed all that. Now, we're bringing telehealth into the acute care space. And in the acute care space, unscheduled patients and encounters are one of the key things that care team workflows are designed for. A lot of times, our technology solutions are not.
It's important to look for a telehealth solution that's mobile, enables dynamic communication, and can adapt to the situation as it evolves. Solutions that are designed specifically for healthcare workflows tend to meet this criteria better than more general platforms that are being adapted to telehealth.


2. Does your solution provide for dynamic communication?

In the past, telehealth interactions have been designed to be rigid, centering around a very specific type of event. Most times, they're designed to bridge just two silos — or two specific individuals — at a single time, for a very specific (and often limited) interaction.
Many organizations already have fantastic clinical collaboration and communication (CC&C) solutions. But what if these solutions could also help with telehealth, enabling clinicians to leverage live audio and video with patients and with each other—creating a sense of shared consciousness for patients that aren't currently inside of your healthcare system?
As the definition of telehealth expands to cover more dynamic communication between providers and patients, you may want to consider choosing a telehealth solution with the flexibility to cover your CC&C needs, as well as both scheduled and unscheduled encounters with patients.


3. Does your solution connect team members?

Point-to-point communication is par for the course in most telehealth solutions. And if it's just being used for communication between two people, that tends to work well.
However, if you're interested in pushing the capabilities of telehealth beyond scheduled appointments, your next step might be to ask the question: Who are you trying to connect?
Are you looking for more ways to allow physicians (and even paramedics) to talk to patients? Do you need to enable better communication between the members of one specific care team? Do you need to alert and access other clinicians or specialists that aren't in your system?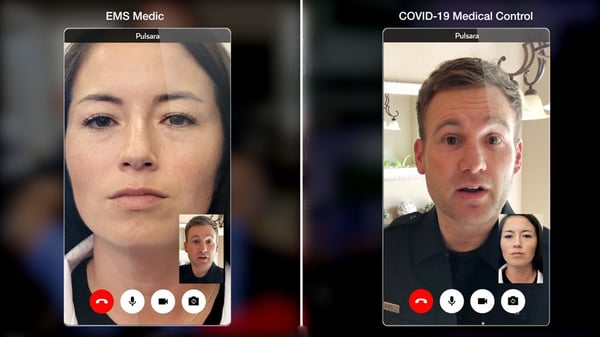 Rather than focusing on a solution that enables point-to-point communication between two people, it's important to consider whether the system has been designed to bring together different groups of people that are providing specialized services.
Does the solution you're looking at only enable communication within your hospital, or could it connect you with individuals in other facilities? Could physicians use it to work from home? How many people could you bring together on this platform, and where are they located?


4. Does your telehealth solution balance between usability and security?

One of the major reasons COVID-19 set off telehealth's explosive growth is the temporary suspension of the many rules and regulations that had for years restricted telehealth's flexibility. Among these regulations was the requirement that telehealth solutions be HIPAA compliant.
Security is of utmost importance in protecting patients' information. However, an overabundance of security can lock processes down and make them difficult to use. Easier methods of communication have the tendency to take precedence; after all, if an issue can be solved with a simple text, why bother to adhere to a needlessly complicated process to achieve the same result?
Rather than attempting to adapt our workflows to a complex process for the sake of security, it makes more sense to take the ways we already naturally communicate and make them secure. As you weigh your telehealth options, look for a platform that combines HIPAA compliance, excellent security, and ease of use for both clinicians and patients.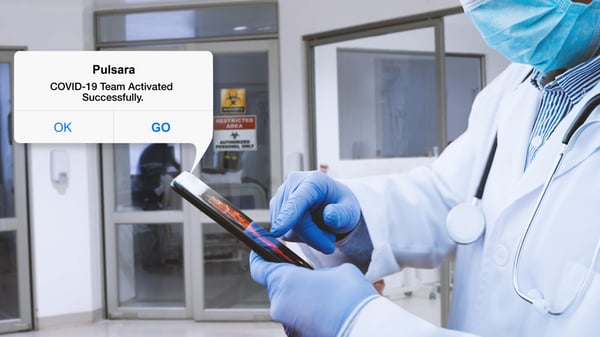 5. Does your solution have the appropriate hardware for what you're using it for?

Once you've determined what you're going to be using your telehealth solution for, you'll also need to consider what type of hardware you'll need to make it successful.
Desktop computers have historically worked well for stationary, scheduled appointments. However, as telehealth shifts into a more dynamic role, mobile technology offers a much greater degree of flexibility, and having the option for clinicians to communicate on the go makes your care teams much more versatile.
Mobile technology allows for a much greater degree of flexibility in when and where telehealth can be conducted. It's easier to keep clean, and is often more cost effective. If the software or the technologies are configured correctly, you may be able to leverage both patient and provider devices. Shared devices are another option.

6. Is your solution interoperable with other communication and data transferring systems?

Most of the technologies healthcare currently uses for communication are not interoperable with each other. Especially in communications that occur across organizations, we still mostly use fax, phone, and radio. How much time does your transfer center spend leveraging audio phone calls alone to connect people?
Many patients are unstable, or are in transition. They are moving between organizations: from EMS to the hospital, department to department, or facility to facility. When they start that movement, a lot of patients are undifferentiated. Having one telehealth and communication solution for stroke, another for ICU, and a completely separate solution for COVID-19 cases will lead to delays and breakdowns in communication.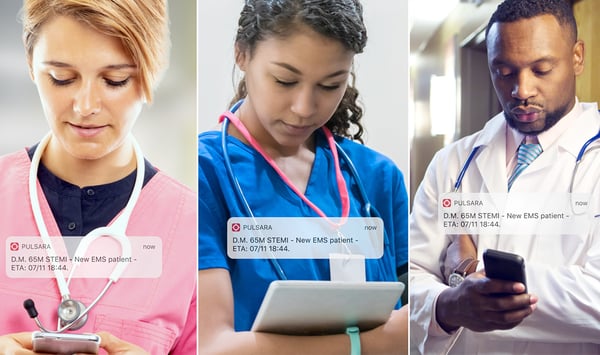 On the other hand, uniting all your care teams on one telehealth-enabled communication solution that meets everyone's needs can create a much smoother process for exchanging information. Interoperable technology opens up clear lines of communication, getting the right message to the right person at the right time. This creates a much better experience for providers and patients alike.


As we navigate the shifting terrain of providing care during a pandemic, we need telehealth and communication technologies that are flexible and can scale and adapt to our changing needs. Choosing the right telehealth solution for your organization will not only determine a lot about your pandemic response; it will also shape much about how your organization moves into the future of healthcare communication.
If you're looking for a solution that combines dynamic team communication with an easy-to-use, HIPAA compliant approach to telehealth, Pulsara can help. Visit us at Pulsara.com to learn more.
To learn more about the recent regulatory changes in telehealth and how you can find a telehealth solution that works for your organization, check out Finding a Next-Generation Telehealth Plan of Action for Your Hospital: Part 1 and Part 2.