In 2017, a group of doctors and scientists conducted a survey study with paramedics to find out their thoughts on the future of EMS. More specifically, they were interested in finding out what paramedics thought about the possibility of using telemedicine in the back of the ambulance. Would video communication technology be able to help paramedics deliver higher quality care for their patients? Or would it be a time-consuming hindrance?
At the time, using video communication for pre- and out-of-hospital care was still considered a novel idea. Many paramedics expressed that the concept was a new one to them, which possibly accounted for the large number of neutral responses. There were also a number of potential problems with telehealth services that concerned them, including background noise, connection errors, interference with patient care, difficulty in set-up and use, equipment damage, and poor video quality.
Even then, though, medics generally agreed that the idea had potential, and that it might be extremely useful in certain circumstances. The researchers found that "most agreed or were neutral with the concept that telemedicine has the potential to improve the patient care experience, including prehospital diagnosis, destination decisions and patient satisfaction. Furthermore, providers were more likely to agree with the benefits of telemedicine in cases where the patient diagnosis or disposition was unclear."
Around the same time, Dr. Raymond Fowler, MD, FACEP, shared his thoughts on the potential for mobile technology in EMS:
"EMS telemedicine has the promise of opening the door to many opportunities that will broaden the assessment, diagnostic and management capabilities of prehospital providers. Recruiting a distant physician specialist to enhance the medic's ability to employ increasingly advanced diagnostic analyses—from complex electrocardiographic interpretation to parsing through difficult patient medical scenarios—can only result in a higher level of professionalism and improved patient care. I am looking forward to seeing EMS cross this new frontier."
Though this quote was originally published in 2016, it now seems incredibly relevant.
Much has changed in the four years since then. The landscape of out-of-hospital care has shifted dramatically over the last three months alone. COVID-19 has forced healthcare providers to get creative with their solutions in an effort to avoid unnecessarily exposing clinicians to the virus. The new situation calls for as much distance as possible to avoid transmission, and as it happens, video calling capabilities are designed for distance communication.
Many EMS agencies are now fully embracing, or considering, telehealth options to help manage the crisis. In April, the Journal for Emergency Medical Services (JEMS) hosted a webinar titled How EMS Leaders Are Using Mobile Technology to Manage the COVID-19 Crisis and Beyond, featuring EMS leaders from Colorado Springs, CO, Austin-Travis County, TX, and Williamson County, TX. Each of the panelists detailed how their organization has been using mobile technology and telehealth to solve the communication challenges caused by the pandemic. Dr. Stein Bronksy, co-chief medical director of Colorado Springs Fire Department, explained how they have been using Pulsara, a telehealth communication platform that connects teams across organizations, to help manage the COVID-19 crisis.
"When COVID-19 hit our community, we immediately recognized that our vision of needing to have immediate telemedicine capability from the crews in the field to the medical directors was an immediate necessity. It wasn't something we could wait a long time for, and the logical choice was to use Pulsara in an expanded way because everybody already uses it. Every EMS provider has it. They're used to using it for the EMS-to-hospital communication, and using the existing platform, we could also flex it to start telemedicine consults directly from providers to medical directors, and that could help us within the pandemic crisis to use medical directors when necessary to figure out if people should be transported."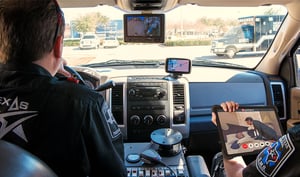 Colorado Springs, Austin-Travis County, and Williamson County have been leveraging Pulsara's video capabilities to help EMS providers avoid exposure by video calling with patients before setting foot in the house, enabling first responders the opportunity to seek a second opinion with the touch of a button, and allowing them to seek immediate input from a medical director on tough transport and resuscitation decisions.
There are some clear benefits for EMS to utilize telehealth during a pandemic. But will telemedicine continue to be relevant in EMS after COVID-19 has been eradicated? Based on the capabilities of mobile integrated health, the answer is a resounding "yes."
Telemedicine in EMS can improve patient care dramatically by clarifying communication and providing more information to all the parties involved in making a decision. With the right telemedicine platform, medics can seek a physician's opinion with the touch of a button. Doctors can now see the patient in the crucial moments of a decision, handing them a world of visual information that was previously unavailable to them. Video capabilities allow them to not only hear what the scene is like, but to see it for themselves, helping them quickly advise on the best course of action. This also allows physicians and medical directors to be able to talk directly with the patient while EMS is still on the scene, which gives them more information to work with. Transport decisions can be made with clearer, better, and more accurate information. Certain telemedicine platforms can strengthen relationships between EMS and the hospital, looping EMS into the communication and recognizing their role as a vital part of the care process.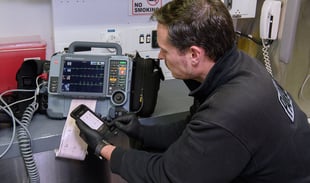 Since the survey study was first conducted in 2017, technological advancements have also helped solve other issues. Concerns about connectivity are improving as tools like FirstNet and Allerio work to boost the signal for first responders. And some platforms, such as Pulsara, are intentionally designed to streamline and facilitate the communication process, not hinder it. Information that previously had to be repeated multiple times can now be entered once, instantly accessible across organizations and care teams, eliminating questions about accuracy. The ability to add photos also helps EMS to document and provide the hospital with important information before the patient ever arrives. With Pulsara, ECGs, vitals signs, and medication lists can all be added for physicians to view before the patient is even transported. These capabilities save first responders a lot of time, which is also time saved for patients.
Telehealth services can provide first responders with options that will be useful long after the pandemic. There's a growing consensus that telehealth in EMS is not just a temporary solution for managing COVID-19; it is the new normal for optimal patient care and care team communication and coordination. JEMS Editor-in-Chief A.J. Heightman distinctly sums it up: "If you're not thinking about telehealth, you're going to be light-years behind [when this is all over]. I don't think we're ever going to go back after the pandemic. Telehealth is here to stay."