EMS has traditionally been built around well-established response, treat, and transport protocols. The COVID-19 crisis upended this, expanding the focus beyond time-sensitive emergencies to things like mitigating the demand on local healthcare systems and securing communication for outpatients in medical isolation. These new requirements revealed a deep need for better mobile-first technologies that would enable dynamic communication between the EMS prehospital care teams and all the other hospital clinicians connected to the patient journey. As EMS agencies look for ways to better support patients, telehealth technologies are quickly becoming an indispensable part of their care systems.
In April of 2019, long before COVID-19, the Journal of Emergency Medical Services published a study that followed the success of the Houston Fire Department in using telehealth to provide patients with out-of-hospital care, effectively decreasing costs and hassle for patients who didn't need transport. They concluded that "given the increase in costs associated with prehospital emergency care, and the increasing burden on these resources from continuous increased calls to 9-1-1, it's imperative to redesign the traditional delivery system." And further, they added: "We propose a model where more EMS agencies pursue adoption of telehealth on a pilot basis to determine their role for both acute and non-acute care."
Telehealth solutions are a game changer for EMS services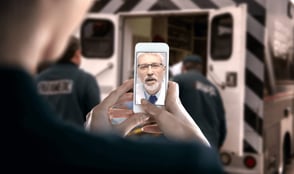 In a post COVID-19 world, the adoption of telehealth solutions for EMS is proving invaluable. Video-enabled telehealth platforms are giving providers the ability to see patients face-to-face, before they ever set foot on the premises. The Colorado Springs Fire Department is using the provider-to-patient video chat in Pulsara Patient to be present on the scene before they are able to be there physically.
Once inside, EMS can also use live video to chat with a doctor, show them the patient and the scene, and get their input on the best course of action. Having access to visual information is crucial to making the best possible care decision, and now doctors can give input without ever leaving the hospital. In Williamson County, Texas, first responders are using Pulsara to receive immediate input from their medical director on time-sensitive emergencies, allowing him to help make difficult transport and resuscitation decisions.
Telehealth solutions can make tough care decisions easier, giving you access to more information and putting an expert opinion just a text and a video call away.


What equipment is needed to make it work?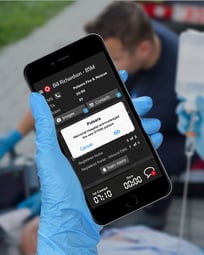 All you need to successfully practice telehealth in an out-of-hospital setting is the smart device you carry in your pocket. Your mileage may vary based on your chosen solution, but the best will utilize technology that you already have.
Pulsara comes in the form of an app that you run completely from your phone. Tablets work well too, but are not required. The app is tailor-made for you and is very intuitive to use. "It has been working smoothly with our paramedics and the fire service since the day we initiated it," shared Dr. Stein Bronsky, Co-Chief Medical Director of Colorado Springs Fire Department. "It's so intuitive and goes along so well with just everyday usage of a smart device." With Pulsara, you can build a communication network that unites all members of the care team. Everyone is connected to the same patient channel and can communicate with each other in real time.

Is it secure?
That depends on the solution you choose. We can only speak for ourselves:
Pulsara is completely HIPAA-compliant.

Our software is encrypted on both ends, and a thorough IT vetting process is conducted with every installation. No patient data is stored on devices. We've put in the time to make sure you're equipped with a service that complies with the most stringent of regulations. Patient privacy is important, and you can rest easy knowing that their information is safe with Pulsara.
Using telehealth in prehospital and out-of-hospital care saves time and money, and promotes efficiency. It can provide EMS with lifesaving flexibility, helping you provide the highest level of quality care, when and where the patient needs it. And as JEMS Editor-in-Chief A.J. Heightman put it: "If you're not thinking about telehealth, you're going to be lightyears behind [when this is all over]. I don't think we're ever going to go back after the pandemic. Telehealth is here to stay."