With state-of-the-art facilities and well-trained caregivers, St. Bernards' cardiac teams were already achieving door-to-balloon (DTB) times well within the recommended guidelines for STEMI response. But that didn't stop them from looking for ways to get even better.
"We have a lean process for STEMI response, but we needed a way to see the bigger picture for identifying areas we could improve," said Lindsey Stacy, the hospital's STEMI coordinator.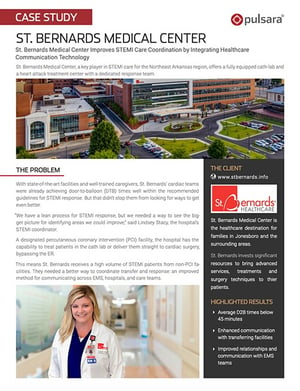 A designated percutaneous coronary intervention (PCI) facility, the hospital has the capability to treat patients in the cath lab or deliver them straight to cardiac surgery, bypassing the ER.
This means St. Bernards receives a high volume of STEMI patients from non-PCI facilities. They needed a better way to coordinate transfer and response: an improved method for communicating across EMS, hospitals, and care teams.
St. Bernards and its healthcare system partners wanted an interdepartmental communication solution.
After surveying multiple technology options, they landed on Pulsara, a mobile healthcare communication platform. Soon after implementation, the team had replaced phone calls and faxes with a platform designed to allow every member of the team—including providers in different hospitals and in the ambulance—to communicate securely and effectively from the moment a STEMI is identified until the case is concluded.
Download the case study to learn how St. Bernards Medical Center has improved their communication by integrating multiple teams from St. Bernards, partner hospitals, and EMS on one platform, helping them maintain DTB times below 45 minutes and consistently earning them the American Heart Association's Gold Plus Mission: Lifeline award for excellence in STEMI care.
To learn more about how hospitals and EMS organizations are using Pulsara to improve communication, reduce treatment times, and mitigate the spread of COVID-19, check out our client success stories.