FOR IMMEDIATE RELEASE

Pulsara's Prehospital Alerting Package among 30 innovative new products for emergency medical services and prehospital care.
Bozeman, MT, June 6, 2017 -- Pulsara and JEMS (Journal of Emergency Medical Services) are proud to announce the selection of Pulsara's Prehospital Alerting Package as a Hot Product from the JEMS EMS Today Conference & Exposition, which was held February 23–25 in Salt Lake City.
Pulsara was selected after a team of eight judges consisting of emergency medical services (EMS) product specialists, physicians, educators, managers and paramedics reviewed a host of products designed to not only improve the ability to deliver optimal emergency medical care to sick and injured patients, but also allow EMS agencies to do it safely, more efficiently and with enhanced comfort for the patient.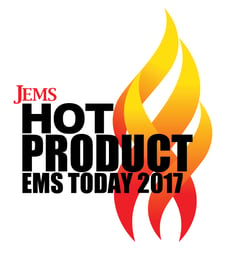 Products were rated on a 1–10 scale in four distinct categories: 1) Originality; 2) Functionality; 3) Ease of use; and 4) Need in the EMS setting. Pulsara was one of only 30 products selected as Hot Products after the EMS Today Hot Products review team evaluated and rated 58 products submitted by 52 companies.
JEMS Editor-in-Chief and EMS Today Conference Chairman A.J. Heightman said, "There was an amazing group of Hot Product submissions for our reviewers to [evaluate] and rate this year. All of the products reviewed were extremely innovative and well designed for the EMS industry, showing that our industry is keeping pace with the current science of emergency medicine and developing or upgrading their products to stay out in front of the science and technology curve."
The selection of the final 30 Hot Products appears in the June issue of JEMS and can also be viewed at www.jems.com/2017-hot-products.
####
ABOUT PULSARA
Pulsara is a digital healthcare corporation that focuses on using mobile technology to enhance treatment time outcomes by improving communication and care coordination through the entire healthcare system. Pulsara's mobile application packages for stroke, STEMI, and general patients improve communications between the teams caring for those critical patients, leading to faster treatment. Every clinician – from paramedics to emergency department staff to neurology and cardiology teams – is on the same page with a simple tap. Pulsara's Prehospital Alerting Package allows medics to alert hospitals for any case type, and is offered at no cost to EMS. Pulsara is also offering the package to hospitals for free for the length of the contract, if they sign up by December 31, 2017. For more information, visit www.pulsara.com/ems.
ABOUT JEMS
JEMS is the authoritative source of information on prehospital emergency care for EMS providers worldwide. Each month, JEMS presents provocative and challenging articles and columns on clinical breakthroughs, industry news and trends, new products and continuing education. Visit www.JEMS.com for more information.
ABOUT EMS TODAY
The EMS Today Conference and Exposition, now in its 37th year, is a leader in providing quality education for emergency medical services. An estimated 4.500 delegates will meet in Charlotte, NC for the first time. Serving the emergency services community, EMS Today provides professionals with a valuable combination of progressive education and the opportunity to see the latest equipment from leading manufacturers. EMS Today helps develop careers, create networking opportunities and provide an environment where camaraderie, pride of service and dedication to saving lives is celebrated. Visit www.emstoday.com for more information.
ABOUT PENNWELL CORPORATION
Founded in 1910 in Tulsa, Oklahoma, PennWell Corporation is a privately held and highly diversified business-to-business media and marketing services company that provides quality content and integrated marketing solutions for the following industries: Oil & gas, electric power generation and delivery, hydropower, renewable energy, water and wastewater, lasers and optoelectronics, fiber-optics, cabling, broadband, aerospace electronics, LEDs and lighting, fire and emergency services and dental. PennWell publishes over 130 print and online magazines and newsletters, conducts 50 conferences and exhibitions on six continents and has an extensive offering of books, maps, websites, research and database services. In addition to PennWell's headquarters in Tulsa, Oklahoma, the Company has major offices in Nashua, New Hampshire; London, England; Houston, Texas; San Diego, California; Fairlawn, New Jersey; Moscow, Russia; Rio de Janeiro, Brazil and Hong Kong, China. For additional information about PennWell, visit www.pennwell.com.
Press Contact:
Kris Kaull
Pulsara
406.600.0960
kris@pulsara.com