Breakdowns and bottlenecks in healthcare communication systems frequently cause a myriad of delays in patient care. Legacy systems like radios, pagers, fax machines, and multiple phone calls connect clinicians but aren't always able to efficiently get the right message to the right person at the right time. Combined with the challenges presented by the COVID-19 pandemic, it's clear that our current systems of communication need to be reimagined. Healthcare officials must begin to think differently.
Your acute care, collaboration, and coordination solution needs to be scalable and flexible, enabling you to adapt quickly to the dynamic needs of patients and clinicians—and span across all organizations involved in patient care. By replacing legacy systems with one solution that covers the entire care continuum, health providers can achieve reduced treatment times, conserve resources, and improve the lives of both patients and caregivers.
When: The evening of April 27 in the USA; 11 AM on the 28th in New South Wales, Australia
Cost: FREE
Registration: Click here to register
Read on for further details!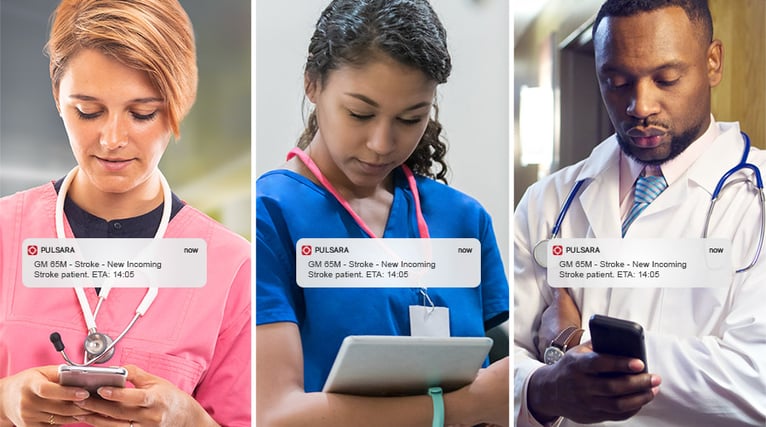 Details
Through interviews and case studies, learn how Australian clinicians and thought leaders are creating a new path forward with Pulsara, a secure, mobile-first telehealth and communication platform.
This round table group includes:
Moderator: Kris Kaull, Pulsara Chief Marketing Officer and Critical Care Flight Paramedic
Panellist: Professor Chris Bladin, Victorian Stroke Telemedicine (VST) Service Director and Adjunct Professor at Monash University
Panellist: Dr Kathleen Bagot, Senior Research Officer, Stroke Division: Public Health & Health Services Research Group
Panellist: Janet May, Stroke Coordinator at Latrobe Regional Hospital
Panellist: Grant Hocking, Regional Improvement Lead, Grampians Region Operational Improvement at Ambulance Victoria.
When
The webinar is open to participants worldwide, and will occur at these respective times, depending on your time zone:
United States: Tuesday, April 27, 2021 at: 9:00 pm ET / 8:00 pm CT / 7:00 pm MT / 6:00 pm PT
Australia, New South Wales: Wednesday, April 28, 2021 at 11:00 am AEST
Click Here to Register for Free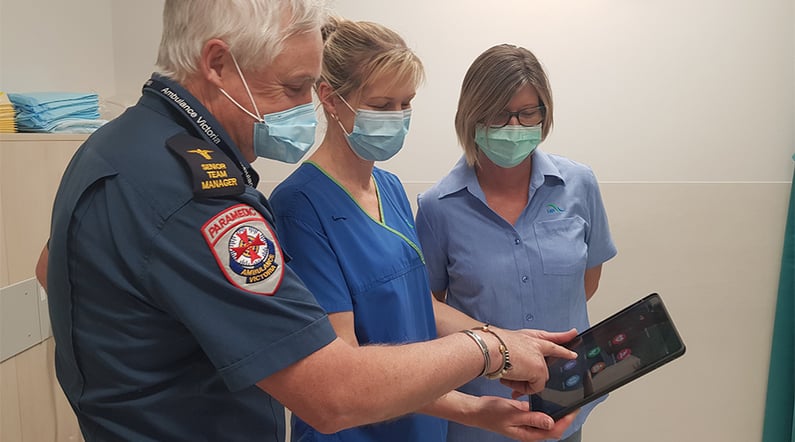 Learn how to:
Break down healthcare communication barriers to improve patient outcomes and why it is imperative to inter-organizational success.

Decrease unnecessary costs and resource utilization, optimize revenue, and improve overall value with the right communication and telehealth platform.

Understand the advantage of enabling flexible and dynamic communications from the simple, routine patient consultation, to the complex and multilayered COVID-19 pandemic.



Meet the Panelists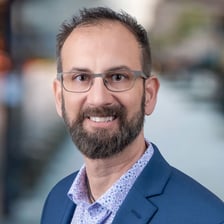 Moderator: Kris Kaull
Chief Marketing Officer at Pulsara, Critical Care Flight Paramedic, Founder of Paramedic.com, and co-founder of EMS1.com
Kris Kaull, BS, NRP, FP-C has driven innovation and positive change in EMS for nearly 30 years. After beginning his career as a firefighter and EMT, Kris started paramedic.com and co-founded EMS1.com, which today is the largest online paramedic resource. He has worked as a firefighter captain, paramedic and ambulance service director, and most recently, practised as a critical care flight paramedic covering Southwest rural MT and Yellowstone National Park. Kris is currently the Chief Marketing Officer at Pulsara.com, the leading mobile telehealth and communication platform that connects healthcare teams across organisations.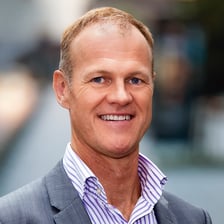 Professor Chris Bladin
Victorian Stroke Telemedicine (VST) Service Director and Adjunct Professor at Monash University
Prof. Christopher Bladin is a practising Neurologist who has previously worked in London, UK, and Toronto, Canada. He is the Director of Stroke services in Ambulance Victoria and Director of the Victorian Stroke Telemedicine (VST) service. He is active in stroke research with a special interest in post-stroke glucose control, stroke thrombolysis, acute stroke brain imaging, and stroke telemedicine.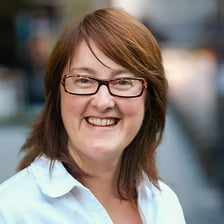 Dr Kathleen Bagot
Senior Research Officer, Stroke Division: Public Health & Health Services Research Group
Dr Kathleen Bagot (BSci; BBSci, Honours, PhD; Psychology) has over 15 years of experience as a social scientist with a particular focus on mixed-methods research in complex applied settings (e.g., within ambulance and emergency departments, blood donor centres, education settings) to improve physical and/or psychological health. Her experience includes conducting and/or analysing over 300 individual interviews (via phone and face-to-face)/focus groups, complex statistical modelling from survey data to identify factors underlying or associated with behaviour change, interpretation within relevant theoretical frameworks and literature, tailored to best fit the research objectives, target audiences and available resources.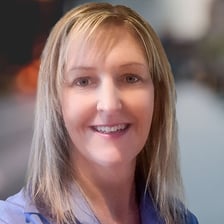 Janet May
Stroke Coordinator at Latrobe Regional Hospital
Janet is the Stroke and Pulsara Coordinator at Latrobe Regional Hospital (LRH) in regional Victoria. She is a Registered Nurse with 26 years of experience working in Australia and abroad and holds a Masters in Health and Graduate Diploma with Merit in Critical Care Trauma and Emergency Nursing. She has an extensive background in Emergency Nursing and previously held positions as Associate Unit Manager and Clinical Nurse Specialist in Emergency Departments. Janet managed the Pulsara implementation project at LRH and Gippsland and continues to manage the day-to-day operational aspects of Pulsara for LRH. She is passionate about improving stroke care and streamlining processes in regional Victoria.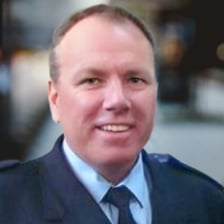 Grant Hocking, ASM
Regional Improvement Lead, Grampians Region Operational Improvement for Ambulance Victoria
Grant has a 35-year career with Ambulance Victoria (AV) and has worked in most operational areas of the organisation, including as a MICA Paramedic, Team Manager, Clinical Support Officer, Clinical Manager and is currently the Improvement Lead for the Grampians region of AV. He has an interest in clinical quality and was awarded the Ambulance Service Medal (ASM) in the 2014 Australia Day recognitions for the development of Clinical Quality Improvement processes. He was a member of the Health Services Review Council for 3 years (2010-2013).
Also, with an interest in Stroke management, Grant was a member of the Victorian Stroke Clinical Network (Dept. of Health) for 6 years (2012-2017) and was awarded the National Stroke Foundation (NSF) President's Award in 2018. Grant has changed internal AV procedures and guidelines and directed state-wide improvements in the outcomes of patients with Stroke and many other projects and research.