On February 19th, 2021, the European Stroke Organisation (ESO) published a new guideline on Intravenous Thrombolysis for acute ischaemic stroke.
The new guideline comes from a study aimed at providing evidence-based recommendations to help physicians make clinical decisions regarding intravenous thrombolysis for acute ischaemic stroke. Published in the European Stroke Journal, the new guideline is the first in a series of around 10 that are expected to be published in 2021.
The new guideline makes forty specific recommendations for stroke treatment. The authors of the study outlined the 8 they consider the most important, which are quoted as follows:
1. To treat ischaemic stroke patients with alteplase if it can be started within 4.5 h of symptoms beginning. The stroke symptoms should be disabling at the time of treatment. The age of the patient does not matter.
2. Advanced brain imaging (magnetic resonance or CT perfusion) should be used to select patients for treatment with alteplase, if they present between 4.5 and 9 h after the start of symptoms, or if a stroke is noticed at waking from sleep.
3. To avoid treatment with low dose alteplase, or to add ultrasound or immediate antiplatelet drugs to alteplase because they do not give a better chance of surviving with no disability.
4. If an ischaemic stroke patient could be treated with alteplase, do not avoid treatment if the patient:
Has a diagnosis of high blood pressure, diabetes, previous stroke, or a heart attack

Takes antiplatelet drugs like aspirin

At the time of stroke has a high blood glucose level, or an epileptic seizure (if the diagnosis of stroke is certain) or dissection of the carotid artery

Has had a brain scan that shows a brain aneurysm that has not burst, or < 10 tiny brain bleeds (microbleeds), or damage to the brain 'white matter'

Has had a brain bleed because of a cause unlikely to re-occur
5. Generally, to avoid treatment with alteplase if the ischaemic patient is taking blood thinning drugs such as a 'direct oral anticoagulants' or warfarin, unless:
The patient is taking warfarin and the INR (a measure of blood clotting) is known to be < 1.7.

The patient had been prescribed a 'direct oral anticoagulant' (such as apixaban, dabigatran, rivaroxaban, edoxaban) but has not taken the drug in the 48 h before stroke.
6. Generally to avoid treatment with alteplase if the patient has recently had major surgery, major trauma, infection of the heart valves (endocarditis), or dissection of the aorta. If the patient is known to have more than ten tiny bleeds of the brain (microbleeds) or very low levels of blood platelets, treatment should be avoided, but looking for these with blood tests or extra brain scans should not delay treatment.
7. An alternative thrombolytic drug, tenecteplase, may be favored over alteplase before clot pulling treatment (thrombectomy), but its place to treat all patients is uncertain.
8. Once blood pressure is lower than 185 mmHg systolic or 110 mmHg diastolic, alteplase can be given safely.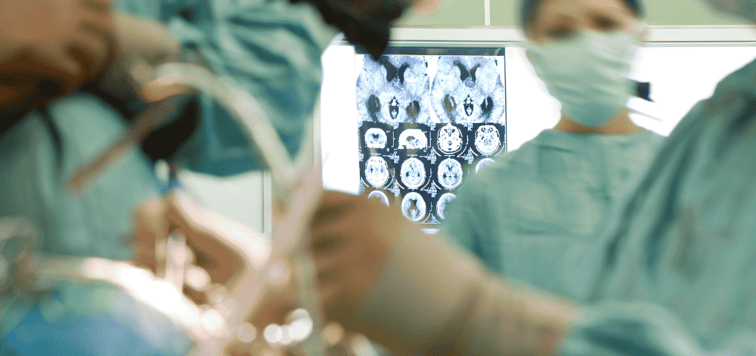 According to the guideline's abstract, "Intravenous thrombolysis remains a cornerstone of acute stroke management. Appropriate patient selection and timely treatment are crucial."
Timely treatment is one of the most important factors in successful stroke treatment. Nearly 2 million neurons die each minute that blood flow is blocked to the brain, which means that early identification and rapid treatment are crucial for ensuring both survival and the best possible quality of life for the patient.
In order to decrease time-to-treatment for your patients, you need to have a clear, defined system for communicating patient information. Precious time gets wasted when too many team members have to spend time relaying messages like a game of telephone. Instead, many hospitals and EMS organizations are turning to communication solutions that can get one message out to the entire team with the touch of a button.
As soon as a code stroke is called in, there are multiple teams and team members that all need to be notified simultaneously, including registration, the stroke coordinator, neurology, and the CT lab, among others. It's important to get the entire team on the same page immediately.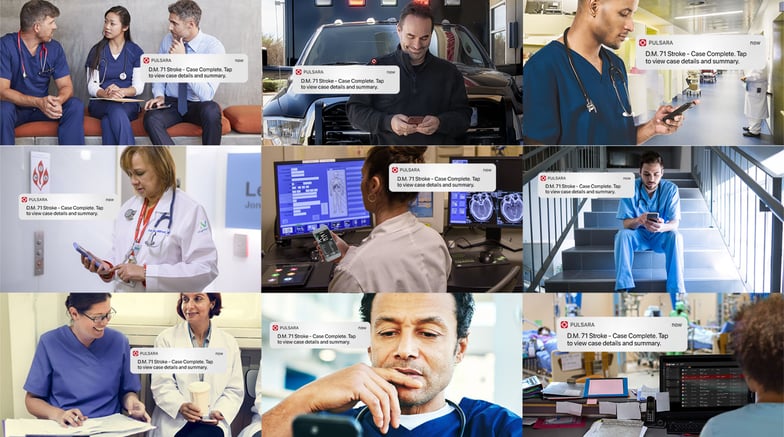 Using a communication system like Pulsara, EMS can send notifications ahead to the hospital, instantly letting the entire care team know that they are on their way with a stroke patient. Registration can begin entering the patient's information ahead of time, allowing the patient to skip that step once they arrive at the hospital. With more time to prepare, hospital staff are able to line up everything they need to prepare for the patient's arrival, and lab techs can be notified to hold the CT for the incoming patient.
While medics transport the patient to the hospital, they need to obtain a thorough history and begin preparations for tPA. Pulsara's telehealth technology can be used for real-time video consultation with the hospital team members while still en route, optimizing the time the patient spends in transit.
With this type of communication system, team members can also see when others have acknowledged their notifications, and group messaging allows them to instantly coordinate when, where, and how the patient will be treated. Solutions like Pulsara can also help care teams monitor exactly how much time has passed since the patient's arrival, helping everyone stay focused and synchronized to the same clock.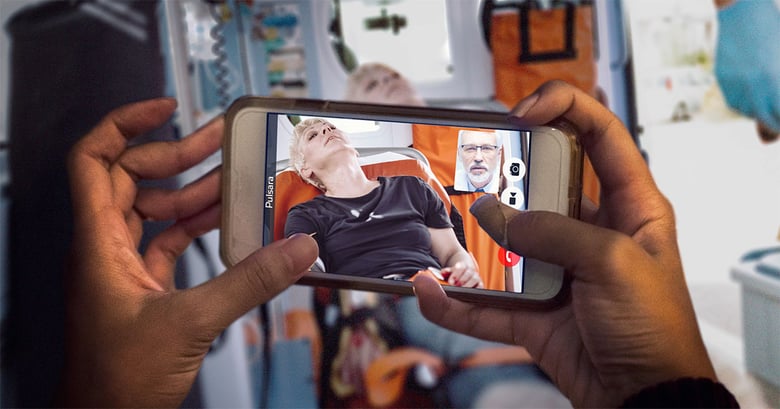 Several hospitals around the world have recently released data showing how streamlining their communication with Pulsara has helped reduce wasted time. CHRISTUS Good Shepherd Medical Center - Longview in Longview, Texas implemented Pulsara to synchronize their stroke team. In 2020, they reported a 46-minute average door-to-needle for patients receiving tPA, a 59% decrease from their previous average time of 110 minutes. Last year, Latrobe Regional Hospital near Melbourne, Australia used Pulsara to streamline communication between their ED staff and Ambulance Victoria. Within a year, they reduced their already excellent door-to-CT times by 68%.
Reducing time-to-treatment can give patients their best chance at recovery and the best possible outcome. To optimize your stroke treatment, it's important to stay up-to-date on the latest guidelines and emphasize efficiency throughout the care process.
For more information on what hospitals around the world are doing to improve their stroke treatment, check out Study: Lower Door-to-Needle Times Linked to Lower All-Cause Mortality.