The Results
By August 2020, six short months after implementation, Latrobe expanded the technology to the majority of its staff members, including all ED, nursing, pediatric, and transfusion divisions.
Most recently, the hospital's mental health triage unit—which responds to a high number of the region's mental health cases—has been onboarded.
Latrobe's ED staff treats an influx of individuals with drug dependencies, and Pulsara helps manage these patients more effectively by notifying the hospital of incoming cases ahead of time. Through Pulsara, Ambulance Victoria is able to relay details on the patient's severity, quickly informing the hospital of the needed intervention well before arrival. This allows the care team to be ready and waiting at the door when the ambulance arrives. By introducing Pulsara into their current mental health response protocols, Latrobe has increased the safety of both patients and caregivers.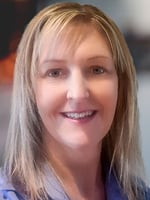 Additionally, Latrobe is adding its local mental health police response to the platform to support the community management of these case types.
"Pulsara has made a massive difference in communication for all of our workflows," said Janet May, Stroke and Pulsara Coordinator at Latrobe. "It gets the right information to the right care team members at the right time, allowing us to adequately prepare for a variety of patient cases."
One particular case type that has benefitted from the improved communication at LRH is stroke.
"Now with Pulsara ... we are able to pre-register the patients, so stroke patients can go directly to CT on arrival," said May. Compared to data from March through July of 2019, in 2020, LRH improved door-to-CT times from an already impressive 22 minutes down to just 7 minutes on average, a 68% reduction in treatment time.
"It's worked from the bedside through to the ED department through to the CT scanner through to the tele-stroke consultants," added Prof. Chris Bladin, a Neurologist at Ambulance Victoria/Monash University, and Director of the Victorian Stroke Telemedicine service, which assisted with bringing Pulsara to Latrobe.
Latrobe and Ambulance Victoria are currently using Pulsara to manage their COVID-19 patients more safely and efficiently, while simultaneously keeping the well-being of Emergency Services and ED staff a priority. Now, the healthcare system is working to expand the platform's capabilities to further synchronize communication and innovate patient care throughout the region.