Time and accuracy in acute care are paramount at every stage of the care process, starting with dispatch and carrying through to the hospital. Time is tissue, and communication errors can lead to avoidable injury or even death. Care teams can't afford to not get it right. Patients and their families are counting on them.
According to The Joint Commission, 80 percent of medical errors result from miscommunications between caregivers during transitions of care. Fueled by data like this, the U.S. Department of Health and Human Services has acknowledged that there is a communication crisis in healthcare: "Problems with communication between clinicians are pervasive and clearly result in preventable patient harm," they state in their article on communication between clinicians. "Seminal studies have shown that poor levels of communication exist between clinicians at all levels of the health care system. The Joint Commission has found that communication issues are the most common root cause of sentinel events (serious and preventable patient harm incidents)."
Miscommunication and treatment errors stem from a lack of a single effective communication method. Pagers, fax machines, and radios still dominate healthcare communication, and these technologies don't allow care teams to communicate with one another as quickly or efficiently as they could. In order to establish effective team communication, then, it's time to consider how mobile technology can help.


Centralized Data Sharing
"[In stroke systems of care], mobile radios, landline phones, fax machines, pagers, hospital operators—they're all still used like they were decades ago. New technologies can improve communication, create a record of those communications and enhance data collection and analysis, to name a few advantages."
— Journal of Emergency Medical Services
In today's interconnected world, mobile technology can enable medical professionals to quickly assemble acute care medical teams for any time sensitive emergency — including a global pandemic like COVID-19 — on the fly. Better yet, these care teams can be instantly designed with the patient in mind, ensuring that they are seen by the professionals who are best equipped to treat them.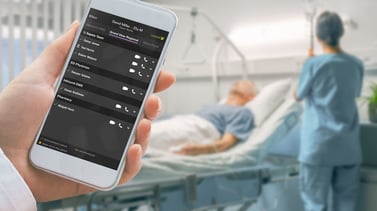 Pulsara can help connect care teams across organizations and create a system of centralized data sharing, ensuring that everyone on the team has access to the patient's information as soon as it becomes available. Clinicians can use mobile technology to quickly activate staff, share information, access important data, and communicate promptly.
Empowered care teams need centralized, device-agnostic access to patients' data. A nurse using a hospital workstation should have the same access as a doctor using a mobile phone at home. Creating a single, accessible source of truth for all patient data unifies the care team, keeping all members aligned and connected in a single case from start to finish.
Thanks to Pulsara, consulting physicians can access prehospital patient data, and EMS no longer has to drop off a patient and wonder about their treatment and outcome. A centralized data sharing approach will change how care team members interact with each patient's case, helping them collectively visualize the patient's journey from the beginning to end. Having that context is vital to providing the patient with the best treatment possible.
Inter-Organizational Communication
The healthcare system is currently plagued by the silo mentality. Each team member participates in the care process, but there is no easy way for all parties to communicate in the same channel.

EMS rarely gets to share all of their information with specialists, for instance, and hardly ever receives feedback about what could be done better in the future. According to the Journal of Emergency Medical Services:
"Members of specialty teams have little interaction with EMS, instead relying on second- or third-hand reports of how the patient presented in the field. Too often, communication between EMS, ED and specialty team personnel happens in series. A paramedic calls the ED, often speaking to a charge nurse; that information may or may not be passed along to the nurse or physician caring for the patient; a member of the cath lab team may or may not speak to a member of the ED staff. Chances are that by the time the cardiologist is notified, any details about the patient have been passed along verbally several times—or not at all."
By replacing outdated communication methods with mobile technology, you can form united care teams across organizations instantly—enabling you to select the individuals best equipped to treat each patient. Hospital-based RNs are no longer limited to the ED doctors, specialty physicians, and lab teams who are at the hospital when EMS hands off a patient.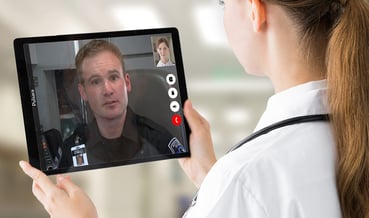 All team members—from EMS to physicians, coordinators, lab teams, and specialists—can interact with the touch of a button, and all communication can be archived and made accessible to the rest of the team. First-contact presentation information can be shared later with consulting doctors or specialists. Video-enabled solutions allow physicians to see patients as soon as EMS arrives on the scene, giving physicians an invaluable advantage and much more information to work with for making fast, accurate treatment decisions.
Pulsara can provide a reliable method for pulling together the perfect team in real time, regardless of where each clinician is located – whether they are within the same hospital, across town at a different facility, or even in another country. A single unified communication channel can help avoid the frustrating domino effect of miscommunications, instead enabling seamless, instant sharing of all patient-related communication. When care teams are united, they are equipped to give patients the care they deserve.
To find out more about how Pulsara can help you centralize data and unite care teams across organizations, visit us at Pulsara.com.