Baptist Health in Little Rock, Arkansas, is using new technology to reduce treatment times and deliver better patient care. Dr. Wendell Pahls, Medical Director of Emergency and Transfer Services at Baptist Health, spoke to The Vine about how Pulsara is helping them streamline communication and cut down treatment times.
"It's really cool," said Dr. Pahls. "We've taken a very fundamental concept, which is that the sooner that we can treat you for time-sensitive illnesses—like strokes, heart attacks, and things like that—the sooner we can get you into definitive care, the better off you'll be. Everybody these days carries around one of these: a cell phone," he said. With Pulsara's communication and logistics platform, Baptist Health has been able to link all their different providers together on one patient channel, facilitating better communication around each patient—and, as a result, better, faster patient care.
Check out the video interview here!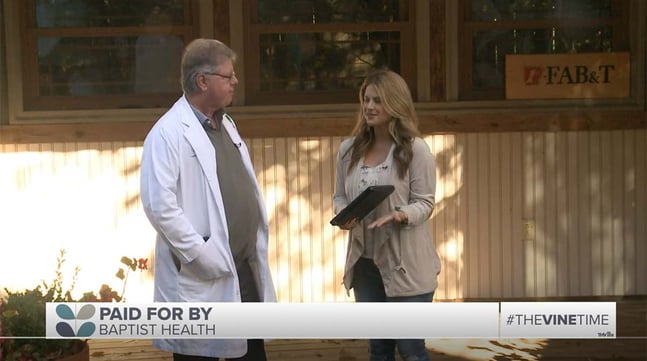 Dr. Pahls explained how the platform works: "For example, if someone is having a heart attack at the scene, perhaps at their home, at a doctor's office, or at a nursing home, EMS arrives there. They can look at this patient, they can do a quick EKG. If they see that this patient is having a heart attack, they immediately pulse the image through this technology to the ER. As soon as we see it, we immediately contact the cardiologist and the Cath lab team."
Baptist Health has already seen amazing results. "We've had cases where, from the time the ambulance leaves the house, they are in the Cath lab having their treatment in 9 minutes," said Dr. Pahls. "That's amazing. Strokes, same thing. We've seen people in definitive care in 17 minutes from the time they leave their house."
Baptist Health's success is part of a statewide initiative to use Pulsara for streamlined communication among teams, in an effort to reduce treatment times. "We've engaged with our partners here at MEMS here in Little Rock, and then also about two-thirds of the state; the EMS community has engaged with Pulsara."
For Dr. Pahls, the most rewarding thing about the transition has been seeing the improvement in patient care. "It's really been amazing to be able to see us be able to deliver that high level of care in such a short level of time. It's really all about team-building."
And how have his teams reacted to the new technology? "It's very satisfying," said Dr. Pahls. "Most of us do what we do because we're dedicated to patient care. Being able to see us provide better care, faster, is very satisfying."



Pulsara is helping with COVID-19 management by helping mitigate patient surge, streamlining patient transfers, minimizing exposure, and more. Learn more about COVID-19 + Pulsara here.