Saline Memorial Hospital is the only full-service hospital in the rural area of Saline County, Arkansas. Serving over 120,000 people, Saline Memorial is licensed for 177 beds and has its own EMS service (MedTran) that brings in 85 to 90% of their patients. According to Brian Mann, Saline Memorial's Director of Growth and Outreach, Saline County is and has been "one of the fastest-growing counties in Arkansas for around a decade."
With a rapidly growing population and a system running to keep up, Saline Memorial Hospital was looking for a way to reduce their treatment times for patients arriving via EMS. Because it serves a dispersed population across a large service area and is the only American College of Cardiology Accredited Chest Pain Center in the community, Saline Memorial struggled to keep their first medical contact-to-device times low. The ACC and the AHA recommend a standard of 90 minutes. According to Jeannie Otts, RT, R, CV, ARRT, Cardiac Cath Lab Director, Saline Memorial's STEMI patients' first medical contact-to-device time averaged around 105 minutes from the field.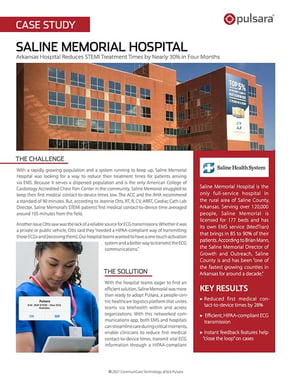 Another issue Otts saw was the lack of a reliable source for ECG transmissions. Whether it was a private or public vehicle, Otts said they "needed a HIPAA-compliant way of transmitting those ECGs and [receiving them]. Our hospital teams wanted to have a one-touch activation system and a better way to transmit the ECG communications."
With the hospital teams eager to find an efficient solution, Saline Memorial partnered with Pulsara, a people-centric healthcare logistics platform that unites teams via telehealth within and across organizations. With this networked communications app, both EMS and hospitals can streamline care during critical moments, enable clinicians to reduce first medical contact-to-device times, transmit vital ECG information through a HIPAA-compliant platform, and more.
By late 2020, Saline Memorial was on a mission to decrease their first medical contact-to-device time. With the help of Pulsara, their times dropped from 105 minutes in December of 2020 to 75 minutes in March of 2021—a 28% decrease over four months, and a full 15 minutes under the ACC and AHA recommendations.
Download the case study to learn how Saline Memorial Hospital improved communication between EMS, the ED, the cardiologists, and the Cath lab team, providing excellent and efficient care for their patients.
To learn more about how hospitals and EMS organizations are using Pulsara, check out our customer success stories. Pulsara is also helping with COVID-19 management by helping mitigate patient surge, streamlining patient transfers, minimizing exposure, and more. Learn more about COVID-19 + Pulsara here.