It's an oft-quoted fact that for patients suffering from a stroke, 1.9 million neurons are lost every minute their condition goes untreated. Every minute makes a difference—not just between life and death, but in the patient's quality of life once they survive. Will they be able to walk downstairs? Feed themselves? Communicate with their loved ones?
There are many factors that determine how quickly it's possible for a patient to receive treatment. However, there is one consistent obstacle in the way of getting patients timely treatment: the time it takes providers to communicate vital information to everyone on the team.
How Communication Can Delay Stroke Care
Once a patient calls for help, the clock is ticking—especially if the patient didn't call 911 right away, or when their last known well time is difficult to determine. Everyone along the patient's care journey moves with an awareness of the passage of time, striving to achieve lower treatment times in order to get patients the intervention they need.

But not everyone operates on the same clock. And no one operates on the same communication channel. When medics head to the hospital with a stroke patient, they radio their report to someone at the hospital—usually a unit clerk—who then writes it down and hands it off to someone else to page out to the rest of the team. It's like playing telephone to get the team together, coordinate the plan for intervention, and make sure every member of the team is in the right place, at the right time, and in possession of the information they need to care for this patient.
According to The Joint Commission, miscommunication between health professionals during transfers of care contributes to an estimated 80% of serious medical errors. It comes as no surprise then that inefficient communication is often a culprit behind inflated door-to-needle times. Coordinating care for each stroke patient takes quite a bit of time and effort. Many stroke coordinators have to make upwards of ten phone calls to coordinate care for a single patient. Non-interoperable communication methods like pagers, fax machines, and phones require information to be repeated multiple times, wasting precious treatment time for patients. Making matters more difficult, many teams may not have the luxury of a standardized, universal clock to keep consistent track of the time for the patient's case.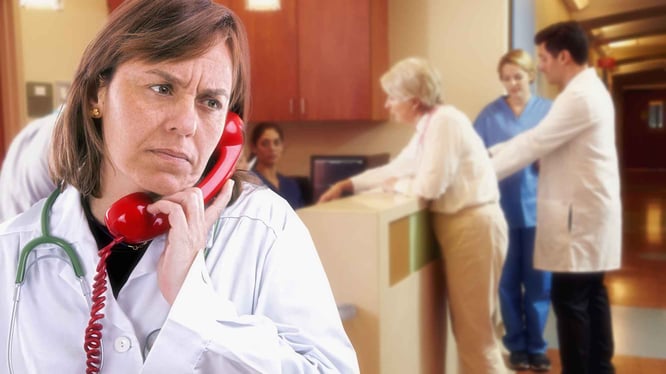 Reducing Treatment Times with Networked Communication and a Universal Clock
Studies have shown that when stroke teams work with one synchronized clock and continual awareness of the elapsing time, it becomes easier to achieve faster door-to-needle times for stroke patients. To give your stroke patients the best possible chance, it's vital to have your teams all on the same page. Efficient communication matters, and moving in sync is vital.
What's the key to reduced treatment times for stroke? Networked communication.
Hospitals around the world are turning to mobile technology to streamline their communication process and bring everyone into the same dedicated channel for each patient. Communication platforms designed specifically for healthcare teams can fit naturally into existing workflows, saving clinicians time that they would normally spend on care coordination. A recent study by Duke University found that when clinicians can instantly build care teams around a patient's needs and communicate with one another in real time, door-to-needle times decrease by significant percentages.
When everybody on the care team—including medics, the emergency department, the CT lab, the neurology team, and any downstream specialists—communicates in the same patient channel and have instant access to the same patient information, processes that previously took minutes and multiple pages or phone calls can now take seconds.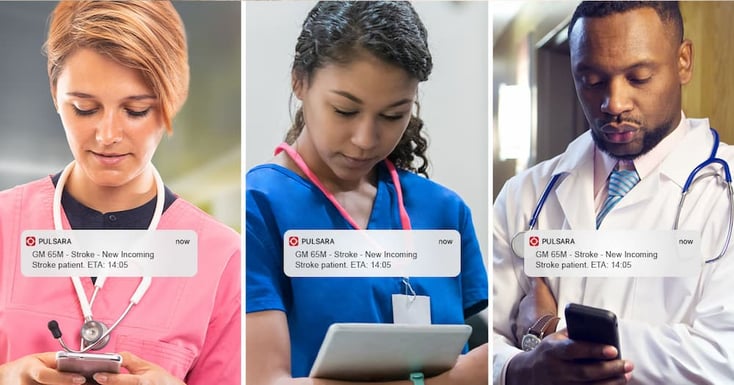 Medics can take a picture of the patient's ID and send it ahead to the hospital so that patients can skip registration and proceed straight to the CT upon arrival. First responders can notify the emergency department and members of the interventional team about the incoming patient at the same time, allowing them to view the information they need before the patient even arrives. When you bypass one-to-one communication, get information directly to the people who need it, and synchronize the entire team on the same universal clock, reducing treatment times is well within your reach.
And if your facility is a hub of activity, communication systems like Pulsara can scale up and down to meet your team's needs, allowing you to include anyone in the patient's case—whether they're across the hall or in a facility across the state.
The research is clear: Networked communication helps save time, which helps save tissue. If we can reduce door-to-needle times for stroke patients, we can help make sure patients are given the best shot at recovery and the best possible outcomes.
This Stroke Awareness Month, take stock of how your teams communicate. How can you leverage the power of networked communication to improve treatment times for your stroke patients?


Curious how Pulsara can help streamline your stroke team's communication? Check out our page on Pulsara + Stroke.