FOR IMMEDIATE RELEASE

PeaceHealth Southwest Medical Center is the first hospital on the west coast to use the healthcare communication platform, Pulsara, and the first in the nation to use the company's Prehospital Alerting Package.
BOZEMAN, MT -- SEPTEMBER 12, 2017 -- Stroke is a leading cause of disability and death in the U.S., with close to 800,000 cases each year. The outcome can be devastating, and every delay in care impacts a stroke survivor's chance at a full recovery. To minimize those delays and make emergency communication more efficient, PeaceHealth Southwest Medical Center in Vancouver, Washington, has partnered with several local EMS services to begin using the healthcare communication platform, Pulsara.
PeaceHealth Southwest is the first hospital on the west coast to use Pulsara for STEMI and stroke communications both with EMS and within the hospital, and the first in the nation to use the company's Prehospital Alerting Package for all EMS-transferred patients.
Pulsara allows EMS services to provide vital information to the hospital quickly and securely, with just a few taps on a smartphone. Though the company has historically offered this functionality for STEMI and stroke patients, last year they released their Prehospital Alerting Package, which allows medics to communicate via the platform for every patient being transported. American Medical Response, North Country EMS and Camas-Washougal Fire Department are all using Pulsara for more consistent communications with PeaceHealth Southwest's care teams, with the aim of giving doctors necessary information to begin medical decision making sooner.
In many hospitals and EMS systems, members of the care team communicate time-sensitive details about a patient using radios, pagers, modem phones, and even fax machines. Coordinating care for a critical patient is complex by nature, and these outdated technologies — which can cause miscommunication and lead to important information being missed — complicate it even further.
In addition, communicating via these non-integrated technologies takes a lot of extra time. Before Pulsara was implemented in the community, first responders relied on two-way radios to communicate with PeaceHealth Southwest staff from the field. Communicating patient info on radios is slow and sometimes leads to information being misheard or not heard at all, causing confusion and miscommunication, Brooke Marling, paramedic field training officer with AMR, said in an article in The Columbian.
EMS teams used to rely on a single, unsecure radio channel to contact PeaceHealth Southwest. If multiple medics were trying to call with patient information, they had to wait until the channel was clear, and could not legally provide the patient's name or any other identifying information.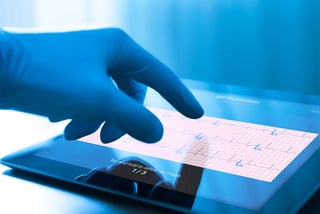 Pulsara, on the other hand, allows first responders in the field to instantly and securely relay all information — including the patient's name, symptoms, time of onset, vital signs, treatments being performed, and pictures of the EKG or other relevant image — to the hospital staff with just a few taps of a button. Getting this information to the emergency department before the patient even arrives is critical for speeding up the care process for stroke and heart attack patients, according to Dr. Jason Hanley, Medical Director of the PeaceHealth Southwest Emergency Department. "I truly see this, as an ER physician, as our future," Dr. Hanley told The Columbian.
Pulsara also allows the medics who treated a patient to receive instant feedback about a case. "It integrates what was previously two separate systems," said Cliff Free, a Camas-Washougal Fire Department division chief. "We are now considered part of the continuum of care."
The hospital's stroke program manager, Louise Jenkins, told The Columbian that intervention times for stroke patients have improved at PeaceHealth Southwest since implementing Pulsara. Specifically, door-to-needle time — the time from when the patient arrives at the hospital to when medications that break up the stroke-causing clot are administered — has dropped from 53 to 44 minutes. And door-to-puncture time, which measures how long it takes to get the patient to the cath lab and remove the blood clot, is now 92 minutes — an 18-minute improvement.
"This isn't about one hospital, or one clinician, or one first responder. It's about regional systems of care... where everyone is on the same page and focused on caring for the patient," said Kris Kaull, Flight Paramedic and Chief Marketing Officer of Pulsara. "When our patients win, we all win."
###
About Pulsara

Pulsara is a digital healthcare corporation that focuses on using mobile technology to enhance treatment time outcomes by improving communication and care coordination through the entire healthcare system. Pulsara's mobile application packages for stroke, STEMI, and general patients improve communications between the teams caring for those critical patients, leading to faster treatment. Every clinician – from paramedics to emergency department staff to neurology and cardiology teams – is on the same page with a simple tap. For more information, visit https://www.pulsara.com.
Press Contact:
Kris Kaull
Pulsara
406.600.0960
kris@pulsara.com
www.pulsara.com