These days, many of our most basic tasks and functions happen using the smart device in our pocket.
"I need a pizza!"
There is an app for that.
"I need a new car."
There's an app for that, too.
In this digital age, we consume vastly increasing amounts of data. If you think about it, we will never again use as little data as we do today. Every day, all around us, we figure out there is an app for pretty close to everything, from scheduling appointments to checking our banking statement to getting a ride across town. While the phrase "there is an app for that" has become something of a cliché, there's some truth to it.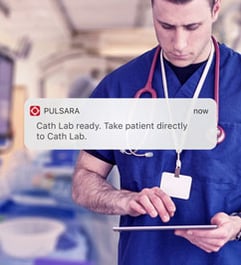 Every day, more apps are developed that simplify our lives. And what do the majority of these apps live on? Personal smart devices! When we get all our other information from our phones, it seems natural that healthcare will follow suit. And in fact, leading healthcare teams have already adopted mobile-first technology to solve many of their existing challenges.
What if you said: "I need a quick reference for pediatric resuscitation."
Believe it or not, there is an app for that! In fact, there are several of them.
But it's not as simple as choosing an app to track your nutrition, or keep tabs on the housing market. When it comes to using apps for healthcare, a lot more considerations come into play. The first one that every clinician (in the history of ever) immediately asks is about HIPAA: The Health Insurance Portability and Accountability Act.
Yep, good ole' HIPAA. The guardian of patient privacy, HIPAA is the longstanding barrier to the forward momentum of apps in healthcare. But in this space, that's a good thing. During the pandemic there has been a huge uptick in online platforms for patient evaluations and communication. Sure, anyone can build an app, but not all live up to HIPAA standards or are able to securely protect patients' information. Making sure an app is compliant with HIPAA restrictions means taking security measures seriously and ensuring that it complies with the guidelines put in place for our protection. Even though HIPAA regulations were somewhat relaxed during COVID-19's peak, it is essential that you choose a platform that will continue to serve your patients and providers long after the pandemic is over.
One thing is for sure: Telehealth and telemedicine are the way of the future. After COVID-19, it is likely to become the new norm. Choosing which platform you use for patient-facing care should hinge on the app's HIPAA compliance status.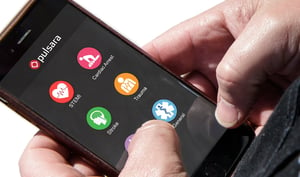 With Pulsara, you are guaranteed peace of mind when it comes to security and HIPAA compliance. Hosted by Amazon Web Services, the leading cloud-based service in healthcare, and developed with mega-layers of security, Pulsara is the mobile data communication platform that has your back.
Pulsara goes through a thorough vetting process with the IT group at each hospital prior to implementation. Pulsara is encrypted at both ends. Absolutely no data is stored on any device; it's all contained within the app, meaning that it is 100% HIPAA compliant. You can take a picture of a patient's ID in the Pulsara app, send it to the hospital for pre-registration, and rest easy knowing that nothing was stored on the device. The patient's information is safe, and you're following HIPAA-approved protocols.
Whether or not you use Pulsara, choosing a HIPAA-compliant telehealth solution is one of the best ways to ensure that it will serve you for a long time to come. Not to mention, securing your patients' protected health information is just the right thing to do.
For more of the nitty-gritty on Pulsara's HIPAA compliance, check out our HIPAA and Security page.
To read about more about choosing a telehealth solution, check out this article: COVID-19 Changed How We View Telemedicine. Here's How to Choose the Right Solution for Your Team