Today marks the last day of Patient Experience Week 2021, as we celebrate the healthcare providers who go above and beyond to deliver great care for their patients. And this year, we have a lot to celebrate. The past year has demonstrated the strength and resilience of healthcare providers like no other. From the very start of the COVID-19 pandemic, healthcare workers around the world have continually put their own safety on the line to help patients in need.
Here at Pulsara, we are privileged to support the heroic men and women who have served on the front lines of this pandemic, sacrificing greatly in order to care for patients. In celebration of their service and dedication, we'd like to share a few of the wins in patient care that some of our customers have achieved, even in the midst of the COVID-19 pandemic.


EvergreenHealth Reduced Their Stroke Treatment Times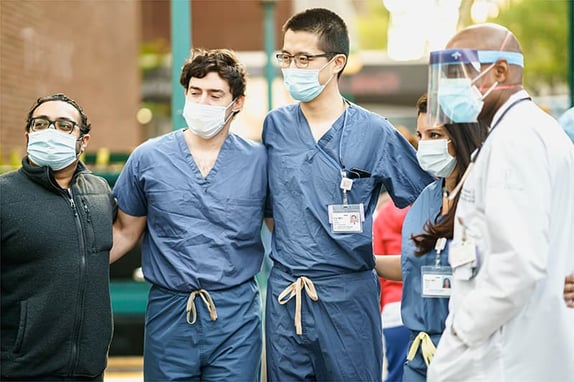 In spite of the challenges presented by the COVID-19 pandemic, the stroke team at EvergreenHealth in Kirkland, Washington achieved a record low door-to-puncture time of 78 minutes for their stroke patients. Their stellar team has worked hard to deliver efficient care for the patients. In that effort, they've used Pulsara to help streamline their team communication. "Pulsara has helped us trim down those times, because of the communication," said RN Nurse Navigator for EvergreenHealth's Stroke Center, Meg Briggs, BSN, RN, SCRN. "The messaging has been the biggest help for us, because now we don't need pagers. And beyond that, we shave off minutes by not having to make a lot of phone calls."


Ambulance Victoria Maintained Turnaround Times In Spite of the Pandemic




In Victoria, Australia, Ambulance Victoria was able to maintain their turnaround times, even as the pandemic caused hours-long delays for other ambulance agencies in the state. "We found that other hospitals around the state had ambulances sitting in A&E bays waiting to be unloaded for significant amounts of time," said Mark Scammell, Operations Community Engagement Liaison Coordinator at Ambulance Victoria. "Having [Pulsara's] pre-notification has meant that we've had someone to meet us when we get there, and that's saved us. Our figures haven't really changed during COVID, where everyone else in the state has had quite a significant delays unloading patients, so it's been a huge thing for us to be able to unload our patients far quicker." Latrobe Regional Hospital, located near Melbourne, Australia, was also able to achieve an incredible 7-minute door-to-CT average in partnership with Ambulance Victoria and Pulsara.


Teller County Launched an Innovative New Telehealth Initiative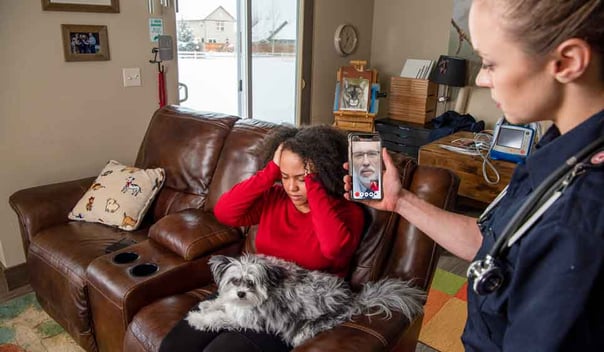 And finally, in Teller County, Colorado, Pikes Peak Regional Hospital and Ute Pass Regional Health Service District partnered to develop a groundbreaking telehealth program that allows community paramedics to conduct at-home visits with patients who are determined safe to not be transported to the hospital. Using Pulsara's telehealth capabilities, paramedics are able to connect directly with a board-certified emergency medicine physician. The program has allowed Teller County to reduce the number of possible exposures to COVID-19 by avoiding transport to the hospital when possible, while meeting patients who would otherwise not have received care or necessary medications in an environment they're comfortable with.
The program has been very well received by patients—particularly Teller County's older residents. "The biggest embracers of this so far have been our geriatric population," said James McLaughlin, Director of Community Paramedicine at Ute Pass Regional Health Service District. "They love this because they know they're at risk by leaving the house. And because this technology is so seamless for them, they embraced it wholeheartedly. We have them grabbing the tablet from us, saying, 'Son, just get out of my way. Let me talk to the doc.' It's fantastic. It's incredible how it's increased their access to services."
Dr. Jeremy DeWall, has seen the program touch the lives of patients who would not otherwise have received care. "We're seeing this pilot program actually helping that vulnerable population of people who are afraid or unwilling to go to the hospital, and getting them connected with long-term resources, or at least getting them through their acute situation. It's worked very well."
We are proud to partner with such courageous innovators and are thankful for all they do for their patients. To all our healthcare workers out there: Thank you. Thanks for all you've done this year to continue caring for your patients. We're humbled to have the opportunity to serve you.

To learn more about how hospitals and EMS organizations are improving communication, reducing treatment times, and mitigating the spread of COVID-19, check out more of our customer success stories.