As we sort through the aftermath of COVID-19, it can be overwhelming to look at the amount of work ahead. The coronavirus hit the nation hard, taking a toll on hospitals, EMS agencies, and emergency management organizations across the U.S. You're still trying to get back on your feet after all you've been through—let alone prepare for what the future holds.
However, there is good news: you are not alone, and the money you need to help recover and prepare for the future could be one simple application away. There is a flood of funding opportunities meant to assist hospitals, EMS, emergency managers, public health, public safety, and allied health services. Billions of dollars are being set aside to help your organization recover from the current effects of the COVID-19 pandemic, prepare for a potential second wave of the virus in the next few months, and manage the coming fall flu season.
We know how daunting it can be to try to find funding in the first place, and then navigate all the ins and outs of the application. That's why we've gathered some resources to help you.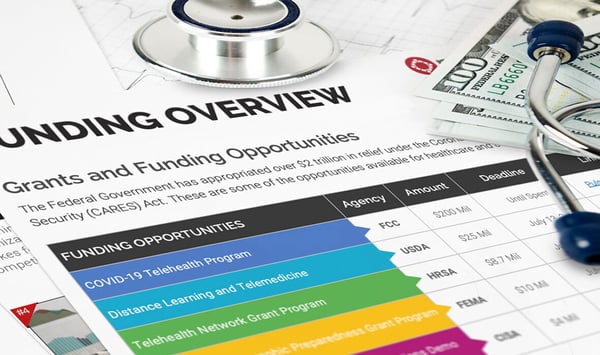 Several federal agencies are actively funding COVID-19 recovery and preparedness. Here is an overview of each agency and the funding vehicles they are making available:
As you can see, the number of available funding opportunities is staggering. The path to determining eligibility, applying for funding, and securing it can be equally daunting. Don't give up just yet, though! Restrictions and barriers are lower than ever before, and it's not as difficult as it first appears. Here are some tips to simplify the process and help you start your funding journey.
1. It helps to become familiar with the government websites that guide you through the process and track available funding. In addition to the websites listed above, these can be helpful for understanding the process:
2. Having a clear plan for how you want to use the money will help you choose which opportunities to pursue, and will help strengthen your application. While the above is not an exhaustive list of all COVID-19 funding sources, it may help to keep in mind that these resources are primarily aimed at funding:
Telemedicine and telehealth initiatives
Medical operations coordination cells
Community mitigation measures
Emergency management and preparedness
Communicable disease care coordination and provider protection
Once you have a plan for how you will use the funding, make sure to describe it in your application.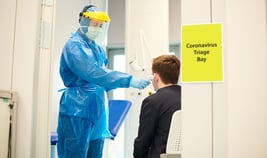 3. Other practical intentions for these funds include enabling community screening, isolation, treatment, and care coordination, and recovering from the financial and operational effects on healthcare systems. Keeping these things in mind while you choose and fill out your applications can help direct your focus and make your intentions for the funding clear.
4. Want to know a secret? You can become eligible for even more funding by cooperating with other organizations. You can make agreements with non-profit organizations, for-profit healthcare institutions approved for funding, eligible public safety agencies (both non-profit and for-profit), your state's Governor's Office of Homeland Security and Department of Health and Human Services, and your state's hospital and EMS associations, which will make you part of a larger group that is eligible to receive funding.
5. You can also partner with institutions of higher education to gain access to funding for research on tracking and tracing methods, as well as analysis of overall COVID-19 response. You could even check into your existing vendor agreements; they may have access to funding opportunities available to corporations, which you could, by extension, also be eligible for.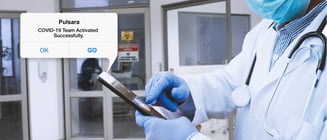 Pulsara is committed to helping you. Visit our Telemedicine and Healthcare Funding Opportunities page to find out more about specific opportunities you may be eligible for. You can also use the form to get in touch with us and get personalized, knowledgeable assistance with identifying the opportunities that best fit your needs.
Above all, take care of yourself, your fellow healthcare providers on the front lines, and all supporting roles during this unprecedented public health emergency. The funding is out there—we want to ensure it's being used to help your community. Stay safe!
ARTICLE CATEGORIES: