As a tertiary care center and Level I trauma facility in Colorado Springs, Colorado, the trauma team at UCHealth Memorial Hospital Central had their patient care process dialed in. However, there was one part of their process they weren't satisfied with: their communication system.
The team was receiving notifications through an alarm dispatch system, which ran through the hospital operators and was then manually managed by each individual service line. UCHealth's Associate Nurse Manager, Nikki Schroeder, BSN, RN, CEN, TCRN, described their process: "Prehospital providers would call in to our ED charge nurse, relay pertinent information, and then the ED charge nurse would determine what level of activation was required. To notify our hospital team, the charge nurse would give the information to our unit clerk, and our unit clerk would page our 811 paging system. That's how the trauma surgeon, the ICU, and the whole trauma team got notified."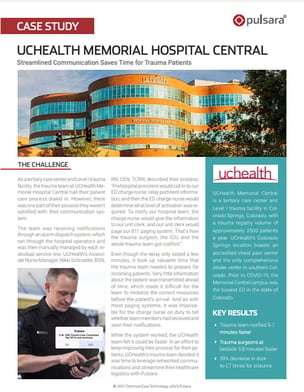 Even though the delay only lasted a few minutes, it took up valuable time that the trauma team needed to prepare for incoming patients. Very little information about the patient was transmitted ahead of time, which made it difficult for the team to mobilize the correct resources before the patient's arrival. And as with most paging systems, it was impossible for the charge nurse on duty to tell whether team members had received and seen their notifications.
While the system worked, the UCHealth team felt it could be faster. In an effort to keep improving their process for their patients, UCHealth's trauma team decided it was time to leverage networked communications and streamline their healthcare logistics with Pulsara.
After implementing the Pulsara platform and working to streamline their processes, UCHealth's trauma team now sends and receives faster notifications, complete with more detailed patient information. The trauma team has been receiving notifications about incoming patients 5-7 minutes faster, which makes a big difference in their ability to prepare.
Communication has also improved with specialty teams. Previously, it took trauma surgeons 7.97 minutes to reach the bedside for a full trauma. In the 6 months after implementing Pulsara, that number dropped to 2.18 minutes—a 73% decrease. For patients experiencing both a stroke and trauma (strauma), UCHealth's average door-to-CT time was 22.3 minutes. Their new average is 13.5 minutes—a 39% decrease.
Download the case study to learn how UCHealth Memorial Hospital Central improved communication between EMS, their ED, and their trauma team, providing excellent and efficient care for their patients.
To learn more about how hospitals and EMS organizations are using Pulsara, check out our customer success stories. Pulsara is also helping with COVID-19 management by helping mitigate patient surge, streamlining patient transfers, minimizing exposure, and more. Learn more about COVID-19 + Pulsara here.