FOR IMMEDIATE RELEASE

Read the full interview with Pulsara's CEO right here.
[Bozeman, MT] — Feb. 17, 2017 — Healthcare Informatics has selected Pulsara to receive this year's Innovation in Interoperability Award, which recognizes outstanding healthcare IT innovation that enhances clinician workflow, exchanges data, and/or reduces costs.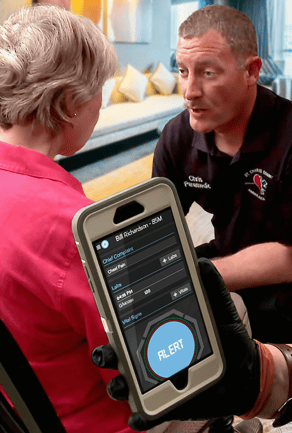 A panel of Healthcare Informatics expert editorial board members selected Pulsara for its innovative, industry-leading platform — the only solution of its kind that manages the entire care process from EMS through to definitive care. Pulsara performs like an app on users' smart phones or tablets, allowing care teams to securely coordinate and accelerate life-saving care in emergency situations.
"It is humbling to be in the company of other technology solutions that are rapidly changing the face of healthcare," said Dr. James Woodson, Pulsara's Founder and CEO. "We are honored to have been selected for such a prestigious award. Thank you to all the hard-working teams of clinicians who use Pulsara to help them do what they do best — care for patients and save lives."
Dr. Woodson will accept the award at the Innovator Awards Reception on February 21st at the annual HIMSS Health IT Conference in Orlando.
Pulsara, which is used by hospital systems in 13 states and Australia, has been associated with a 10-46% reduction in treatment times for STEMI and stroke patients. With Pulsara, EMS agencies and hospitals are able to reduce risks during transitions of care, improve turnaround times for EMS, improve capture of registration and billing information, eliminate costs for ECG transmission, and reduce costly false activations. Hospitals have demonstrated a yearly 10X ROI using the platform.
Read the full interview with Pulsara's founder and CEO, Dr. James Woodson right here.
###
About Pulsara
Pulsara is a digital healthcare corporation that focuses on using mobile technology to enhance treatment time outcomes by improving communication and care coordination through the entire healthcare system. Pulsara's mobile application packages for stroke, STEMI, and general patients improve communications between the teams caring for those critical patients, leading to faster treatment and better outcomes. Every clinician – from paramedics to emergency department staff to neurology and cardiology teams – is on the same page with a simple tap. For more information, visit https://www.pulsara.com
Contact:
Kris Kaull
Pulsara
406.600.0960
kris@pulsara.com