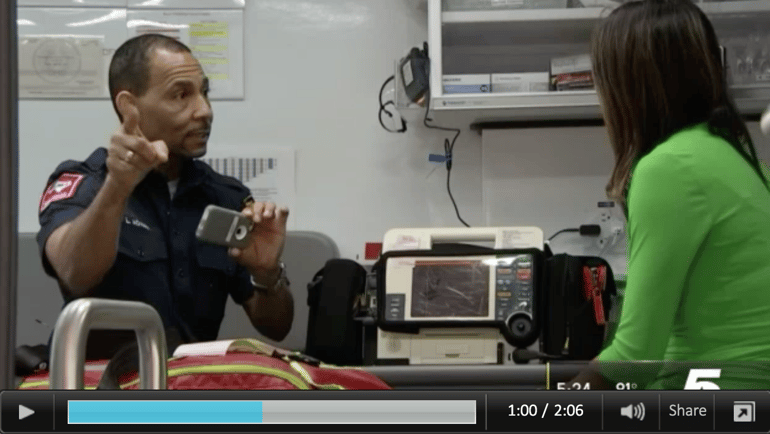 NBC News in Dallas Fort-Worth, TX reported Tuesday evening that a local man, 55-year-old Thomas Moran, was recently treated for a heart attack -- from which he made a full recovery -- by teams using Pulsara.
Baylor Scott & White Medical Center - Grapevine as well as 11 Tarrant County EMS teams are now using the app.
According to the news article, Moran said "I had a slight pressure on my chest. It wasn't like an elephant sitting on my chest, but it was a slight pressure. The main thing was I couldn't get any air, no matter how hard I tried to breathe."
Lamar Adams, paramedic with the D/FW Airport EMS Team, was among the first to arrive at Moran's side. "We knew when we walked into the terminal area that this guy is having a cardiac event, just by the way he looked," said Adams.
While the national goal for door-to-balloon time is 90 minutes, Pulsara has significantly reduced this time to as little as 26 minutes -- the time it took to get Moran to treatment. When every second counts in a heart attack or stroke, getting D2N time down this low means more people walking away with a full recovery.
The article also quotes Dr. Kevin Theleman, Moran's attending interventional cardiologist at Baylor Scott & White Grapevine, as saying: "This makes it so we know what we are dealing with when we get to the hospital. We know, especially in a situation like this, that this is a major, life-threatening, big territory and that we need to get there quickly."
Be sure to watch the video, linked above, to see the interview with Moran and the clinicians who worked on his case.