Earlier this month, The Journal of NeuroInterventional Surgery published a research review which examined the impacts of various technologies on the optimization of care delivery for Emergent Large Vessel Occlusion (ELVO) stroke, specifically in the prehospital environment. Because the benefits of endovascular treatment have been established, a new focus on reducing the time it takes to get patients to treatment at the most appropriate facility has emerged.
The report states that "Having early diagnostics allows for earlier activation of interventional teams and subsequently more reperfusions, faster reperfusions, shorter ED triage, and shorter door-to-balloon times," and further, "Time saved translates into disability-free life for our patients."
The review highlighted innovations that can help overcome the following challenges and facilitate time-to-treatment reductions for ELVO patients:
"The public: better public awareness about symptoms and treatment options for ELVO to ensure rapid activation of EMS services."

"EMS: better ability for EMS to detect and grade stroke severity."

"System of stroke care: improved triage of ELVO patients to centers that can provide the care they need. More cohesive coordination of the entire stroke, and specifically ELVO, care system."
Pulsara's real-time video consult capabilities as well as built-in stroke scales help facilitate faster detection and severity grading in the field. This also allows medics to quickly make a decision about the most appropriate receiving facility for patient transport -- and then to transmit patient information to that facility to assist in pre-registration and resource mobilization before the EMS team even arrives.
A crucial issue identified by the review includes, "Prehospital telestroke broadband-based platforms have shown prohibitive freezing, poor audiovisual quality, and disconnection rates of up to 20% during stroke assessments." However, "Cellular connectivity, meanwhile, has evolved significantly over the past decade, providing a reliable high-quality alternative designed for mobile application."
Pulsara is proud to be FirstNet Listed -- as such, FirstNet subscribers can take advantage of even greater connectivity while using Pulsara. The partnership enables priority and preemption for first responders while using the platform. This means medics in the field can consult with neurologists via live video streaming, without worrying that the call will drop at any moment.
Another topic addressed in the report points to the use by clinicians of non-secure communication platforms such as iMessage, Facetime, WhatsApp, and other messaging apps to communicate time critical patient information. While the need and desire for a more intuitive and efficient way to communicate with other care team members is clearly there, we must prioritize HIPAA compliance -- something these apps do not.
Stating that "Early communication between EMS and target hospitals has been a revolutionary technological advancement," the research review lists a table of available apps for integrated prehospital stroke care. The Pulsara pros clearly outnumber the other platforms. AND, as of October, 2018, Pulsara does, in fact, integrate with all major EMRs. including Epic, Cerner, and Allscripts - eliminating the one listed con.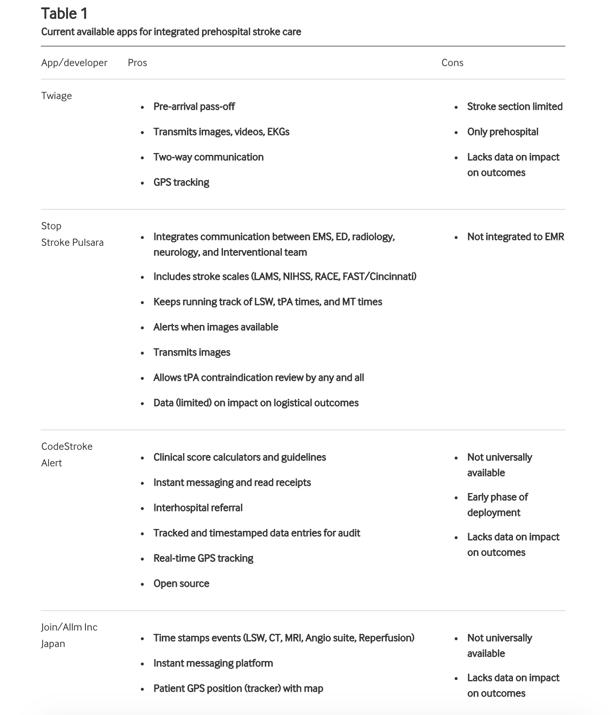 The review also called Pulsara out as a solution that helps to ease the hand-off of critical patients by allowing ALL team members across all healthcare entities to have access to the same information at the same time. "Data from the Stop Stroke Pulsara application suggests there is a 20–40 min decrease in door to needle times."
It's about time we shift our focus to not only delivering the best care for our most critical patients, but also delivering that care in the most time-effective way possible. It's time to leverage technological innovations such as Pulsara to transform the way clinicians communicate and coordinate care. Why? Because as the report states, "Delivering high complexity acute care to large population bases requires strong networks of collaboration, with communication between hubs and spokes." This complex challenge simply cannot be met using the archaic technologies of yesterday.