Summer blockbusters may have been cancelled, but this year, we've gotten to see what it truly means to be a superhero.
As the COVID-19 pandemic spread around the world, doctors, nurses, paramedics, and emergency responders of every kind stepped up to take care of others. They've chosen to be there for us in our hour of need, sacrificing their own health, safety, and even the ability to go home to be with their families at the end of long, scary, and difficult shifts. That's the true definition of heroism.
To celebrate these healthcare heroes, Marvel Comics partnered with Allegheny Health Network (AHN) in Pennsylvania to help tell the stories of these real-life heroes.
"Since the onset of COVID-19, more has been asked of nurses than ever before," AHN said in a statement. "And while many of us stayed home, they stepped up with courage, compassion, and care in our greatest hour of need. So, with 2020 declared the Year of the Nurse, AHN wanted to find a way to honor our own nurses and recognize them for what they truly are — heroes."
That's how the idea for "The Vitals: True Nurse Stories" was born. AHN spoke with nurses across their different medical centers and interviewed their family members and patients — "Anyone who experienced the undeniable resolve of our nurses firsthand," they said. Marvel artists took those stories and wove them into a three-part collection, showing the experiences of nurses fighting COVID-19 on the front lines.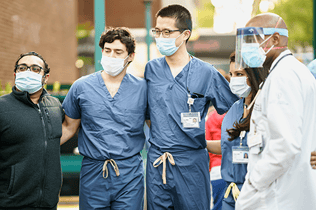 These three touching stories let readers ride along with nurses as they fight to save patients, braving exposure, exhaustion, and the effects of the job on their families. It's a firsthand glimpse into the challenges nurses face and the sacrifices they make in order to care for their patients.
The full comic book is available online, and AHN plans to distribute hard copies as well. Read it, share it, and pass around some love and appreciation for our heroic healthcare workers.
And Now...A Holiday Message for All Our Healthcare Heroes
At the best of times, the holidays can be a challenge for those working on the front lines in healthcare. While it seems like everyone else gets to celebrate, you might still be working, sacrificing your time with family in order to be there for other people in their hour of need. We know (many of us, from experience) how hard that is.
From all of us here at Team Pulsara, we want you to know just how loved and appreciated you are.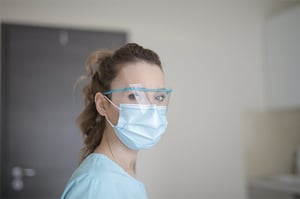 This year, you continued to do what you've always done: step up in the midst of a crisis, showing up to be there for people in some of the darkest hours of their lives. But this year was different. This year, you did it all in the face of a pandemic. You worked long, exhausting hours, giving of your time, your health, and yourself. You endured stress and exhaustion. You put your own life on the line in order to save the lives of others.
The battle may not be over yet, and the light at the end of the tunnel may still seem far away. But just know…your sacrifice doesn't go unnoticed. Every life you touch impacts the lives of everyone around them. You've given patients and their families the gift of future years of holidays with family members.
You make a profound difference.
For all the lives you've touched, the people you have been there for, and the life stories that will continue to be written because of you—thank you. We are so thankful for you, and everything that you do for others. You truly are our healthcare heroes.
Take heart, and Happy Holidays. ❤️
With love,
Team Pulsara