The only thing that never changes is the fact that everything changes! One would think by now we would be much more willing to change, but isn't it true that we often find ourselves scared, resistant, uncertain, or even angry when change comes knocking at the door?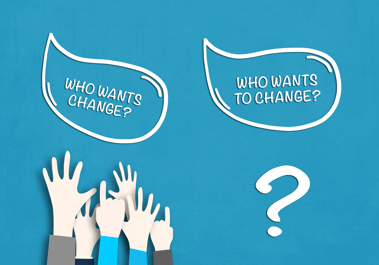 I recall a time in my life before I worked at Pulsara, when my nursing unit was transitioning from paper documentation to an EMR. Even though the staff despised the accordion of nursing notes, and finding an order written a week ago was comparable to flipping through an encyclopedia, adoption of the new EMR was met with insurmountable negativity and resistance. We literally had nurses and physicians leave our organization to escape the change that was intended to make our lives easier!
Fast-forward a few years to my role at Pulsara. We are charged with implementing this cutting-edge technology across multiple service lines and entities to unite communication for entire regional systems of care. If that isn't a complex change, I don't know what is!
I leaned on my personal experience as an ICU nurse undergoing organizational change, and spent months with the team drafting a project plan that we believed to be the key to success for implementation and adoption of our technology. Despite the master plan, fancy training content, and a detailed agenda that would allow face time with each end user, staff engagement and utilization of Pulsara were underwhelming.
What were we doing wrong? What were we missing? What could we do differently to better support our clients for this internal change? Could we better equip our project teams to effect change within the walls of the hospital?
In the midst of this challenge, we discovered the model below, Tim Knosters Model for Managing Complex Change.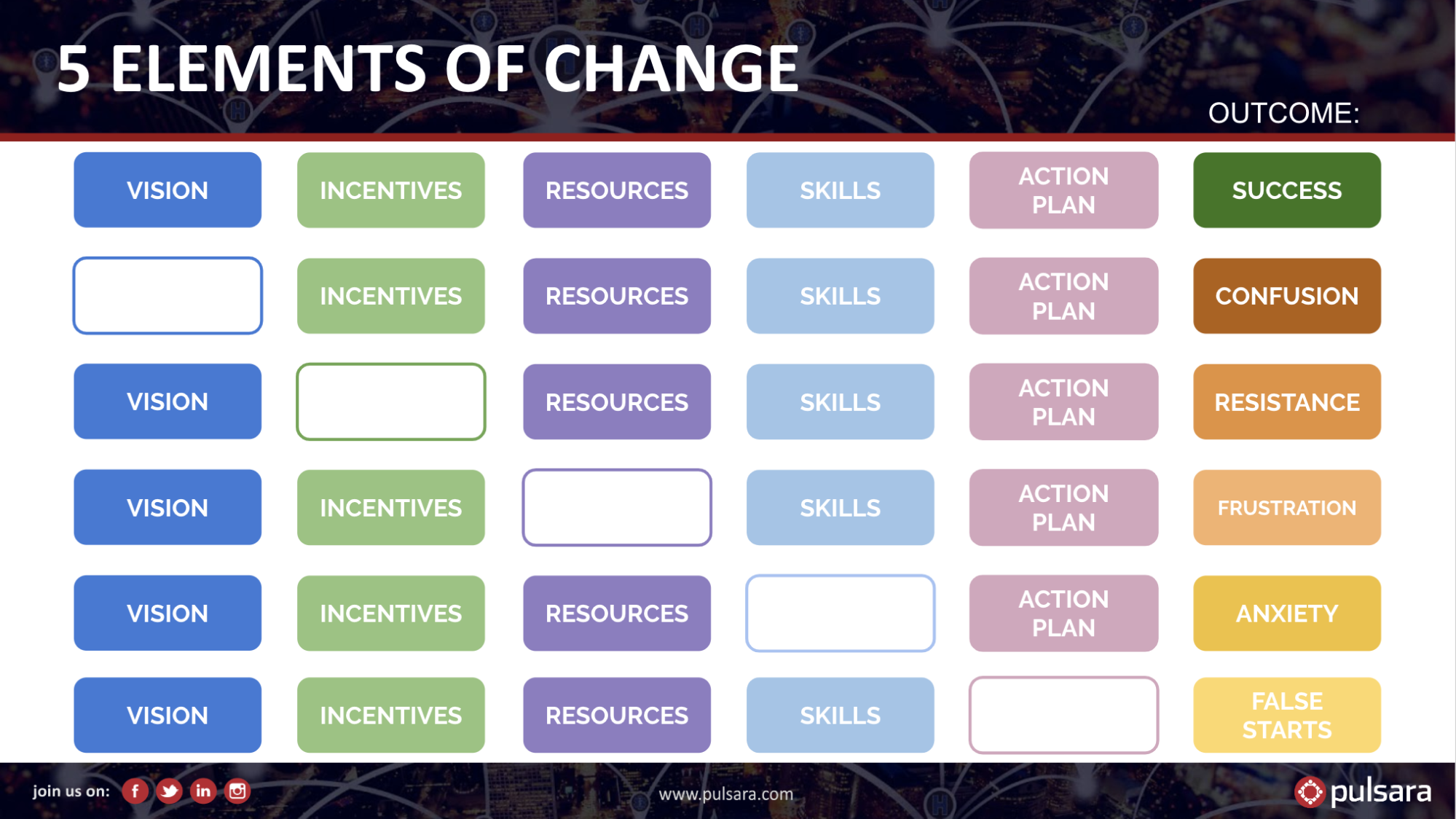 "The Knoster Model for Managing Complex Change is a useful framework for thinking about change management. According to Knoster, there are five elements required for effective change: vision, skills, incentives, resources and an action plan. If those leading change fail to put any one of these elements in place, then the change efforts will fail."
At first we were a little skeptical … could the solution to our problems be as simple as this formula? As we began to dig into our past challenges of frustration, resistance, false starts, etc. we were able to match the missing pieces within our projects to what Knoster predicted those missing pieces would be. With this insight, we flipped our project on its head and made it our first priority to ensure our clients were equipped to address each element in the complex change model.
Application of the Knoster Model has changed our approach, our process, and our project entirely. It has changed staff engagement and utilization for our clients. And I'm not exaggerating when I tell you that it has even changed our lives!
Next time you are charged to lead change, remember Tim Knoster and his simple formula for success:
Vision: The WHY to prevent confusion
Incentives: Perks, Advantages, Wins to prevent resistance
Resources: Tools and Time to prevent frustration
Skills: Training required to accomplish the change to prevent anxiety
Action Plan: Direction, Road Map to prevent false starts
After managing complex organizational change across the world, he has yet to let us down!