Change management is hard. Adopting new technology and new workflows can be an exciting process, but that process may also bring hesitance, skepticism, fear, and doubt. It's not easy to change the way you've always done things.
So when a group of leading experts and clinicians in Victoria, Australia implemented new technology to improve communication between their care teams, they worked hard to make sure that everyone was on the same page. And it worked. They've seen a great deal of success with their strategies, and have successfully developed a streamlined system for making sure everyone on the team has the right information at the right time—a system that their teams now love.
In this three-part series, you'll hear directly from them on their search for a solution, the results they've seen, and the advice they would offer other systems that want to build their own regional system of care.
View the full webinar video discussion below, or read on for Part 2 of the full roundtable! (Click here to check out Part 1.)
Moderator: Kris Kaull, Pulsara Chief Marketing Officer and Critical Care Flight Paramedic
Professor Chris Bladin, Victorian Stroke Telemedicine (VST) Service Director and Adjunct Professor at Monash University
Dr. Kathleen Bagot, Senior Research Officer, Stroke Division: Public Health & Health Services Research Group
Janet May, Stroke Coordinator at Latrobe Regional Hospital
Grant Hocking, Regional Improvement Lead, Grampians Region Operational Improvement at Ambulance Victoria

(Click here

to learn more about the panelists and read their bios)





What's Your Advice for Other Systems Trying to Create a Regional System of Care?
Kris Kaull:
What is your one piece of advice for others who are looking to create a regional system of care, where you're taking down silos and all working as one full team, regardless of your discipline?

Chris Bladin:
Kris, I've got a really good example of that. And I guess it's a case of, you have to tailor the approach that you want. It's not a one-size-fits-all.
A good example of that would be some work we did at one regional hospital that was starting up their PCI cath lab for STEMI. We set it up, and we thought we had everything lined up beautifully. And then it turned out that the processes we had put in place didn't quite fit the nature of the calls for STEMI that were coming in.
So a call for STEMI would come in, and the problem was that the review of the incoming case and the confirmation that the case actually needed to go through the cath lab wasn't quite right. So there would be a lot of false calls. And so in the middle of the night, the app was going off on the phones of the cath lab staff, right? And then 10 minutes later: "Stand down, you don't need to get out of bed. This is not really a STEMI," or "this case is not going to the cath lab." And so that caused friction, as you could imagine. And then when the cath lab moved from a part-time scenario to a 24-hour scenario, that became a bigger issue and caused difficulty.

So we had to then go through a process of reconfiguring that. Rather than just having a blanket approach to notification, we flipped that around. So for example, the paramedic could contact the cardiology registrar, who was then becoming the gatekeeper for assessment of the STEMI case and activation of the cath lab staff. We could reconfigure it so that the calls were in fact going through to the cardiology registrar, who was taking the first call from the paramedics. And so that can then allow for a more tailored, more nuanced approach. And that is going to improve things substantially.


The care of patients really starts at the bedside, when the paramedic arrives and comes to the front door and sees that patient with chest pain, or with weakness down one side, or a broken hip. That's when medical care—that's when hospital care—actually starts.

I guess the other thing I want to point out is that we've been on a long journey with Pulsara. When we started, it was stroke and STEMI all the way, right? But of course, we've evolved, and certainly, Pulsara has evolved to have a number of different applications now. It can be used for any type of acute emergency presentation. There's a number of different modules inside Pulsara. And I think that for us opens up a lot of possibility in terms of, again, tailoring the alert process. So if you know that a STEMI's coming in, you actually follow a slightly different pathway using Pulsara than, let's say, a stroke.
The other big challenge will be familiar to many people here in Australia: the arrival of the electronic medical record. How do you integrate some of the information from Pulsara into the EMR? That's a challenge that I know you guys have thought about, and I'm sure it has come up in the U.S. as well, but that's the next digital transformation that's happening in the hospital system. And the care of patients really starts at the bedside, when the paramedic arrives and comes to the front door and sees that patient with chest pain, or with weakness down one side, or a broken hip. That's when medical care—that's when hospital care—actually starts. It starts at the bedside. So there's no reason why that information that's gathered at the bedside shouldn't go all the way through to be embedded in the hospital record. We talk about silos all the time. It's not a silo outside the hospital; and inside the hospital, it's not a them-and-us silo situation. We need to have that much, much closer integration.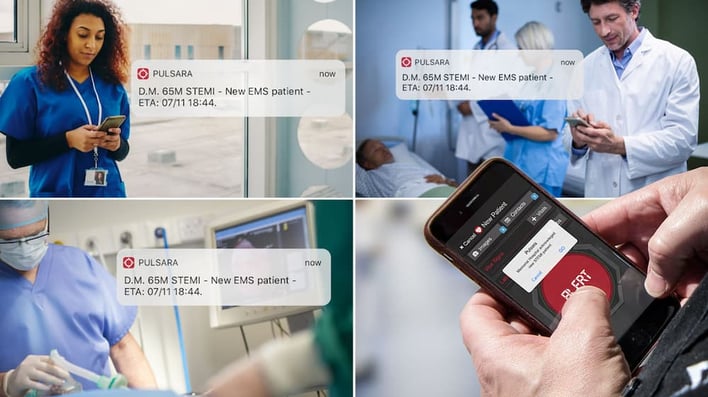 And with COVID, of course, things have changed as well. Janet is here today, and the guys in Traralgon have had a really good experience with using Pulsara to manage suspected COVID patients that come in. So I'm going to take your role here Kris, but if you could perhaps ask Janet a question about that because COVID is certainly fresh on all our minds.

Kris Kaull:
Great point, Chris! We'll come back to that in a second. But first, Katie, one of the things you said when we were talking about the hurdles is that everybody needs a chance to have a seat at the table. And I think it was Janet that said that not everybody likes change. And so why don't you two speak a little bit about how, when you do make those changes, everybody wants to have a voice and they want to be heard. And when you're implementing changes like this, it's a big deal.

Kathleen Bagot:
It is a big deal. And not everybody is at the same place at the same time, ready for that change. Chris Bladin, as you may have already suspected, is very much an early adopter. He is: Go out there, find this new fantastic thing, yeah it's going to work, this is great! And then he would bring it back to us, and I would sit there going, I'm really not sure about this whole app idea. I'm not an early adopter. Chris is an early adopter. So we worked through all of that.
It's about having hands-on practice. Everybody wants to do a good job.

Everybody wants to do the best by the patient.
And that's the same with people in the hospitals and across the different areas. My number one tip for doing this—I mean, I have a million tips, so hit me up if you need to. But it's about having hands-on practice. Everybody wants to do a good job. Everybody wants to do the best by the patient. And so they've worked out their own ways that they do that. That's how they're practicing their clinical disciplines as they currently work. And we have these habits that we do in order to do those things.
So by giving people a demonstration version of the app on their phone, it gives them hands-on experience so that they can build confidence and go, "Oh yeah, it really is just as simple as texting and taking a photo." That's what you told me, Katie. I didn't really believe you, but now I've had a go, and I can see that. And then they could see that the app would actually work. That then builds trust. They could then see, "Oh, they've already responded to me, even with the demo version." And that then helped change those habits and got them to a place where they said, "Oh, this is a different way that I can do, that can work. And okay, now I'm really interested." So that hands-on practice is really key.

Janet May:
I'll probably reiterate a bit of what you said, Katie. As with any change management thing, you're going to have people that are excited, people who go with the flow, and then the occasional blocker. And one main thing we've found useful from an end-user point of view is having super users on the floor because the project managers can't be there 24-7. If you have some super users on the floor, even after hours, that are very familiar with Pulsara—or sort of any change—they are there to help out with any hiccups and answer any questions before they escalate and everyone has negative attitudes.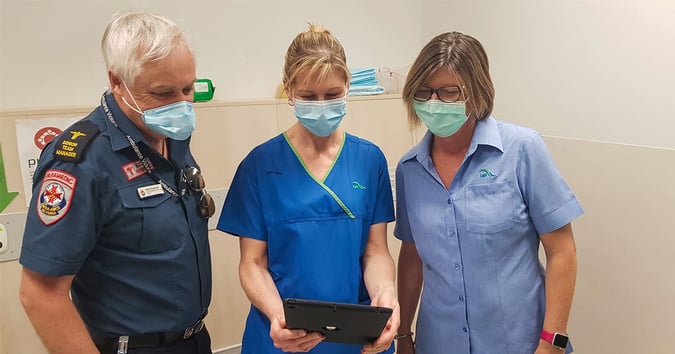 And, bring your stakeholders to the table early. We had our executive sponsors, CT managers, and the AV community liaison people there for the first meeting. So we all knew what was involved with rolling it out. I feel like we had a pretty good implementation, and I've got to thank Mark Scammell from Ambulance Victoria and my coworker Carolyn Beltrame in emergency for that. They have a great team.
Knowing your own team and just being on the floor a lot more than what the project managers could cover really helped.

Kris Kaull:
And Grant, I think you were saying that every once in a while, it didn't matter if it was at night or during the day on the weekend or weekday, there's always somebody to help support your efforts.

Grant Hocking:
Yeah, that's right Kris. And just to back up what others have said, having a champion or a superuser available is important. We did the same thing in ambulance four years ago when we first implemented it. It was put in place, these champions, so that they were always there.
The relationships with those people at the hospitals are still strong today. So it wasn't just so much about Pulsara, but it improved a lot more things outside of the project itself.
But I think the other key thing, just to pick up something that Katie said, was that initial concept of human-centered design, where everyone is given an equal opportunity to be informed, to be listened to, to feel valued in the process. I think that helped a lot. And Katie was magnificent in that role in both ambulance and at the hospitals, with the introduction of Pulsara and setting up those meetings that she mentioned earlier, where everyone got around the table. The understanding and acceptance of everyone's roles during those meetings were just fabulous. And it really helped establish the Pulsara project as something that everyone was eager to get involved in. And it continues to today. The relationships with those people at the hospitals are still strong today. So it wasn't just so much about Pulsara, but it improved a lot more things outside of the project itself. It was amazing.

Kris Kaull:
Chris threw us a curveball and said, oh, by the way, ask Janet about this, this, and this—which is important, because this isn't just stroke or STEMI. It's a team-based approach to telemedicine, and all of a sudden when you step back and say, "Well, if I can connect the right people at the right time to take care of this patient," —all of a sudden you start thinking and strategizing this initiative, or that initiative. Dr. Bladin, you said that you used it for the management of potential COVID patients. And personally, I've read up on some of the things that you were working on with mental health and behavioral health. So Janet, could you tell us a bit about that?

Janet May:
Yes, it was really helpful with suspected COVID—SCOVIDS, as we call them. So when the ambulance would bring them into the department, they would Pulsara it, so they wouldn't have to enter the department in PPE. We would know that they were at the door, and we'd send someone out. We had half the emergency department set up for infection control, so in isolation. The staff from that area would go out, meet them, triage them out in the driveway, and then they would get onto the ED bed there and then come into the infection control area. So we wouldn't have potential SCOVIDS coming through the clean end of the emergency department. And we used it multiple times during the height of our COVID in winter last year. Victoria had quite big numbers for Australia, and it was really helpful to minimize the risk of having infected patients coming through the ED.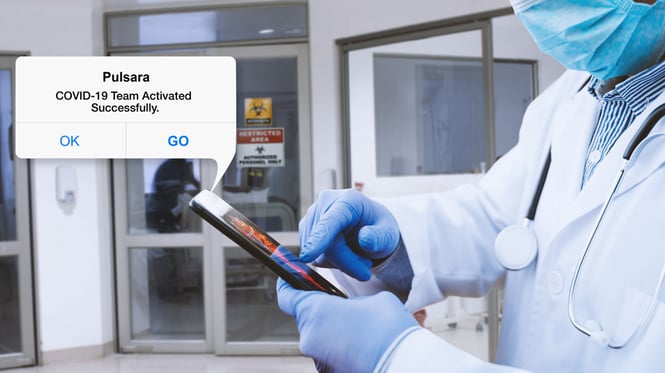 The other thing we saw as a good opportunity was the fact that we have a really high presentation of mental health patients here. So we looked at how we could use Pulsara for them as well, for pre-notification coming in. And we have a unit called MHaPRU, the Mental Health and Police Response Unit. And we have a registered nurse who's employed by LRH, and she is based at a police station locally. And they would go out and address the mental health patients in the community. And these patients don't always need an ambulance to come in, so sometimes they would just come in with the police and the mental health registered nurse. It's a bit of a work in progress, but we put Pulsara on the registered nurse's phone so she can pre-notify the ED of any mental health patients coming in, and then the ED nurse in charge can also notify the internal mental health team that the patient is coming in. And quite often, being a smaller community, they are familiar with the patients, so they know what strategies work for them. So we can have them in place when that group of patients comes in.
Another opportunity we're exploring at the moment is where the coordinator or the bed manager from another hospital can directly communicate with a hospital coordinator so that it doesn't have to go through emergency or the other internal systems, and vice versa.
It's a really useful tool, not just for strokes and STEMIs, as it was originally intended, but also for SCOVIDS and mental health. It's got a huge opportunity for other areas you can use it in.


What have been the biggest wins for each panelist since implementing Pulsara?
Stay tuned for Part 3 to find out!

Want to hear the panelists discuss what it was like to overhaul their communication process? Check out How Mobile Communications Are Transforming Australian Healthcare, Part 1.