The author competes in a high school 200 meter freestyle race.
800 m freestyle
8:04.79 (World Record)
Katie Ledecky
August 12, 2016
400 m freestyle
3:56.46 (World Record)
Katie Ledecky
August 7, 2016
I'm a lot of things: a mom, a wife, a Chief Operating Officer … but one of my longest-standing titles is that of swimmer. I started competing in swimming at age 6 and continued on through Division 1 in college. And while I no longer compete, swimming is still a passion of mine, and my favorite way to exercise. So it's no surprise that I love watching the Summer Olympics. In addition to the network coverage, it was especially fun to see former teammates and coaches broadcasting TV color commentary and posting behind-the-scenes photos with Michael Phelps and other medal winners.
Watching the world and Olympic swimming records fall, I'm amazed at how much faster swimmers have gotten since my day. Today, the best female athletes are beating times that nationally ranked men swam just 20 years ago. The men are going so fast that — in some cases — their final times are what a prior generation of finalists owned as their mid-race splits!
In my day, we never could have imagined today's times were even possible. Times had dropped significantly from the Mark Spitz era of the 1960s and 70s into a new crop of even faster American and World Records in the '80s and '90s. For years after I last hung up my cap and goggles, some of the swimming world records still stood, untouched. Janet Evans's distance freestyle records lasted over 20 years, and both of the legendary Mary T. Meagher's butterfly records held nearly as long before falling.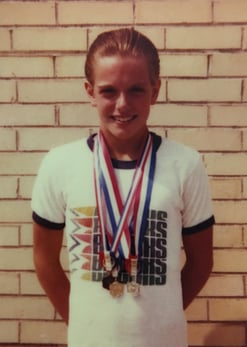 The author poses with her medals after a swim meet.
In order to break records, swimmers were told for years to TRAIN HARDER, TRAIN LONGER, and BE MENTALLY TOUGH. We were training 10+ weekly sessions and putting in as much as 40-50 miles per week PLUS strength training. We simply couldn't work harder or longer. Because of this mindset, swimming had stagnated, with marginal improvements in overall times and a few bright spots in certain events. Broken-down athletes never reached their full potentials and sometimes left the sport years too early. There weren't as many superstar Olympians to inspire American kids to join swim teams.
Then, things changed.
A few coaches re-thought the entire process. The culprit for improvement plateaus and athlete burnout — they recognized — was overtraining, not underachieving. Coaches began to make small, but powerful, modifications to training philosophy. Practices became shorter and more targeted to specific physiological systems to achieve better results. Innovations came about, and swimmers began to don more hydrodynamic swimsuits and race in faster, better-designed pools.
Times began to drop significantly.
If you're a STEMI or stroke coordinator, or part of any clinical team caring for patients suffering from time-sensitive emergencies, you know that reducing time to treatment can make all the difference. Like a well-conditioned swim team, you're striving for the best possible result. The lowest time. The greatest outcome.
Is your team coordinating care in the old style of longer hours, over-training, and pure exhaustion? Are you maximizing your effectiveness in a broken system? Or, are you re-thinking the care coordination of your team? Do you have a plan for LVO stroke treatment, or are you letting the competition blow past you? For years, we've seen the bar set in about the same place for Door-To-Needle and Door-To-Balloon times.
It's time to shatter those records.