What if you could keep hundreds of low-acuity patients a week from having to needlessly go to the emergency room? And what if, by doing so, you could reduce or eliminate the challenge of slow turnaround times, free up much-needed EMS and hospital resources, and help patients get the care they need faster, more affordably, and more efficiently?
Austin-Travis County EMS is doing just that. With a scalable system of care, they kept 434 low-acuity patients out of the hospital in just three weeks—rerouting them to faster and more appropriate care via the interconnected support of their ET3 clinic partner agency and the telehealth communications and logistics platform Pulsara.
On October 19th, Commander Steve White and Dr. Carlos Navarro shared their experience with creating the C4 unit, walked through a case study, and shared tangible takeaways and cutting-edge insights that you can apply to your own organization today.
Check out part 2 of their presentation below! (If you haven't yet had the chance to read part 1, check it out here.)
Steve White:
I want to talk about the impact of a program like this, and get Dr. Navarro's opinions on a couple of things. The Pulsara platform definitely makes this easier. Without the technology, this would be almost impossible. And if we're looking for better community relationships—these partnerships like with Dr. Navarro and my team, and the partnerships that we have with other providers as well—it's creating a better community experience for everyone. Trying to get them the right resources is very difficult to do on a 911 call if you can't get ahold of somebody—if somebody is not answering their phone, or you have to wait on a reply email. So using Pulsara definitely helps with that, because it's more instantaneous. You can push one button and it'll go to multiple people, until somebody answers.
As you can see from the situation we described, this patient didn't have to be transported to the hospital, and she got excellent care. That was a reduction on the hospital system. In this situation, everybody wins.
There are some pitfalls and challenges. As I said, you have to heavily leverage your technology. We use about four different platforms in the C4. Pulsara is what we use for most of our communications. Now, there are some features that we are implementing that would make a really big difference. For instance, if Dr. Navarro had the same conversation with the crew, but decided that the patient did not require transport at that time for whatever reason—the patient didn't want to go, or it wasn't necessary—and he wanted a follow-up of that patient. Or, similarly, if one of my medical directors who is doing a telehealth call with a patient wanted a follow-up. We can use this platform to refer patients for follow-up. And we can track that. We can see who picks it up and who doesn't, and that way patients don't fall through the cracks.
One of the other challenges that Dr. Navarro mentioned was transportation. We're transporting these patients to a clinic, or sometimes a rehab facility, sometimes a pain management clinic. How do they get home? You have to set up that return visit transportation and think about those logistics as you're working through the call.
And then, this is the big one that I really wanted to talk to Dr. Navarro about.
This is a new concept. If you're on this webinar and you are a paramedic, I'm preaching to the choir when I say we have been trained and conditioned that all patients go to the hospital. And we get really uncomfortable and we start feeling like there's a liability if we choose to do something else.
This culture change with being able to just try to get the right care and the right resource to the patient—even if it's not in an emergency room—is going to take a huge culture change and a huge buy-in. And I know Dr. Navarro, you experienced the same thing with your providers, right?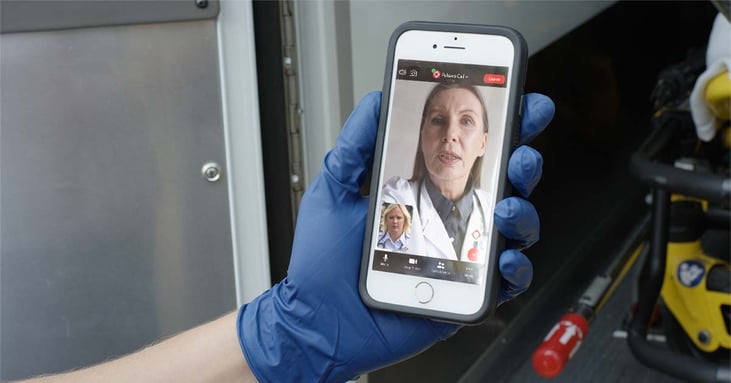 Carlos Navarro:
Correct. Like I said, we've been working on this for a while, and that's been one of the big barriers. Because there's always been this mental block that—no. EMS, ER, we don't—it doesn't work the other way around, right? A lot of the providers were uncomfortable with the thought of, "I don't want to receive a patient that's unstable, or crashing," etc. So we had to really work on that piece and explain to them that you guys [the medics] are the experts in triaging, and you're not going to bring into the clinic anybody that's in that condition.
And it took a couple of cases to socialize the success we had, and demonstrate how simple it is, and that it's basic cases—things that really belong in the outpatient setting and not the emergency room—to get the providers and the staff and everybody comfortable enough to say, "Well, yeah, this makes sense, right? It's okay, this is the right thing to do to see those patients here in the clinic."
And I would add, a lot of patients were scared to go to the emergency room, and still are. In the middle of a pandemic, a senior patient with a compromised immune system shouldn't be going to the emergency room, right? We should try to keep them safe. We keep them in the clinic.

Steve White:
Yeah, my message to the field providers in my organization is: the biggest change with this idea is something that they have earned. Paramedics have now found their place in the health care system, where they have earned trust from these doctors—whether it be physicians like yourself, or physicians in the emergency room, or the physicians with medical direction. When my medical director is talking to a provider on-scene, they actually trust the paramedic's opinion, and what they're seeing, and the diagnostics that they are able to do in the field. And so this uncomfortable feeling of, "I have to take everybody to the hospital," should actually be a proud feeling, because it's something that they've earned. It's the respect that they've earned.
What has been a change in your view of EMS since we started this whole relationship over a year ago?

Carlos Navarro:
Well, I can tell you from my own personal experience—even through my training and all that—there's always been this invisible wall of, whenever you call EMS to come and pick up a patient because they need to be taken to the hospital, that it's like, "Okay, they're off my hands now, you deal with it." And there was very little communication.
Now, I really enjoy the interaction and the providers that have participated in the calls. You really get that sense of teamwork in working as a unit to help the patient out, and they're comfortable having those conversations. And that brings to mind the fact that when we set it all up, we were ready to go live, and we were just not getting any activations. And I think in my mind, one of the things that really helped was to actually go and visit one of your crews, Steve. That was, sadly, a block and a half from that clinic for many years, and we'd never met them.
So we went, and I think [we] brought some snacks or something, and interacted, and the lead physician for that clinic said, "Hey, we're down the street. It's okay, we really want to do this, we really want you to bring patients over." That kind of broke the ice and started the whole thing. And we started getting our first calls when they said, "Yeah, we really are going to do this." It does work. I think it's the human connection, really, that ensures the success of this. I know we're talking about technology and this and that, but at the end of the day, it's about human interaction, communication, and everyone focusing on the same thing, which is putting the patient in the middle and making them the focus of the conversation.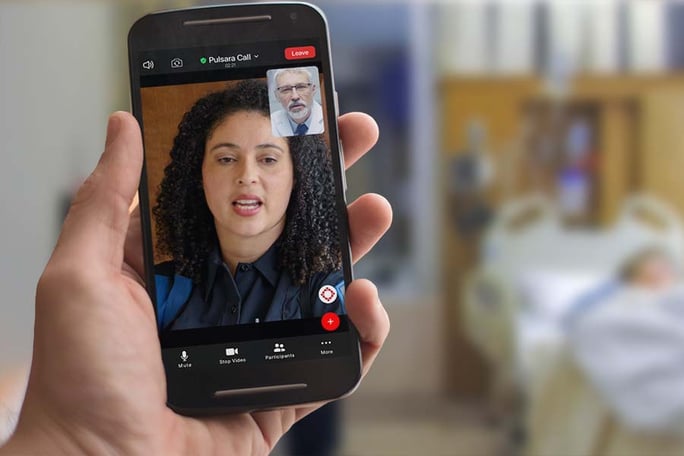 Steve White:
I agree. And I think that the culture change is ongoing.
So how do we take some of the things that we've learned in this process and make it scalable? If you're watching this webinar and you've heard our stories and the things that we're talking about, you know that we're talking in very broad strokes.
But I think you need to pick probably two or three things that you want to focus on. What is it that you want to impact? Do you want to impact how many calls your crews are running? Do you want to impact your patients, the hospital system, your turnaround times? Any one of those could benefit from implementing some sort of treat-in-place model. When we talk about treat-in-place, we're talking about telehealth, and we're talking about actual treat-in-place to where you're going to treat that patient on-scene, and then clear the call. And then alternative transport we throw in with treat-in-place as well, such as a transport to Dr. Navarro's clinic.
Here's where you're really going to see the benefits of implementing treatment-in-place. Now, I don't have the same problem with my organization right now that many across the country do, which is really long turnaround times at the hospital. I will be on intervention phone calls and people will say, we have no units available and we have three-hour hold times at the emergency room right now. If you implement a treat-in-place program or an alternative transport program, you are going to save that time that your crew is tied up waiting to hand over patient care at the emergency room. If you do that, you'll also impact your field crews, because they're going to be freed up for calls. And it's not just the hold times at the emergency room. It's the transport time, the hold time, the turnaround time, and the return time to get back to the district.
We have found in our tracking that if we are going to do telehealth or a treat-in-place, our average scene time only increases by 10 minutes. 10 minutes is a huge difference from hours on the back end with transport hold times and return times. You can really impact the day of your crew and the availability of your crew. And at the same time, you're also affecting your hospital system and your health care networks, because you're not taking these low acuity patients and making your problem of turnaround times at the hospital worse by just continuing to bring patients that probably could be served better elsewhere.
So what is the force multiplier? Well, the force multiplier for me is this C4 team. In my system we use treat-in-place, but we also use single provider response units, physician assistants, nurse practitioners, and social workers. We have a lot of options available to us.
If we can handle a high percentage of low acuity patients—if we could set a goal of 15% of the daily call volume and handle those lowest of the low acuity patients, then I have four employees who would normally be staffing two ambulances handling the call volume of five ambulances. So suddenly, with the same amount of workforce, I'm able to handle twice as much volume just because we're doing it differently.
And it's taken a lot of getting used to; it's taken a lot of mistakes being made. And hopefully, we can do another one of these webinars where we really break down the nuts and bolts of how to do it.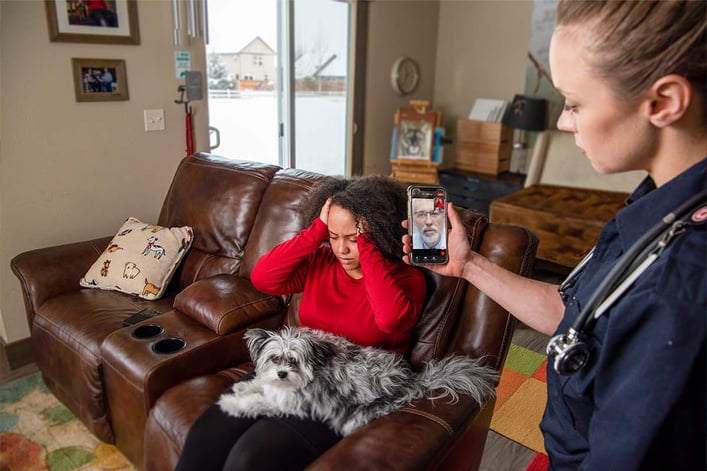 But if you're sitting here wondering, does it actually work? Yes, it actually works. And this model can be an absolute beast if you want it to be. We have tested it to the last; we're in operation every day. But in the last COVID wave in the middle of August, we went full in. We were pretty much tasked with trying to relieve the healthcare system and take some of the pressure off of the crews. Our staffing crisis was getting worse, and our crews were starting to get sick from COVID.
So here's what we were able to do. Using these treat-in-place models, alternative transports, and telehealth, we were able to keep over 400 people out of the emergency room during the last wave. And that's over a 40-day period. That's a lot of people. [Reducing transports by] over 400 people makes a significant difference in your health care system. It also makes a significant difference in your department and your agency.
So what's a realistic expectation? Well, that really depends on your location and your size. For my department, we consistently run 500 calls a day, and we have over 40 ambulances. So for me to save 400 people from being transported to the ER is pretty simple. But if you're in Butte, Montana, and you only have a handful of ambulances, and maybe your transport times are an hour, two hours—if you could have one treatment-in-place during that shift, that could save you considerable time. Just implementing one of these treat-in-place or alternative destinations can really have a big impact on your department, depending on what your situation is.
So what does the future look like? Well, we're always going to be asked to do more with less. And we're always going to be in a position where staffing is difficult. I don't think that's going to let up anytime soon. Finding paramedics—well, if you've tried to hire one lately, it's extremely difficult.
If you're going to implement a collaborative care unit in your department, you should really start looking at multidisciplinary members of that team to try to cover as many aspects as you can. As you start developing these pathways to help with your patients, you're going to need subject matter experts. Whether it's telehealth, whether it's mental health. If you can find alternatives to transporting your mental health patients to the emergency room, whether it's a mental health facility or a mental health responder—or we also offer a 24-hour mental health telehealth option. Then you can really save a burden on your healthcare system.
And to make our collaborative care unit as well-rounded as we possibly can, we work with social workers, police officers, and durable medical. I mean, we bring in as many people as we can into these agreements, and we try to set them up on Pulsara. If we need something, it's literally a one-button push and someone gets notified. And then we can track who sees that information, where that information goes, and how it comes back. This is something that you can do that doesn't necessarily require Pulsara, but it definitely does make it a lot easier.
So Dr. Navarro, do you have anything else that you would like to add to this? Any insights from your perspective?

Carlos Navarro:
No, I think you summarized it very well. Like I said at the beginning, I think this is only the beginning. I think there's a lot of potential. Hopefully, we conveyed that to you here today that this has been a very positive experience for everyone involved.
And I would like to see this expand. We here at WellMed in Austin were the first place to try, and now it's already expanding to our San Antonio market pretty soon, if they haven't gone live yet; I think they might be pretty close to the go-live date.
I can see this as a great opportunity to improve patient care, improve collaboration with all of our specialists, ER departments, and EMS. Everyone needs to collaborate if we're going to make this work more efficiently. And I think this is just the beginning. I'm excited for the possibilities.

In part 3, Commander White and Dr. Navarro answer the many great questions received from the audience—including the questions not addressed during the webinar! Check out the Q&A here!


Pulsara is helping with COVID-19 management by helping mitigate patient surge, streamlining patient transfers, minimizing exposure, and more. Learn more about COVID-19 + Pulsara here.