As EMS agencies all over the country have struggled to handle COVID-19, many are searching for answers. How do we prepare for possible future waves of COVID-19? Outdated technology cannot keep up with the variety of new challenges. Is there a way to streamline communication and use mobile technology to solve problems and still deliver high-quality patient care? Could such a solution be flexible and scalable, able to handle any situation—even a pandemic?
When COVID-19 hit, UCHealth Memorial Central and the Colorado Springs Fire Department were more ready than they anticipated. They had already put in place a communication solution that would enable them to better manage and mitigate the crisis. Though the pandemic brought unprecedented challenges, Colorado Springs used Pulsara to remedy many of the communication issues created by COVID-19. They were able to provide faster, safer patient care by improving care team communication and collaboration across organizations. This is their story.
On April 28th, Dr. Stein Bronsky and Dr. Matthew Angelidis participated in the JEMS webcast, How EMS Leaders Are Using Mobile Technology to Manage the COVID-19 Crisis and Beyond, to share how Colorado Springs responded to COVID-19, and how they used Pulsara to rise to the challenge.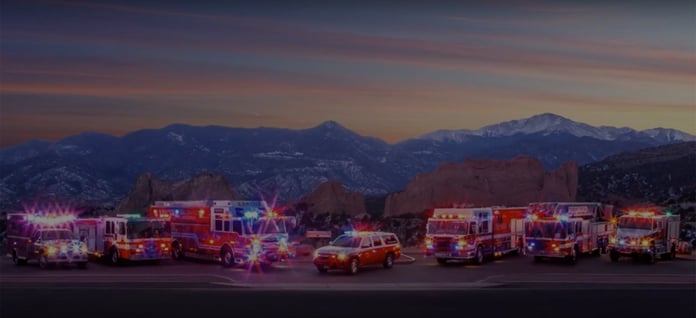 Colorado Springs
Dr. Bronsky and Dr. Angelidis are located in Colorado Springs, Colorado. Dr. Bronsky is currently the chief medical director for the Colorado Springs Fire Department to El Paso County AMR ambulance service and the El Paso-Teller County 911 Authority.
Dr. Angelidis is a board-certified emergency physician for UCHealth Memorial Central, Memorial North Pikes Peak Regional Hospital, and Grand View Hospital in Colorado Springs, as well as a co-medical director for Colorado Springs Fire Department and AMR.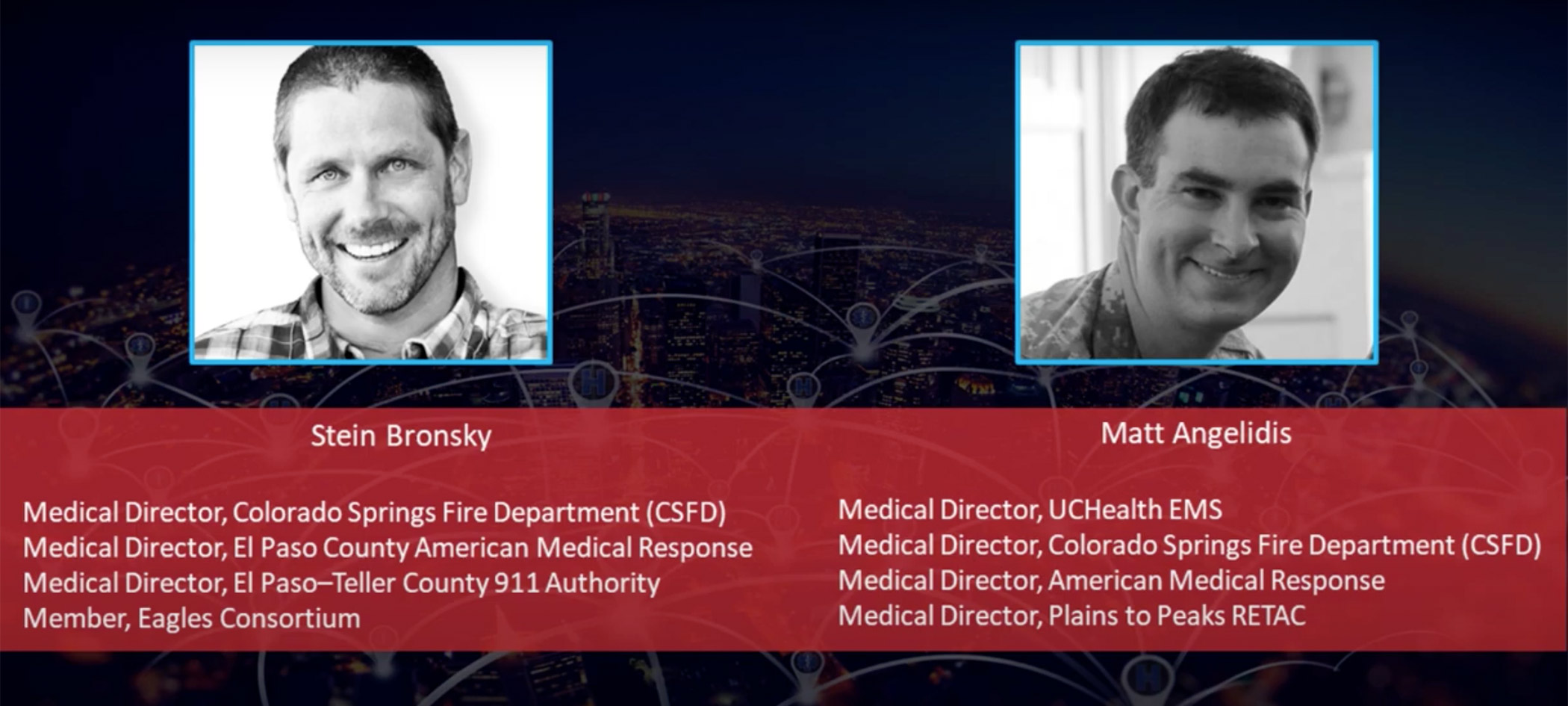 Colorado Springs is in El Paso County, which has roughly 650,000 residents. The city itself has 470,000 residents, and healthcare is shared amongst five major hospitals across three hospital systems. They manage about 85,000 911 calls a year.
From STEMIs and Strokes to COVID-19: Mobilizing Pulsara in a Pandemic
Colorado Springs implemented Pulsara approximately four years ago, primarily to initiate communication channels for patients experiencing a STEMI or stroke. EMS providers are able to activate an ST-elevation Myocardial Infarction alert from the field. From there, they can use Pulsara to simultaneously send the patient's ECG, vitals, age, meds, and risk factors to the hospital system that they are transporting the patient to, so that the ER physician, charge nurse, cardiac catheterization lab team, and the interventional cardiologists are all aware of this patient's location within the city, expected time of arrival, and current condition.
In response to COVID-19, Colorado Springs has also begun to leverage Pulsara's workflow for time-sensitive emergencies within the community and are expanding its use across multiple other avenues such as trauma, as well. Dr. Bronsky explained:
"When COVID-19 hit our community, we immediately recognized that our vision of needing to have immediate telemedicine capability from the crews in the field to the medical directors was an immediate necessity. It wasn't something we could wait a long time for, and the logical choice was to use Pulsara in an expanded way because everybody already uses it. Every EMS provider has it. They're used to using it for the EMS-to-hospital communication, and using the existing platform, we could also flex it to start telemedicine consults directly from providers to medical directors, and that could help us within the pandemic crisis to use medical directors when necessary to figure out if people should be transported."
Because Pulsara is a scalable solution, Colorado Springs was able to respond to the pandemic by mobilizing a platform they were already comfortable with. "We wanted a product that we didn't just start up because of the pandemic," added Dr. Bronsky. "We wanted to use an existing product that we knew worked well that could flex into and out of pandemic situations."


Using Pulsara to Help With Transport Decisions
Operating under the premise that not every person experiencing COVID-19 symptoms would be best served by being transported to an emergency department, Colorado Springs used CDC and WHO guidelines to come up with a non-transport prehospital algorithm to determine the best course of action for each patient. The algorithm uses two sets of criteria—one objective, the other subjective—to determine whether a patient's symptoms warrant transporting them to the ER. Dr. Angelidis explained a specific case example for how first responders paired the algorithm with Pulsara to best help COVID-19 patients.
"I want to walk you through the story of Lois, a 78-year-old female who called our 911 for evaluation of cough and shortness of breath," he said. "Our EMS providers arrived and they identified that Lois had normal vital signs, but that she is an elderly female—78, which places her at higher risk in the setting of coronavirus."
Dr. Angelidis explained that she did not meet any of the objective criteria for transporting, but her risk factors complicated the situation, guiding EMS teams to seek a middle ground: a telemedicine consultation.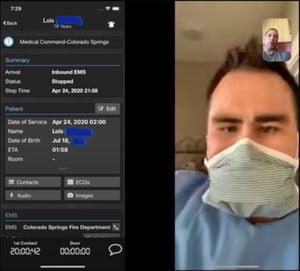 Dr. Angelidis demonstrated what this looks like in the Pulsara platform, with provider-to-provider video calls. "You have an EMS provider wearing a mask, and in the top right corner, you have Dr. Bronsky sitting on his couch at home. This provider activated a Pulsara case for Lois, which then pings our medical direction command team. Dr. Bronsky is on call for the day and he gets the notification on his phone that our EMS crews have a patient they'd like to discuss with him. Dr. Bronsky is able to click into the patient, initiate the teleconsult, and in real time, he takes a history, discusses the issues with the patient, is able to look at her in real time and even direct EMS providers to perform certain tasks. For example, listen to their lungs again or repeat a set of our vital signs. Through that, the EMS direction team can help providers figure out who may need to be transported and who can stay on scene."


Game-Changer: Using Pulsara Patient to Minimize Exposure
Colorado Springs is now also using Pulsara Patient, which gives providers—whether an EMS crew or a physician—the ability to directly invite a patient to a virtual meeting. After receiving a link from the provider, the patient can then open up the portal and have a discussion with the provider via live video.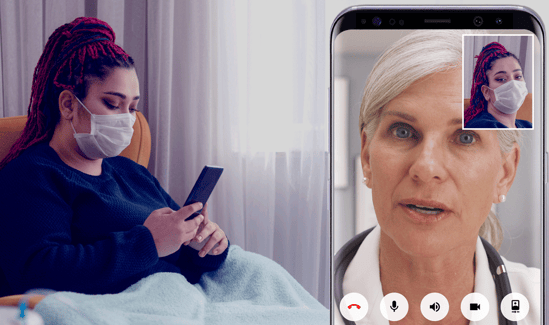 Using Pulsara Patient to set up a consultation between a provider and a patient directly, without requiring an EMS provider to be present with the patient, was a game-changer for Colorado Springs. Dr. Bronsky cited one example of how live video is helping them avoid exposing medics to COVID-19:
"We have a patient here in town, a child that has a really bad seizure disorder and on top of that, unfortunately has some airway and respiratory issues also. They're a high risk for developing some airway compromise when they have seizures. Historically, every time the child has a seizure, they call 911 for backup on this child's airway if needed. Well right now, every time we encounter this patient, we have to use PPE. We have exposures because somebody in the house is COVID positive, and we want to try to avoid that if we can. We push an invite to the family who then can speak to a provider that's sitting outside of their house and they're staged and waiting. If the child resolves and doesn't need any airway management, then we can communicate that directly from the family to the EMS providers, and then they can leave. We have not wasted PPE. We have not exposed people unnecessarily."
By fully utilizing Pulsara's video capabilities, Colorado Springs has been able to avoid unnecessary exposures to COVID-19 and still provide a high level of care for patients.


Using Pulsara Patient for Follow-Up Care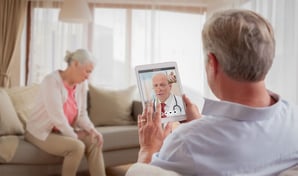 Pulsara Patient has also opened up opportunities for doing follow-up care with patients. Dr. Bronsky explained that in cases where a COVID patient has been kept home rather than being transported to the hospital, hospital staff could video-conference with them the following day to check in. This capability is also proving useful for other types of follow-up care, said Dr. Angelidis. "A lot of times, we'll take care of a patient in our ER and we will discharge them, and maybe it's a wound or cellulitis or something simple that we just want to look at the next day. The patient app version of Pulsara is a great opportunity to ping the patient, create a quick 15-minute encounter to do some follow-up care."
Both doctors believe that this functionality will be useful long after COVID-19, as they hope to continue to use Pulsara Patient for follow-up care, and expand its usage for out-of-hospital care. They have high hopes for what might be possible in the future. Dr. Angelidis elaborated:
"We are certainly looking at expanding integration of Pulsara into our prehospital medical care. We work through this concept of tiered response in our community. We certainly look at an avenue where we could leverage the technology straight out of our PCEF or 911 authority offices to connect a physician with the patient, even before we dispatch a unit or a physical response."
When asked how patients have accepted the use of the app consultation, Dr. Angelidis responded that most patients have received it well. "By far and away, the most consistent responses are positive. People really appreciate the opportunity to teleconnect with a physician and have a real-time, patient-centered discussion. I've found it to be very positive."
Dr. Bronsky agreed: "All in all, Pulsara has been a tremendous advancement in our capabilities to interact with the patient population during the COVID crisis."


Moving Toward the Future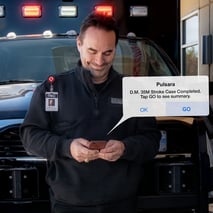 In order to improve communication, a scalable communication solution is essential. A large part of Colorado Springs' success with using Pulsara to combat COVID-19 was due to the fact that it was a platform they were already using for time-sensitive emergencies like STEMIs and strokes, that they were able to scale up and use to respond to the pandemic. Mobile communication can go a long way toward improving the quality of care that patients receive, cutting down on repeated calls, missed pages, and miscommunication errors. Those improvements last far beyond a pandemic.
In Colorado Springs, Dr. Bronsky and Dr. Angelidis have high hopes for how they can use Pulsara in the future. Dr. Bronsky summed up their experience:
"We've been using Pulsara for about four years, and we started in a very narrow fashion just using it for STEMI and stroke. We have now realized over the last couple of years that the best way to function into the future, regardless of COVID—these conversations happened way before COVID—we needed a system-wide approach to advancing our communication. I think everybody struggles with having all these different modalities and chain links that can break. We see Pulsara as a holistic system of management and care solution that we are planning on expanding through the entire patient base, not just isolated to strokes or heart attacks. We're already actively working on that and see that as the vision of our near future."
To learn more about how Colorado Springs, Austin-Travis County, and Williamson County are using Pulsara to manage COVID-19, listen to the full JEMS webinar here.
To find out more about how Pulsara can help your care team, visit us at Pulsara.com.