Saint Mary's Regional Health System is a Joint-Commission-accredited Level III Trauma Center, located in Russellville, Arkansas. The 170-bed hospital has delivered care to the River Valley community for the past 90 years, and alongside Pope County EMS since 1967.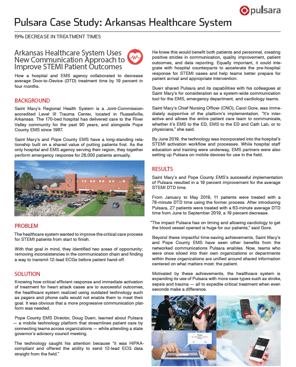 Saint Mary's and Pope County EMS have a long-standing relationship built on a shared value of putting patients first. As the only hospital and EMS agency serving their region, they together perform emergency response for 28,000 patients annually.
The healthcare system wanted to improve the critical care process for STEMI patients from start to finish. With that goal in mind, they identified two areas of opportunity: removing inconsistencies in the communication chain and finding a way to transmit 12-lead ECGs before patient hand-off.
Download the case study to learn how St. Mary's and Pope County EMS collaborated to decrease average Door-to-Device (DTD) treatment time by 19 percent in just four months.