Mental health issues remain a concerning problem that plague first responders. As we continue to look at the issue as a whole, the motto has always been to sweep it under the rug and not let fellow coworkers know that something bothered you. It is time that we get past this "tough" exterior, and start taking care of ourselves.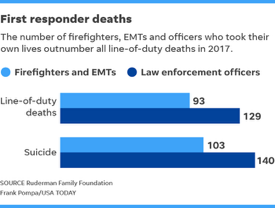 The first thing that any first responder is taught is that their personal safety comes first and is paramount. So that being said, why do we continue to ostracize someone that is having a difficult time just because the affliction is mental instead of physical? Data from the Ruderman Family Foundation in 2017 showed that the number of Fire Fighters, EMTs, and officers who took their own lives outnumbered all line-of-duty deaths.
The fact of the matter is that as first responders, we are really good at taking care of others but not at caring for ourselves. It is time that as leader's in Fire, EMS and Law Enforcement, we take a step back and look at our own teams, and commit to implementing programs to address PTSD and Mental Health Issues.
As first responders, we see things on a daily basis that most people never see even once in their lifetime. It is up to the first responder family as a whole to care for each other. Watch for signs from your co-workers, as there may be minimal indication of any problems. It is time to quit accepting the fact that suicide is one the the top categories of deaths in first responders, and do something about it. We need to start providing nationwide education and push for programs and options to assist with these issues. What's your plan for addressing first responder mental health?