Most healthcare systems have telehealth capabilities for scheduled patients, but often struggle with telehealth solutions for unscheduled and acute care. Pulsara PATIENT provides a HIPAA-compliant solution for provider-to-patient or provider-to-provider live video calls, so your facility can convert unscheduled audio calls into billable telemedicine calls.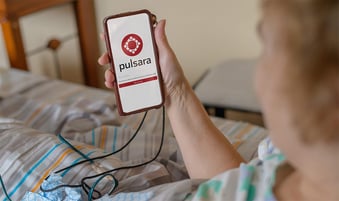 With Pulsara PATIENT, clinicians can even provide white-coat reassurance and counseling to family members who may be unable to be with their loved ones due to restrictive visitation policies.
While many of our clients are currently using Pulsara PATIENT for COVID-19 applications, it can be used for many conditions in the outpatient, emergency department, inpatient, or prehospital settings.
The best part? Pulsara PATIENT is simple and fast to set up. Simply text the patient or designated contact the link, they click it to download the app, and are then set up to receive live video calls from any provider.
Click here to get started.