Right before shelter-in-place struck, my husband and I started remodeling our kitchen. It's a relatively small kitchen, and we have done the majority of the work ourselves. Because of this, the number of people needed to complete the job was significantly smaller than if we had hired a contractor.
However, over the last few months I have grown increasingly frustrated by trying to coordinate communication between the small number of individuals required to finish the job! Between window installers, countertop installers, and tile installers, I have been making tons of phone calls trying to keep the ball rolling and ensuring everyone is lined up appropriately. It's a lot of work keeping track of everyone, and it takes up a ton of time just to make sure everything will run like it's supposed to.
You may be wondering how this relates to time-sensitive emergencies. Kitchen remodels are the polar opposite of time-sensitive emergencies in most ways — after all, they're not at all life threatening or serious. But as I began to realize, they can be equally as frustrating in the coordination and communication department.
The coordination methods I've had to use while remodeling my kitchen have been eerily similar to the same coordination methods I've seen used by clinicians for time-sensitive emergencies: back-and-forth calls to figure out who is ready to do what, when they'll be ready, and who needs to be involved. But compared to some healthcare facilities, my kitchen coordination has actually been a step above their current coordination methods because I didn't have to use a pager to contact my countertop guy and my window guy, hoping they both got the page, and that they will both show up on time, in the right location, prepared to complete the job.
We're making progress on our kitchen project and I can now see the light at the end of the tunnel, but I've been thinking about how often we settle for ineffective, roundabout communication methods. That might be okay for a kitchen remodel, but it's definitely not okay in emergencies. When lives are on the line, speed and accuracy are priority #1.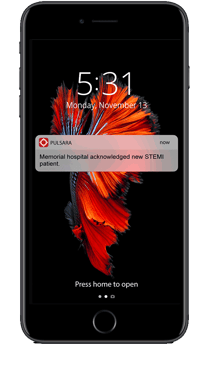 Pulsara streamlines communication for healthcare providers by uniting every member of the care team in a single dedicated channel for each patient. EMS can upload the patient's information to that channel with photos, video and audio clips, and typed notes. That way hospital staff can all access the patient's information — and if need be, EMS can bring in a physician for a second opinion to help make the best possible treatment or transport decision.
In the hospital, Pulsara keeps everybody on the same page. Each team member acknowledges when they receive a notification about a patient, so there's no more wondering if they're not responding because they missed your page. All the patient's information is available for every team member to see in real time, so everyone knows exactly what's going on. Best of all, Pulsara is HIPAA-compliant, which means that the patient's Protected Health Information is secure.
It's time to leave the antiquated coordination methods to kitchen remodels. Let's look for communication solutions that help us coordinate care for patients in the fastest, safest, most efficient way possible.
To learn more about how Pulsara can streamline communication for your team, visit us at Pulsara.com.