EDITOR'S NOTE: Special thanks to today's guest blogger, Reid Kiser*
--
What gets measured gets improved. You're likely familiar with this motto, used widely across all business sectors. Measurement of quality within our healthcare industry has increasingly become a priority over the last few decades. As a result of this quality measurement, we have seen improved patient care, health outcomes, and more efficient care delivery.
Your organization may already have experience with quality measurement. After all, it's a "must" for most in meeting state and federal requirements – assuming you want to be reimbursed for healthcare services and remain in operation. But what does this measurement actually entail?
Let's first do a quick recap related the performance goals that you have identified for your healthcare team or organization. These goals may align with one or more of the aims I addressed in last week's blog. As a reminder, the Quadruple Aim can be a foundation for organizing goals, and for measuring progress associated with those goals. Goals may also align to a specific quality reporting program or set of measure requirements with which your hospital must comply (e.g., CMS hospital quality programs, The Joint Commission certification requirements, American Heart Association's Get with the Guidelines measures).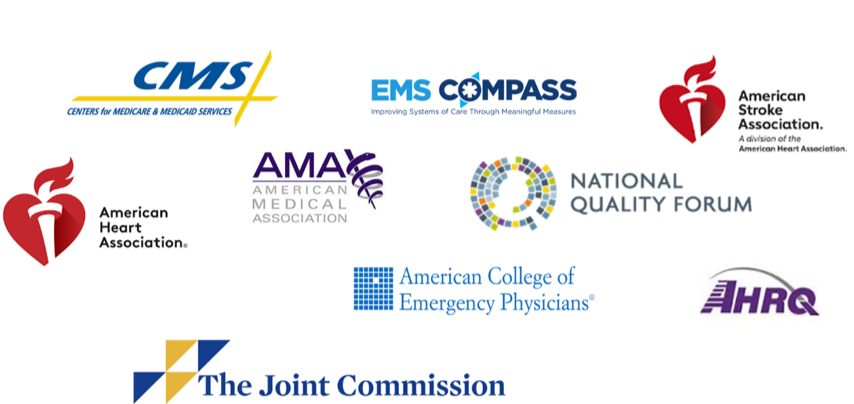 For each goal, you'll then identify the measure or measure concept that will yield meaningful results. This is where it may get overwhelming, as there are no shortages when it comes to available metrics used in our industry. Again, you may be required to focus on a certain set of measures for organization compliance purposes. Start with those.
Below are some of the measures that are used in hospital reporting programs, which address time-sensitive events and acute conditions:
Primary Percutaneous Coronary Intervention (PCI) Received Within 90 Minutes of Hospital Arrival
Median Time from ED Arrival to ED Departure for Admitted ED Patients
Head CT or MRI Scan Results for Acute Ischemic Stroke or Hemorrhagic Stroke who Received Head CT or MRI Scan Interpretation Within 45 minutes of ED Arrival
Severe Sepsis and Septic Shock Management
There are also numerous measures addressing pre-hospital care – for traumatic injuries and other time-sensitive conditions. For example:
Timely/direct transport to PCI-capable facility or trauma center
Timely intervention for hemorrhage and venous thromboembolism prophylaxis
Pre-arrival activation of interventional cardiology or neurology team
As a next step, you'll need to consider the feasibility of collecting data for the measure. In order to effectively measure, we must have the data and systems in place to accurately collect and report the data. Data sources can include registries, HIEs/EHRs, and claims. Currently, most data collection and quality improvement activities rely on retrospective data and analytics. Even with the evolution and progression of EHRs, data collection remains a challenge and can be burdensome.
A real-time data collection and performance feedback solution is the ideal. Pulsara provides for this real-time data feed. While its primary goal is to improve communications and facilitate care coordination, Pulsara's tool captures clinical workflow data in real-time, and can be integrated into a hospital's HIE or EHR. This reduces the burden associated with retrospective data collection and review, particularly related to data needed for emergency care measures and time-sensitive conditions.
The Pulsara dashboard also provides real-time performance feedback to the care team, to aid with continuous quality improvement – but we'll save quality improvement for a future blog. We need to measure where we are first, so we know WHAT to improve upon.
---
*Reid Kiser is the Founder, President, and CEO of Kiser Healthcare Solutions. Reid is an innovative leader who has served in a variety of capacities with healthcare organizations over the past 20 years addressing healthcare quality, performance measurement, data analytics and reporting, and business systems design. He currently provides strategic consulting services and subject matter expertise through client engagements and multi-stakeholder panels focused on improving healthcare quality. He can be reached at rrkiser@kisersolutions.com.