Editor's Note: The Figure 1 app contains medical images, some of which may be unsettling to certain viewers. Discretion is advised.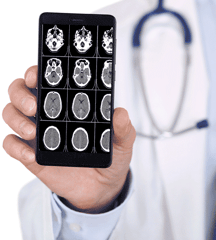 Pulsara is postioned at the intersection of healthcare and technology, and as such we love learning about other apps, products and services that also find themselves in this space. One such app is Figure 1, which can be thought of as an Instagram for medical providers, available for both iOS and Android.
On the platform, doctors, nurses and medical students are able to post images of cases they are working on to get feedback and insights from peers - or just to share photos of their most bizarre, interesting, or puzzling symptoms.
The app ensures patient confidentiality through its built-in privacy measures such as the requirement for a patient signature in order to post photos, in-app face and tattoo removal tools, and review of every post by a medical officer before it is made live on the platform.
Content ranges from traumas to illnesses to congenital conditions and everything in between, and once you start browsing you will find it very difficult to look away!
Visit the Apple App or Google Play Stores to download Figure 1. Happy browsing!