FOR IMMEDIATE RELEASE

[Bozeman, MT] — Mar. 14, 2017 —Duke University School of Medicine researchers found that patients with stroke received faster treatment when emergency medical services (EMS) activated the stroke team from the field than patients who presented by other methods of arrival.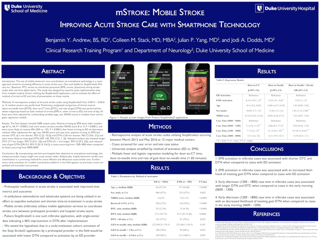 The researchers conducted a retrospective analysis of 12 major medical centers that used Pulsara's Stop Stroke, a mobile application that allows EMS transporting a stroke patient to notify emergency department staff and stroke specialists with the tap of a button on a smart phone. Using data from March 2013 to May 2016, they found cases activated by EMS in the field resulted in significant reductions in door-to-CT scan and door-to-needle times as well as an increased likelihood of meeting door-to-needle goal when compared to cases activated in the emergency department.
The research was presented at the 2017 International Stroke Conference in Houston, Texas, in February.
"This research confirms what we already knew — EMS plays a vital role in improving care for stroke patients, and it is important that people recognize the symptoms of a stroke and call 911 immediately," said James Woodson, MD, an emergency physician and the founder and CEO of Pulsara. "Stroke systems using Pulsara are finding that the ability for EMS to instantly notify and provide critical information to the entire hospital care team is leading to shorter treatment times, which in the end means better outcomes for patients."
The study included 2,589 unique stroke cases and found that those activated by EMS were significantly more likely to receive treatment within 60 minutes of hospital arrival than those whose cases were not activated by EMS. The researchers controlled for age, sex, stroke severity (NIHSS score) and time of day.
The researchers concluded that mobile emergency care coordination may lead to more efficient and effective stroke care, and that "early activation of a mobile coordination platform in the field appears to promote a more expedited and successful care process."
This research is the first multi-center study of stroke systems using Pulsara, and provides further evidence for the need for updated technology and communication protocols in prehospital and emergency medicine. Previous research has indicated up to 46% improvement in door-to-needle times associated with the implementation and use of Pulsara by EMS, emergency department and stroke teams.
###
About Pulsara
Pulsara is a digital healthcare corporation that focuses on using mobile technology to enhance treatment time outcomes by improving communication and care coordination through the entire healthcare system. Pulsara's mobile application packages for stroke, STEMI, and general patients improve communications between the teams caring for those critical patients, leading to faster treatment and better outcomes. Every clinician – from paramedics to emergency department staff to neurology and cardiology teams – is on the same page with a simple tap. For more information, visit https://www.pulsara.com.
Contact:
Kris Kaull
Pulsara
406.600.0960
kris@pulsara.com