Hello Pulsara readers! I'm Rachael Lovallo, a new voice on the blog. I joined Pulsara about a year ago and spend my days testing the mobile and browser apps so that you (and your patients) don't experience bugs when new Pulsara versions are released into the real world. Want to see what all goes into that mission? Join me for a typical work day!
8 AM
First things first, COFFEE! No bugs get found and squashed without it. I usually bring my own pour over from home, but if it's a Wednesday a fellow Development Team member brings in a big carafe to share from a local roasting company, and lets us all know when it arrives.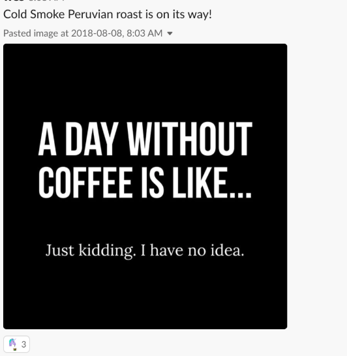 With coffee in hand, I start my day by entering notes into the Development team's daily standup Slack channel. My notes include what I did yesterday, what I plan to accomplish today, and any blockers I've encountered. A "blocker" is anything keeping me from getting work done that someone else on the team may be able to help resolve. When I finish daily standup notes, I've killed two birds with one stone because my to-do list for today is done! Then I check emails/Slack channels and take care of any lingering items from the day before.
9 AM
Next, the Development team meets for our Standup meeting. We always include our remote team members via video call. We start with someone sharing "News of the World" which gives the group insight into what's going on within the company outside of our team. The other day, we learned that several customers had already implemented the ZOLL Integration within 24 hours of release!
We also discuss any blockers or other items that require the presence of the whole group. If you're familiar with the typical flow of a "stand up" meeting, you'll notice we only talk about blockers and don't go around in a circle each saying what we did yesterday and plan to do today, since we already put all that into our Slack channel. This format lets us communicate on important and timely topics, while getting us back to actual coding and testing within a few minutes.
9:10
After Standup, I usually chat with my manager about testing goals for the day. Our test team is small and we're moving fast to get enhancements and new features into your hands, so priorities can change daily!
9:20
With a clear direction and list of goals for my day, I sit down for an hours-long block of testing. One of my favorite aspects of my job is the variety. On a given day I'll likely test our mobile app on iOS and Android devices, and some Browser App functionality in a few different browsers. Exceptional days have involved learning to use a ZOLL monitor and testing our integration end-to-end, or driving up a mountain, then parking at a trailhead and trying to video call a teammate to check call performance in rural/low service areas.
My desk on a typical day: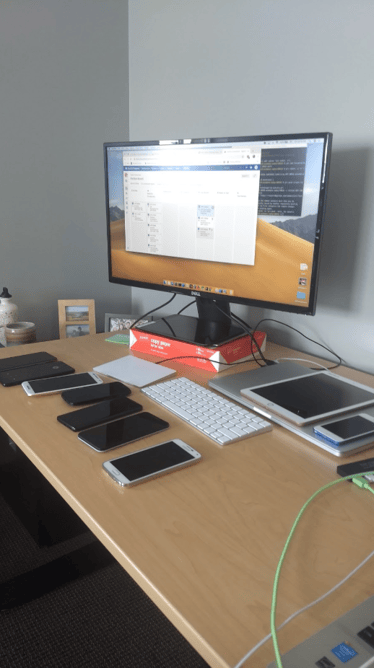 10:40 AM
Just before lunch, Shawn from our CS team stops by with a question from a customer.
The customer was struggling with a non-intuitive EMS workflow, and Shawn and I walk through the steps with test phones and users. I keep notes on our steps and findings, then write up an enhancement request to make the user experience smoother. Within a few hours, Erich has the request prioritized for a future release.
11 AM
Does anyone else get hungry and eat lunch at 11? Just me? Today I'm working through lunch and have brought a #SadDeskLunch, but sometimes the team walks to one of a few local restaurants, or I'll fit in a workout over the hour.
11:30 AM
After lunch it's back to testing. Depending on time and where we're at in a release cycle, I'll switch gears and work on test automation in the afternoon. These are tests that are coded and set up to run automatically, with no humans needed except to review any failures. They're especially valuable because a little bit of up front effort keeps paying off over time. As the Pulsara product grows, it has become virtually impossible for the Test Team to continue reviewing everything by hand. If a computer does a lot of the work, it frees us up to focus on testing new features! Automation regularly catches bugs, and they get written up and fixed before you get a new release of the product on your phone or browser.
3 PM
Later in the afternoon, a group meets in the Pulsara Cafe for a Test Party, which is an informal meeting in which we try out customer workflows on an unreleased version of the app and document any bugs found. For example, to test an upcoming feature like EMS Acuity, we first have someone play an EMS Admin and try to configure EMS Acuity in our Browser App. Then a few people log into mobile devices as EMS team members and Hospital team members. We create patients using the new Acuity field, and play out the cases through activation and eventual stop. Note that at the party shown above we have folks from CS, as well as Development team members, and even a remote employee (Tim) participating via video conference on the laptop that's perched on the short wall behind the table!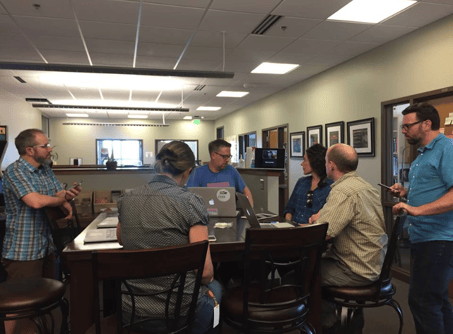 5 PM
Sometime between 4 and 6 I usually head for home. I live near the office, so if it's a summer day I'll bike. Fun fact, did you know that James bikes to the office when the weather is good? We're used to seeing his 'ride' parked outside his office door! Today was NOT a summer day, and was actually the day after a big snowstorm, so I drove (carefully) on roads like this: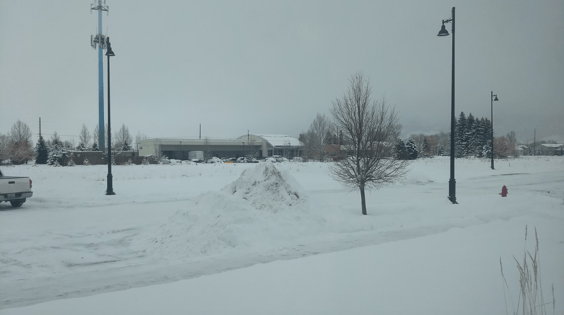 Thanks for joining me today! I hope this glimpse into my day has helped answer any questions you may have had about what a typical day looks like for a tester on the Development Team at Pulsara.