April 2, 2020 - Bozeman, Montana - Pulsara recently announced the release of app version 10.12. Full release notes are as follows.
--
Hello Pulsara Fans!
We know it's a busy time for all as we continue to battle the COVID-19 outbreak. (If you need help managing patients and resources, we can help). From the bottom of our hearts, THANK YOU for serving your communities.
Despite these unprecedented times, Pulsara is still working away to ensure our platform is better than ever for you and your teams. Here's an overview of what's included in Pulsara app version 10.12:
iOS: in-app notifications have moved to the notification center

An easier way for you to provide feedback and get help

A new warning when stopping a transfer case

A new Critical Alerts warning on My Call Status Page
iOS IN-APP NOTIFICATIONS HAVE MOVED
In previous Pulsara iOS versions, when users were in the application and received alerts, they would show up as a "pop-up" message within the application. We heard feedback that these notifications can be distracting when interacting within a patient channel.
With 10.12, all in-app notifications are now moved to the notification center, so you can both see new alerts AND continue interacting with your current Pulsara screen at the same time.

PROVIDE FEEDBACK OR GET HELP
The "Help & Feedback" button in the navigation drawer has now been separated into two distinct buttons.
THE HELP BUTTON will navigate to pulsara.com/help where you can find knowledge base articles, videos, and submit a help ticket.

THE FEEDBACK BUTTON now navigates to pulsara.com/feedback, where you can quickly fill out a simple form to send us product feedback. We love to hear your thoughts!

NEW WARNING WHEN STOPPING TRANSFER CASES
In Pulsara, a transferring facility can stop a case while their patient is in transit to the destination facility. However, some clinicians didn't realize that if they do so, it stops the case for everyone, including the destination hospital. This can create confusion at that receiving hospital because the patient arrives with no active patient channel.
To help ensure clarity around this scenario, we added the following warning:
In this release, we have included a warning to alert iOS users when their "Critical Alerts" have not been enabled.
If Critical Alerts are not enabled for Pulsara in iOS, primary notifications for new patients may not appear or sound due to other unanswered notification banners that may be in view. By enabling "Critical Alerts" on your team's phones, you can prevent this scenario and rest easy knowing your team will see their Pulsara patient alerts regardless of what else may be happening on their iOS devices.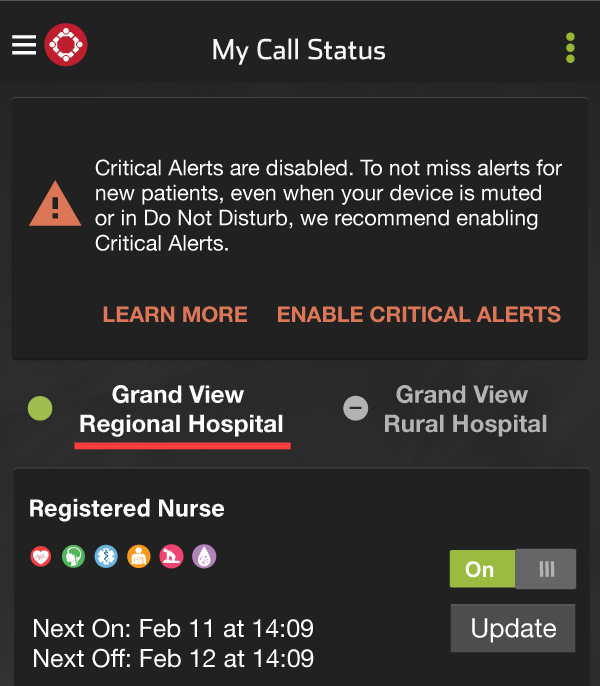 In the next few weeks, we'll be requiring all Pulsara users to upgrade to the newest version of our application to ensure a seamless experience across all clinicians.
Please nudge your fellow clinicians to update Pulsara on their devices. We will be messaging individual users and will give plenty of warning before the forced update occurs.
Do you love Pulsara? We would be eternally grateful if you would let the world know! Every time you or someone at your facility leaves us a review on the Apple App Store or Google Play App Store, it helps others who might need a solution like Pulsara find us and decide whether we're right for them. THANK YOU!

As always, reach out with any questions!
Team Pulsara