Recently, the AHA released recommendations that cardiac resuscitation systems of care be put in place and should involve "interconnected community, emergency medical services, and hospital efforts to measure and improve the process of care and outcome for patients with cardiac arrest."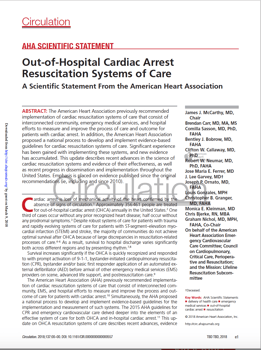 Despite robust systems of care for patients with trauma and rapidly evolving systems of care for patients with ST-segment–elevation myo-cardial infarction (STEMI) and stroke, the majority of communities do not achieve optimal survival after Out-of-Hospital Cardiac Arrest because of large discrepancies in resuscitation-related processes of care.
As a result, survival to hospital discharge varies significantly, both across different regions and by presenting rhythm.
We need to unify our approach to systems of care for ALL time sensitive emergencies.
Read the Circulation publication on efficacy of systems of care here.