You asked for it. We delivered.
Pulsara is connecting you to the rest of your care team in more ways than ever. Version 4.1.16 now allows you to track (I.E. creep on) all of your colleagues!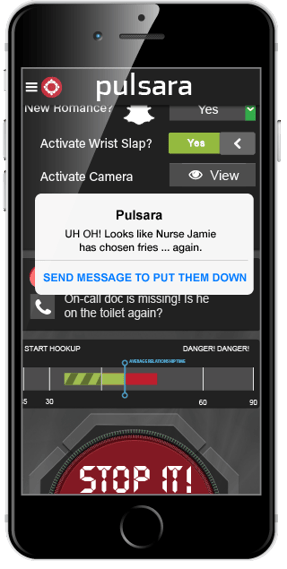 With Pulsara version 4.1.16, you have increased transparency into your care team's habits, keeping you more in sync than ever. Track your facility's doctors' and nurses' bowel movements, send them digital "wrist slaps" when they order a second beer on that weekend outing and instantly activate your co-workers' smartphone cameras to see what they're up to - ANY TIME YOU WANT!
"Anytime we can replace human interaction with Big Brother monitoring, we are all about it. Simply put, people make bad decisions. With push notifications, we can now update their superior immediately," texted (HIPAA-compliantly, of course) Erich Hannan, VP of all Things Binary.
But it doesn't stop there. Not only does the new Pulsara App help operational human behavior, it's also the golden egg to reducing the sales cycle,
Mike Banesse, VP of Chatty agreed, "For years, I've been saying we needed more more features to sell. This was the perfect fit and met the needs of the C-Suite. The only thing I ask is for Dev to develop this for the flip phone."
NEW FEATURES INCLUDE:
HIPAA-Compliant chatting

— (secret stuff)

for that inter-office romance.
SNAP CHAT capabilities — Send videos that are instantly erased ... but never forgotten.
TINDER integration

—

"hook up" your care team in more ways than one.
MYSPACE push notifications

— N

ever miss another Justin Timberlake update again.
FOURSQUARE capabilities

— C

heck in at your favorite committee meeting to make it at least look like you're working. AND, review the cafeteria food that gave you the least amount of GI irritation.
YELP FOR COLLEAGUES

—

Remember when that jerk overrode your decision and you ended up being right afterall? Doctor snapped at you in the ER? Nurse coordinator couldn't get ahold of the on-call doc (I mean, come on, how hard can making a phone call be??)? Now, you can quickly and easily vent your frustrations publically.
We think it's obvious ... Pulsara is OWNING the care team synchronization niche. You're welcome.
Pulsara: keeping care teams regular, sober, and completely fun-free!
--
OH! And Happy April 1st!