ThedaCare, a seven-hospital system in Northeast Wisconsin, serves over 200,000 patients per year and has always prided itself on being at the forefront of implementing new ways to provide the best, cutting edge medical care possible for its patients. Recently (also announced in a press release on March 14), this goal has materialized in the form of ThedaCare's partnership with Pulsara.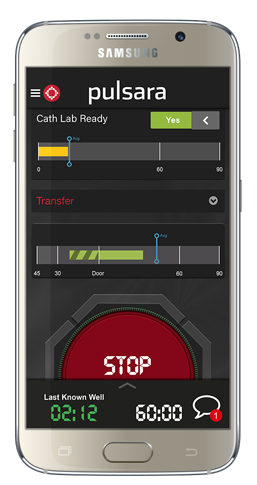 ThedaCare's facilities will initially use Pulsara's STOP STEMI module to improve communications between care team members and ultimately shave precious time off of STEMI patients' cases. According to Julie Ludwig, RN, "The goal is to reduce door-to-balloon times, or the time it takes for a patient to have their blocked artery opened in the cardiac catheterization lab." This is a crucial initiative since research has consistently shown that the shorter the door-to-balloon time for STEMI, the better the patient outcome.
Pulsara is a platform that performs like an app, getting all members of the critical care team - from EMS to the cath lab - on the same page. Pulsara not only replaces archaic and slow technologies like pagers, fax machines, emails, and call lists, but it also tracks all crucial metrics for reporting, keeps everyone on the exact same time with its universal clock, and allows any member of the care team to instantly and securely message any other member. Studies have shown that Pulsara reduces door-to-balloon time by 22% ... that's a lot of cardiac tissue spared!
"Now that the EMS system and ThedaCare are united with a secure — but simple — platform that eliminates much of the chaos, they can focus their time on what's important – taking care of patients," said Dr. James Woodson, Founder and CEO of Pulsara, and Emergency Physician.
Pulsara also has a STOP STROKE module, and will be releasing additional solutions in the near future.